Author
Alan Richter
Published
January 01, 2014 - 10:30am
Combination cutting tools for holemaking applications save a significant amount of time when the application is right.
When it comes to getting the job "done in one," multitask machine tools aren't the only option. Combination cutting tools for holemaking applications enable end users to produce multiple features with one tool instead of applying multiple single-operation tools, such as ones for drilling different diameters, deburring, chamfering, back spotfacing, countersinking and boring. Whatever the tasks at hand, toolmakers either have standard offerings or can engineer a special to complete them in one plunge.
Time is Money
What motivates a parts manufacturer to apply a combo cutter varies, but one factor stands out. "The most important reason is time savings," said Horst Jaeger, manager of modular and indexable drills and inserts development for Kennametal Shared Services GmbH, Fürth, Germany.
He added that machining all hole features in one shot reduces cycle time because the alternative, changing multiple tools, consumes time—especially on older machines with long chip-to-chip times. Combination tools can also increase throughput without an additional investment in machine tools, labor, building space or manufacturing infrastructure. "It allows customers to inflate their output and, due to that, their time-to-market," Jaeger said.
He added that users can achieve those benefits with custom monoblock step drills for high-volume applications. However, other types of combination tools offer the same benefits while providing the flexibility to adjust, for example, step length or even the diameter within a specific range. "They are a perfect choice for highly productive, flexible and smaller lot size manufacturing," Jaeger said.
Latrobe, Pa.-based Kennametal Inc. offers the BF and SEFAS lines of combination holemaking tools, with SEFAS primarily consisting of standard components, such as a drill with a chamfering ring. On the other hand, BF targets drilling and countersinking operations, in which case standard drills can be combined with standard or custom inserts. A custom solution, for instance, is often needed when machining automotive parts because the internal shape of the hole can be complex, Jaeger noted.
In addition to its lower cost, a standard option is preferred because of immediate availability.
Also, an end user might require a combination tool when a machine tool has limited tool storage, according to Doris Kraus, global product manager for indexable drilling tools at Kennametal. For example, a transfer machine for high-volume production may be restricted in the number of available tool positions.
"That's when you look for combination tools," said Hans Liechti, Mikron Tool manager for Mikron Corp. Monroe (Conn.). For combination holemaking applications, the toolmaker primarily engineers specials, such as step drills. "Typically, we try to limit it to three steps, because afterwards there is too much difference between the smallest and largest diameters, which may cause a problem with speeds and feeds."
Although exceptions exist, Rob Brown, product manager at Allied Machine & Engineering Corp., recommends running at one speed and one feed throughout the entire multiple-operation cut. This simplifies programming compared to programming various tools to produce different hole diameters and features. "You just program the one hole and be done with it," he said.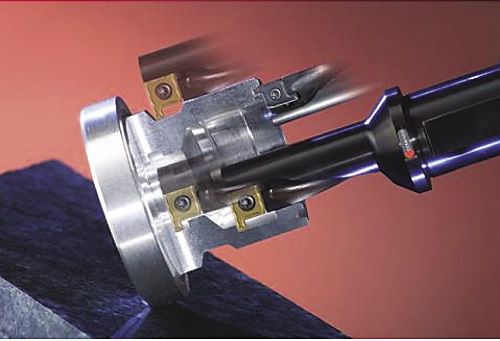 Courtesy of Ceratizit
Ceratizit offers the ProfileMaster multifunction tool, which has a grooving nub at the end of the insert.
Dover, Ohio-based Allied Machine manufactures an array of combination drills, frequently modifying standard offerings, such as the GEN3SYS line, to suit specific requirements. It also distributes EcoCut multifunction tools from Ceratizit. The EcoCut drills solid materials, bores, turns and faces, noted Rob Bokram, product manager for cutting tools at Ceratizit USA Inc., Warren, Mich. The Classic version is an indexable tool, available from 8mm to 32mm (0.315 " to 1.26 ") in diameter, and the Mini version is a solid-carbide tool from 4mm to 8mm (0.157 " to 0.315 "). In addition, the tools are available in various depth-to-diameter lengths. Bokram added that the ProfileMaster, a similar multifunction tool, is an offshoot of the EcoCut that offers a grooving tip to create a snap ring groove. All the tools are available only as standards.
Besides reducing costs by cutting cycle time, Liechti noted a combo cutter can save a shop money because purchasing one is generally less expensive than buying multiple single-operation tools.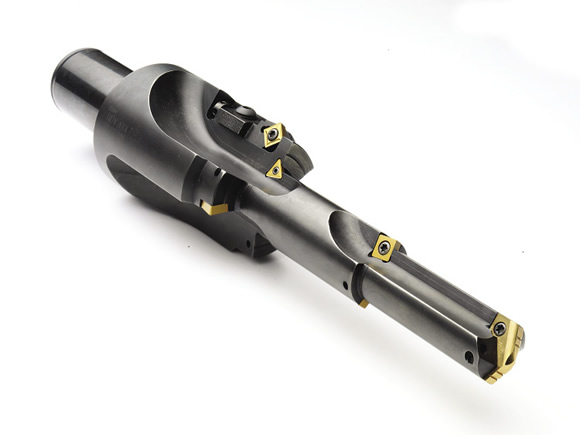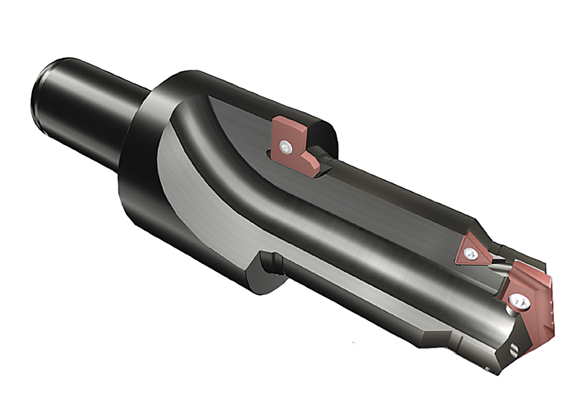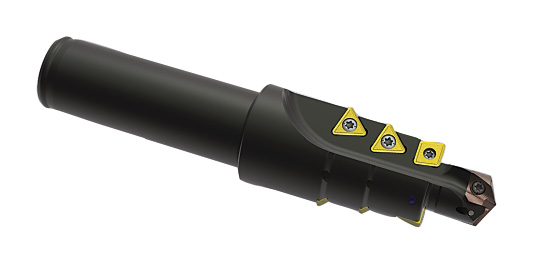 Courtesy of Allied Machine & Engineering
Allied Machine & Engineering offers a variety of multistep drills for producing various diameters in one hole.
When it comes to achieving a tight, true-position tolerance between holes or a hole and other features, such as the major hole and a counterbore, applying a multifunction tool may be the only way to meet the specification. The options are limited when the tolerance is a couple tenths because, from part to part, there is always some deviation as a result of CNC displacement and clamping, according to Liechti. "Then you must go with a combination tool to do it in one shot, doing two or three diameters together," he emphasized. "If you have a single tool with multiple steps, the true position is basically down to zero between the diameters."
A combo cutter may even allow a manufacturer to reduce QC time by only having to check, say, every 10th part instead of performing 100 percent inspection because the chance of rejects is reduced, Liechti added.
Turning from Milling to Drilling
Once a hole has been drilled, some part manufacturers circular interpolate multiple features such as additional bores, counterbores, chamfers, machined faces and grooves using several standard milling cutters. Instead of applying multiple milling tools, Don Hughes, application engineer/project development for Greenleaf Corp., Saegertown, Pa., suggests using a custom-designed combination tool to accomplish these tasks. A custom designed combination tool can produce multiple features in one plunge move and eliminates the need to program various circular interpolations and ramping moves, which saves a tremendous amount of machining time.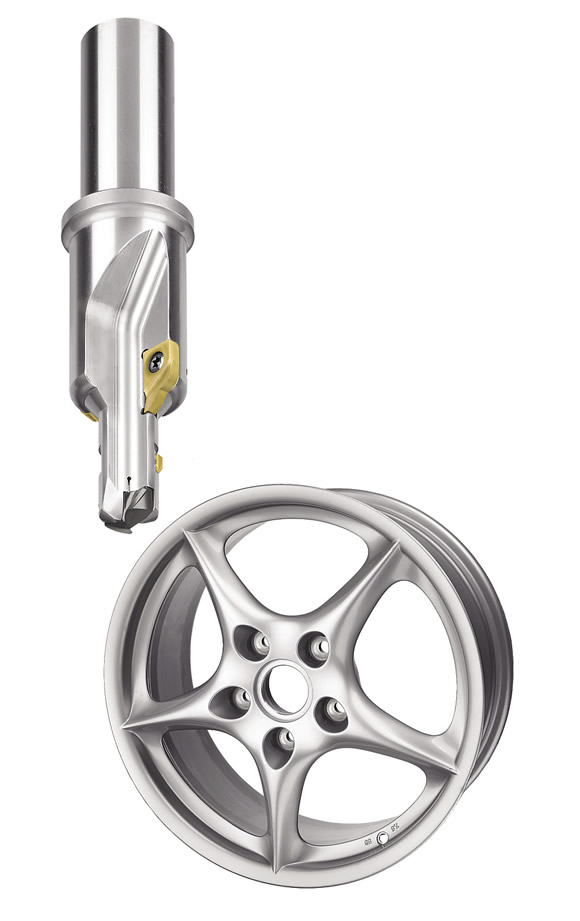 Courtesy of Heule Tool
Heule Tool produces numerous combination tools, such as lug nut and stem hole drills, for the aluminum wheel industry.
According to Hughes, end users don't often initially consider a custom combination tool for performing multiple tasks because they are taught to take the standard tool route whenever possible. "It's just human nature," he said. "They need to machine parts next week or next month, so they pick up the standard tools catalog and start figuring out how they're going to machine those various part features."
Hughes cautioned, however, that part volume plays a central role in determining whether a multifunction special combination tool makes sense. When seeing a part where a special combination tool might be used, such as one with a qualifying face, an O-ring groove and multiple bores and chamfers, his first question concerns annual part quantity. "If they're only machining one or two parts, designing and building a special combination tool may not make sense," Hughes said. "But if they are setting up to run several thousand parts, then it makes sense because they can amortize the tool cost across thousands of parts and also save a tremendous amount of machine time."
And that time savings saves significant manufacturing dollars. "I have seen situations where customers were contemplating purchasing additional machines so they could increase their capacity," Hughes said, adding that utilizing a special combination tool freed enough capacity to achieve their goals with their existing machines.
Gary Brown, North American president for Heule Tool Corp., Cincinnati, concurred that combo specials are almost exclusively for production environments. "We rarely sell our combination tools to shops without a repetitive product," he said. "You're talking a minimum of 10,000 holes before you can justify buying specials."
Heule Tool makes tools for producing as many as seven features with one tool. The tools have a spring-loaded chamfer or counterbore insert that is moved into position by changing the tool's rpm, for example, to spotface or countersink the back of a part. "So we can do three features on the back, three features on the front and drill the hole," Brown said. "The more the tool can do, the more time you save."
He noted the aluminum wheel industry is a major consumer of the combination tools, applying them for drilling lug nut, valve stem, flange and wheel rim holes, with each OEM requiring a different tool configuration. These are parts where end users look for multiple-step tooling because there are a lot of holes in one part and they want to get in as many features as they can as fast as they can, Brown said. "If you can reduce cycle time even a few seconds, it pays off."
Quoting a Special
When a user requires a combination special, the tool engineering process usually begins with the customer sending the toolmaker a drawing of either what they want the tool to be or, more comonly, the part to be machined, Allied Machine's Brown explained. "We then design the tool based on what the part sketch requires," he said.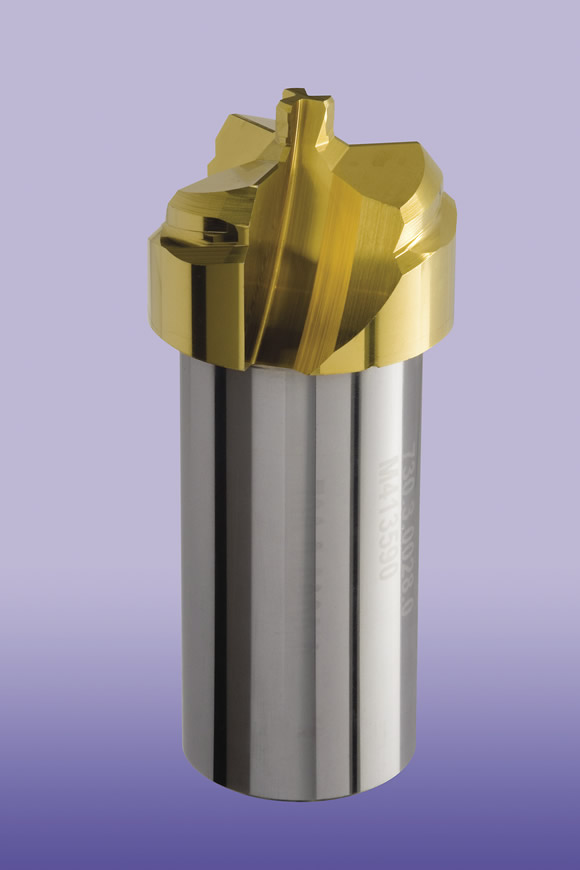 Courtesy of Mikron Corp. Monroe
Mikron Corp. Monroe primarily engineers special combination tools for holemaking applications, such as this step drill.
The toolmaker also offers the Insta-Quote online quoting system in which customers log in on Allied Machine's Web site and answer a series of questions to design tools themselves, quickly generating a quote and drawing, according to Brown. "Insta-Quote is more about the time savings in getting the quote and getting the ball rolling," he said. "The amount of time it takes us to quote is fairly short, but gathering information normally takes the most time. If you can shortcut that, you're saving a significant amount of time."
Once a customer approves a quote, Brown said Allied Machine can make a single special, but that rarely—if ever—is wise. "Quite frankly, buying one piece is a little silly because if you break that one special tool you bought, now you're in trouble. If something does go wrong, it's always good to have a spare tire in the trunk."
Mikron Corp. Monroe requires a minimum order of five tools, in part because of the expense of manufacturing such highly engineered tools, particularly when a reject occurs. "Somehow, you have to cover the costs," Liechti said. However, some customers, such as those producing electrical connectors, medical and automotive parts have no problem meeting the minimum order requirement and purchase 500 to 600 tools a year, he added.
Knowing the capabilities of the equipment the tool will be applied on is also important when designing a special. That's particularly the case with Heule's spring-loaded insert tool because the tool is cutting the back of the part and, therefore, requires adequate clearance behind the part and fixture, Brown said. "Sometimes, we must have our customers open up their fixturing deeper, so we can push that drill an inch to an inch and a quarter past the part."
He added that, with the approval process, the lead time for a combo special is usually 7 to 8 weeks.
Cool Down
In addition to knowing as much as possible about the machine and fixturing to avoid any interference issues, Hughes noted Greenleaf must ensure a combination tool has adequate chip clearance based on the workpiece material and understand the cross-sectional strength of the tool. To achieve that, Greenleaf's engineering department produces solid-model drawings of engineered specials prior to producing them on its 5-axis machines.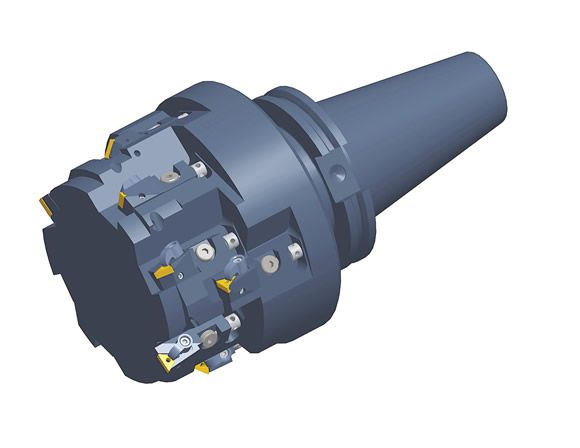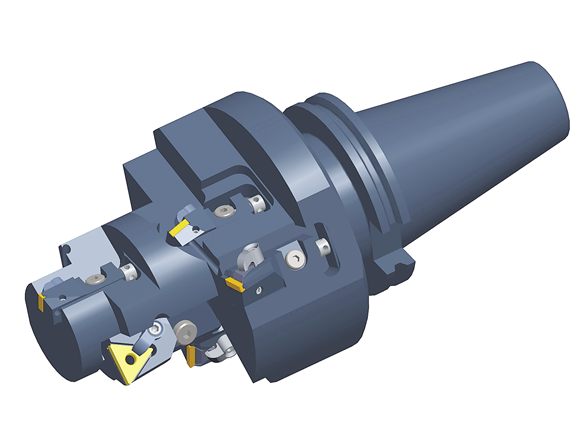 Courtesy of Greenleaf
Greenleaf generates solid-model drawings of proposed combination tools to help determine the cross-sectional strength of a tool and if chip clearance will be adequate.
It's also critical that the combination tool doesn't exceed the machine tool's capacities and capabilities, Hughes said.
Because a combination tool, such as a multiple-step drill, produces chips in many places on the workpiece, Allied Machine's Brown recommends through-coolant, because it enhances chip evacuation compared to flood coolant.
He added that a coolant pressure of 100 to 200 psi is a good starting point for most applications, with more pressure required as the diameter gets smaller.
When all the elements are in place, combination cutting tools for holemaking applications enable part manufacturers to spend more time generating chips and, therefore, parts and profits. As Kennametal's Kraus said, "By applying combination tools, you can reduce your noneffective machining time quite reasonably." CTE
---

Courtesy of Ceratizit
Ceratizit's EcoCut multifunction tool accepts inserts with the toolmaker's new "Colourful Coat" CVD coating.
Sometimes an innovative technology development offers an aesthetic byproduct. That's the case with Ceratizit's "Colourful Coat" CVD insert coating, according to Rob Bokram at Ceratizit USA Inc. "It's cosmetically appealing but it's also a coating that is optimized for functionality," he said. "We're applying nanolayer coating technology to enhance wear resistance as well as film toughness."
The coating has a titanium-carbonitride base layer, with a fine columnar structure, a layer of titanium carbonitride boron on top of that and a top layer that consists of several aluminum-oxide layers, according to the company. The combined Al2O3 layers are 500nm to 700nm thick. Because of the tight deposition tolerances of these final layers, the Al2O3 creates a prismatic visual effect.
"The coating refracts red and green light and has a multicolored appearance due to the aluminum oxide refracting light at different frequencies," Bokram added.
The coating consists of a fine crystal structure, which makes the surface smooth while creating favorable tribological properties to enhance chip flow and wear resistance, the company reports. Suitable applications include heavily interrupted cuts and machining cast skin, cast iron, stainless steel and steel alloys, including ones with a high tensile strength.
"Colourful Coat" inserts are available for the company's EcoCut multifunction tool, as well as for turning, bar peeling, parting and grooving tools.
—A. Richter
---
Contributors
Allied Machine & Engineering Corp.
(330) 432-4283
www.alliedmachine.com
Ceratizit USA Inc.
(800) 783-2280
www.ceratizit.com
Greenleaf Corp.
(800) 458-1850
www.greenleafcorporation.com
Heule Tool Corp.
(513) 860-9900
www.heuletool.com
Kennametal Inc.
(800) 446-7738
www.kennametal.com
Mikron Corp. Monroe
(203) 261-3100
www.mikron.com
SaveSave