Author
Alan Richter
Published
March 01, 2014 - 10:45am
In the world of micromachining, precision is relative—the smaller the work, the greater the need for accuracy in all aspects of the process. End users must optimize the entire micromanufacturing system to be efficient, competitive and successful.
Traditional techniques for achieving precision may work well for macro-scale parts, but can be subtly awkward or downright clumsy when applied to smaller work. Workholding is a classic example of this, noted Matt Saccomanno, a principal who handles product design, engineering and R&D for Masa Tool Inc.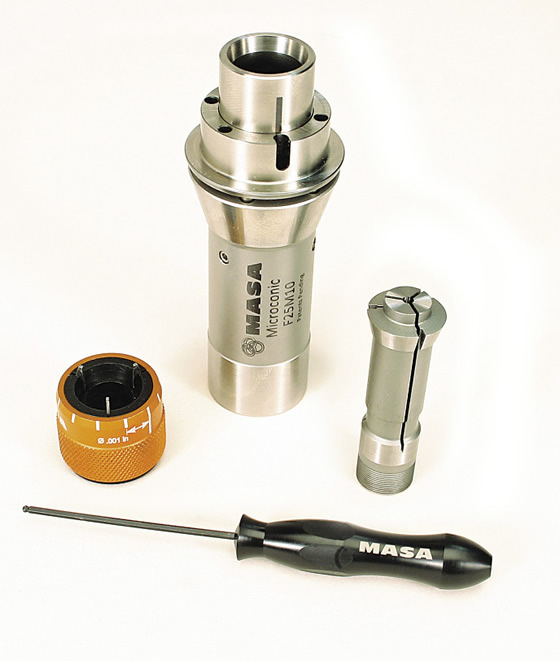 Images courtesy of Masa Tool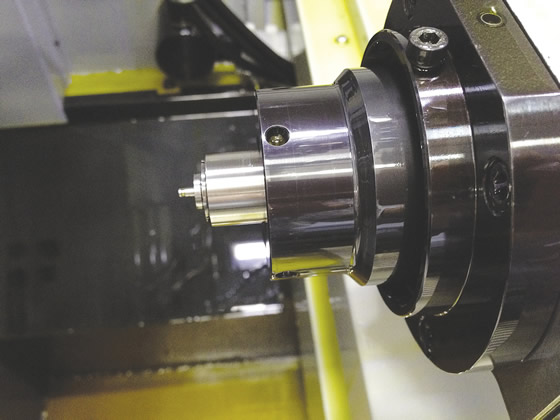 He added that a collet is often the best workholding method because it firmly grips the workpiece and is highly accurate in a production setting.
However, the collet system installed by the machine builder accommodates the largest workpiece the machine was designed for, such as a Swiss-style machine with a 20mm capacity. Although collets for smaller bores to hold smaller workpieces are available, the rest of the system (collet body, spindle nose and closing mechanism) is sized for 20mm, creating problems when chucking smaller parts, according to Saccomanno.
Therefore, Masa Tool developed the Microconic collet system specifically for holding workpieces from 10mm (0.39 ") to 0.75mm (0.03 ") in any machine that has a collet-type chuck. The system consists of two major components: the cartridge, which transforms the work spindle for miniature workholding, and the "right-sized" collet, which fits in the cartridge. For the system's introduction, the company offers a cartridge for draw-type, 5C collets and one for push-type, or "dead-length," TF25 collets, which are typically used on the subspindle of Swiss-type lathes. Market demand will dictate future versions, he added.
"The Microconic collet is a draw-type collet, but we can use our colleting system inside a push-type closer," Saccomanno said, adding that a draw-type collet provides more clamping force and is more accurate in terms of concentricity than a push-type one. This is because the draw-type collet slides into the spindle nose rather than the spindle nose pushing over the collet taper.
Saccomanno said the concentricity of the company's collet is typically from 0.0001 " to 0.00015 " and guaranteed to be concentric within 0.0002 " while holding a part in a machine. "Especially with extended-nose collets used in Swiss-type machines, the collet can hold the gage fairly accurately, but if you try chucking a part in it, forget it."
The system components are not inexpensive, with the cartridge priced at $2,200 to $2,500 and each collet at about $140, but end users often achieve payback after one or two jobs using Microconic on a Swiss-style machine, according to Saccomanno. He explained that the quick return on investment is a result of the workholding system's ability to shift operations to the subspindle that machinists and programmers usually delegate to the main spindle, such as cutting force intensive, blind-hole broaching. This provides better load balancing between the two spindles and reduces cycle times, essentially gaining "free time" on the subspindle.
"Because of the reliability and rigidity of the chucking system, it causes a change in mindset over time and you start doing things you wouldn't have considered doing before," Saccomanno said.
He emphasized that no machine modification is necessary to use the system, and it can be removed from a machine and replaced with a standard collet for making larger parts, thereby preserving machine capacity.
For more information about Masa Tool Inc., Oceanside, Calif., call (760) 732-1422 or visit www.masatool.com.