Author
Alan Richter
Published
April 01, 2014 - 10:30am
Applying high-pressure coolant when Swiss-style turning is effective at clearing chips to prevent them from welding to the workpiece or wrapping around the cutting tool. However, steering the coolant as close as possible to the cutting edge is tricky.
To remedy the situation while not pigeonholing the end user into one brand of cutting tool, Genevieve Swiss Industries Inc. offers the Multidec-Lube through-coolant tool clamp from Utilis AG, Müllheim, Switzerland. The patented system incorporates a coolant or oil delivery passage in the tool clamp to ensure a repeatable jet flow within a few millimeters of the tool/workpiece interface even after multiple tool changes, setups or teardowns, according to GenSwiss. It replaces the original gang slide tool clamps that come with a machine, allowing use of conventional, non-through-coolant, square-shank toolholders as if they were through-coolant holders because the coolant travels through the Multidec-Lube clamp.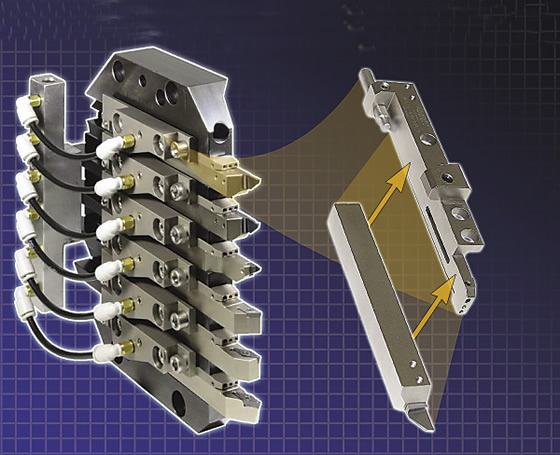 Courtesy of GenSwiss
"Most Swiss turning centers have four to eight turning stations, and you can equip each one of those with one of these clamps and permanently run high-pressure lines," said Scott Laprade, marketing manager for GenSwiss, noting the system didn't leak when tested at 2,000 psi. "I don't know anyone running anything higher."
He added that an adjustable stop provides quick-change capability by enabling users to position a tool in the exact same location after an insert change.
Compared to manually bending and positioning coolant nozzles, the tool-clamp system drastically reduces setup time, according to Laprade. At the company's machine shop, it took at least a couple hours to accurately position multiple nozzles on a manifold setup for a Swiss-style machine, he said. "With these it takes a few minutes."
Although suitable for virtually all turning applications, on rare occasions, such as profiling a unique radius with a special tool, a fine-tuned manually adjustable nozzle might work better on one station, Laprade acknowledged. But the Multidec-Lube clamps would still be more effective than coolant nozzles for the remaining stations, he added.
Because of the large number of Citizen machines in use that employ ½ " square-shank stick tools for turning, such as the A20, L20, K16 and M16 models, GenSwiss began by offering tool clamp systems for them, and plans to introduce ones for other makes and models throughout the year.
For more information about Genevieve Swiss Industries Inc., Westfield, Mass., call (888) 244-1404 or visit www.genswiss.com.