Author
William Leventon
Published
October 05, 2021 - 12:00pm
Two vertical additions to a family of horizontal machining centers are designed for hard-metal machining of a variety of workpieces in the aerospace and energy industries.
The vertical machining centers, models MTV 1000 and MTV 1250 from Starrag USA Inc. in Hebron, Kentucky, are five-axis mill/turn machines offering single-setup milling, boring, drilling and tapping, as well as turning of materials, such as Ti6Al4V and Ti5553 titanium alloys, nickel-base superalloys and high-alloy steels. Capable of producing excellent surface finishes on complex and thin-wall parts, the machines are particularly well suited for aerospace engine casings and gearboxes, plus oil and gas applications, according to the company.
Delivering 1,627 Nm (1,200 ft.-lbs.) of torque, the MTV 1250 can process workpieces weighing up to 4,990 kg (11,000 lbs.) and measuring 2,388 mm (94") in diameter. Maximum travel along the x-, y- and z-axes is 2,184 mm (86"), 2,083 mm (82") and 1,880 mm (74"), respectively. The MTV 1000 offers 949 Nm (700 ft.-lbs.) of torque and can handle workpieces weighing up to 3,000 kg (6,613 lbs.) and measuring 1,880 mm in diameter. Travel along the x-, y- and z-axes is 1,702 mm (67"), 2,083 mm and 1,880 mm, respectively.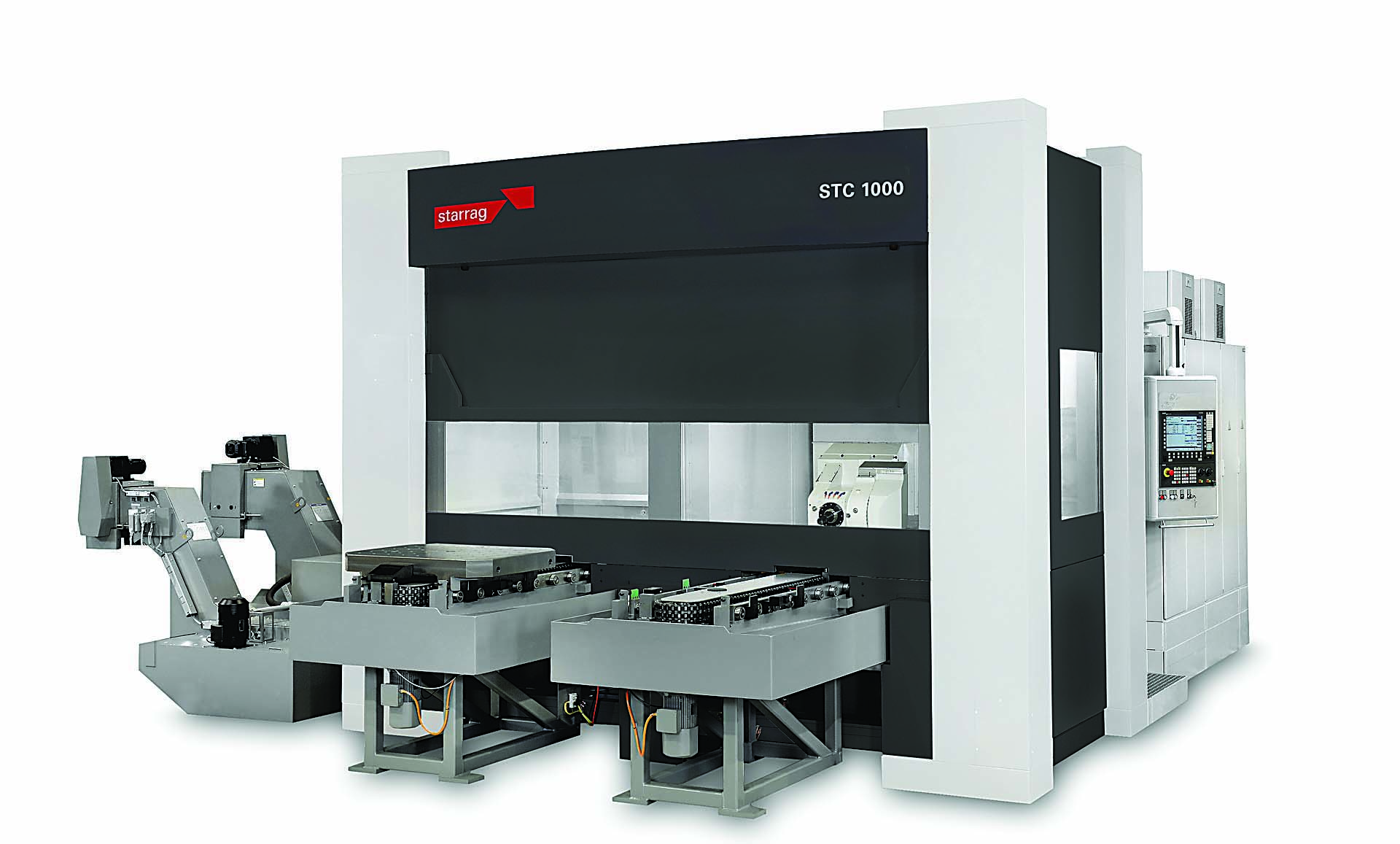 The MTV 1000 and MTV 1250 VMCs can handle both milling and turning of hard metals. Image courtesy of Starrag
High metal removal rates are possible with both machines thanks to an all-geared a-axis spindle drive. With minimal distance between the spindle nose and a-axis, the design allows the use of short tools and large bearings, providing high stability and rigidity compared with conventional motor spindles, according to Starrag.
"The a-axis is essentially a giant lever," said Tim Mooney, director of sales for North America. "By keeping it short, you have maximum holding force at the tool tip because the lever effect is greatly decreased."
The a-axis also features a steel worm gear. He said the toughness of steel gives this gear an advantage over conventional bronze gears, which loosen up over time when hard metals are cut. The gear offers active dampening for hard-metal machining, as well.
In addition, Mooney pointed out that the all-steel gear sets for the machine spindles are robust mechanical transmissions designed to take the forces generated when cutting hard metals, which provides them with a decided edge over electrospindle transmissions.
"We warranty the spindles on these machines for five years while the electrospindle warranty is typically one year," he said.
Another key feature is a 30 hp angular automatic head, which allows access to internal surfaces and features. This head is loaded automatically from the tool magazine.
With an angular head available, the machines can cut both the inside and outside features of aerospace engine casings.
"We can load right-angle heads to mill or drill features inside a casing that are perpendicular to the spindle centerline without changing the part setup," Mooney said. "So you can get to places that a traditional spindle cannot."
For turning, the machines can deliver coolant at 207 bar (3,000 psi). Besides helping to ensure proper lubrication for a good surface finish, he said the high-pressure coolant is useful as a chipbreaker, preventing the formation of long stringer chips that are common in turning operations.
Both machines come with a Siemens 840D CNC. As is the case with other machines in the STC line, these VMCs are offered only with Siemens controls. Mooney allowed that this could be a downside for shops that are fans of controls from other companies.
Like other STC-MTV machines, the MTV 1000 and MTV 1250 can be used as stand-alone units or integrated into a cell or flexible manufacturing system. Integrated with other Starrag machines, they can use centralized tool handling and pallet storage. They also can be connected to additional processes, such as washing, deburring, part marking and coordinate measuring.
Mooney believes that the biggest challenge for the machines is composite machining but not because composites are hard to cut. Instead, the challenge is dealing with the dust produced when machining composites. The machines, for example, must be sealed properly so dust can't enter and harm components like scales.
"It's important that from the get-go, the materials to be cut are identified," he said. "But the machines can be configured for virtually any application."