Author
Cutting Tool Engineering
Published
December 08, 2020 - 02:00pm
By Unisig
Across every industry, manufacturers are working to meet growing customer demand in a globally competitive market. Despite a widening skills gap, by organizing advanced technology into highly optimized work cells, manufacturers are maximizing productivity through automation.
Specialized equipment, like a deep-hole drilling system, often is challenging to integrate, which quickly can create production schedule bottlenecks. To eliminate the risk, shops that perform deep-hole drilling should seek out OEMs that understand the needs of high-production manufacturers and have the capabilities to bring technology into the factories and work cells of the future.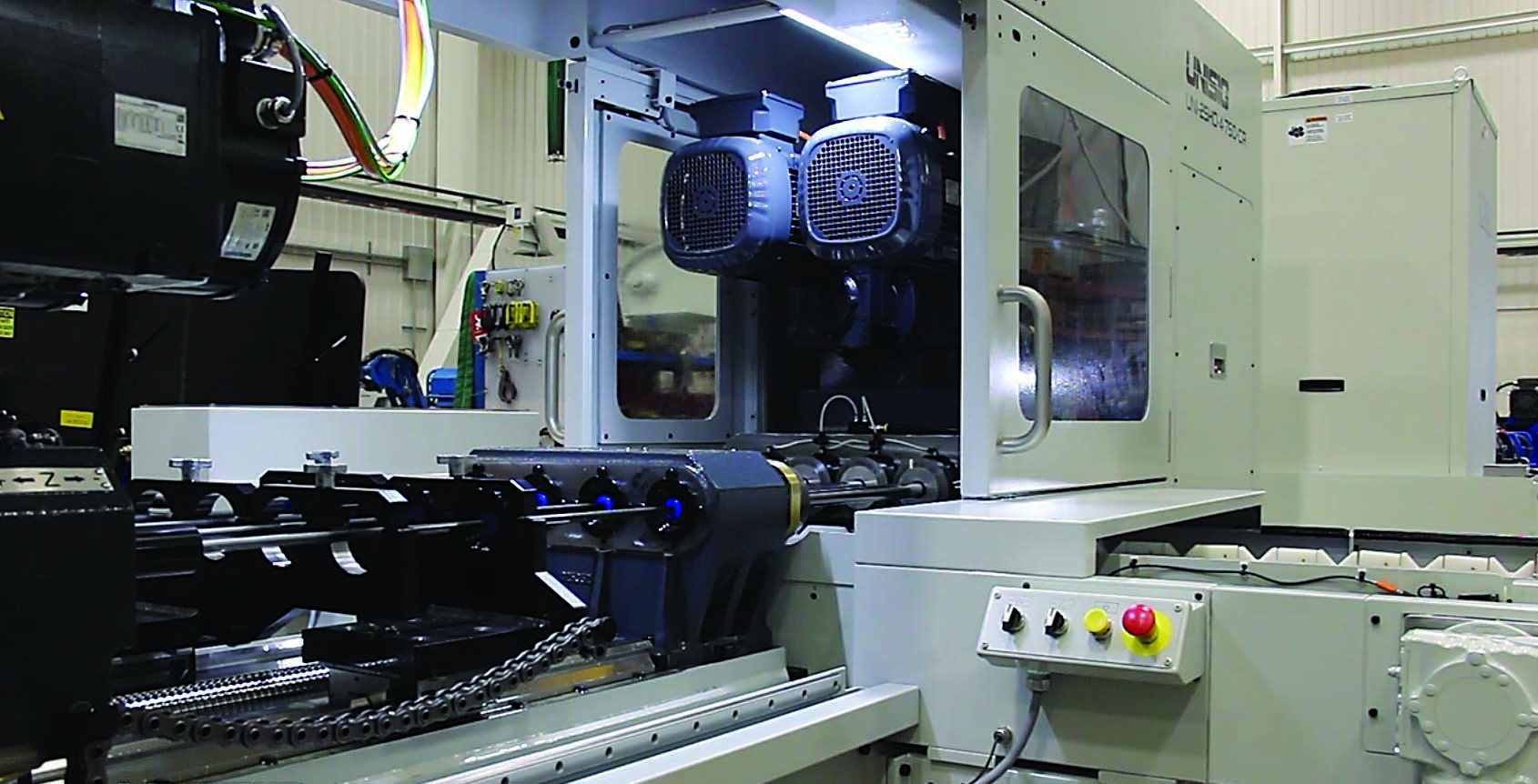 The four-spindle UNI25HD gundrilling machine supports modern, high-feed tooling with increased feed rates, power and thrust, empowering deep-hole drilling customers to maximize the potential of the process. Integrated automation keeps production moving with minimal effort from operators, allowing deep-hole drilling production to keep up with manufacturing goals. Image courtesy of Unisig
Deep-hole drilling systems, which can produce holes that exceed a 20-1 depth-to-diameter ratio, are a unique class of manufacturing equipment because of the focused tasks they conduct. An increasing number of machining centers boast deep-hole drilling capabilities, but these machines simply cannot operate at needed speeds, particularly for parts that require exceptionally high accuracy. Manufacturers that must perform deep-hole drilling capable of rapid production and high throughput should instead select machines designed for the task.
Automating Holemaking
These shops increasingly opt for deep-hole drilling systems that also work with automation. In a typical deep-hole drilling work cell configuration, such as one for producing rifle receivers or automotive shafts, the equipment can use automation to time its cycle completion to mesh with other production processes. For straightforward automation, conveyors and pick-and-place robots move and position parts for deep-hole drilling with exacting repeatability and accuracy while automatic toolchangers, doors and inspection stations keep parts moving swiftly into, out of and around the cell.
Because deep-hole drilling tends to apply to long, cylindrically shaped parts, workpiece configuration eases or complicates some aspects of automating load-in and load-out cycles tied to drilling operations. Workholding axes, for example, can provide automatic part gripping with pneumatic or hydraulic chucks operated through advanced controls for deep-hole drilling systems. In this configuration, machines can pick up a part, drill it and set it back down on a conveyor or part collection area. In deep-hole drilling systems themselves, specialized designs also offer automatic chucking, and robot-tending systems can add further flexibility with end-of-arm tooling, workholding and measuring systems.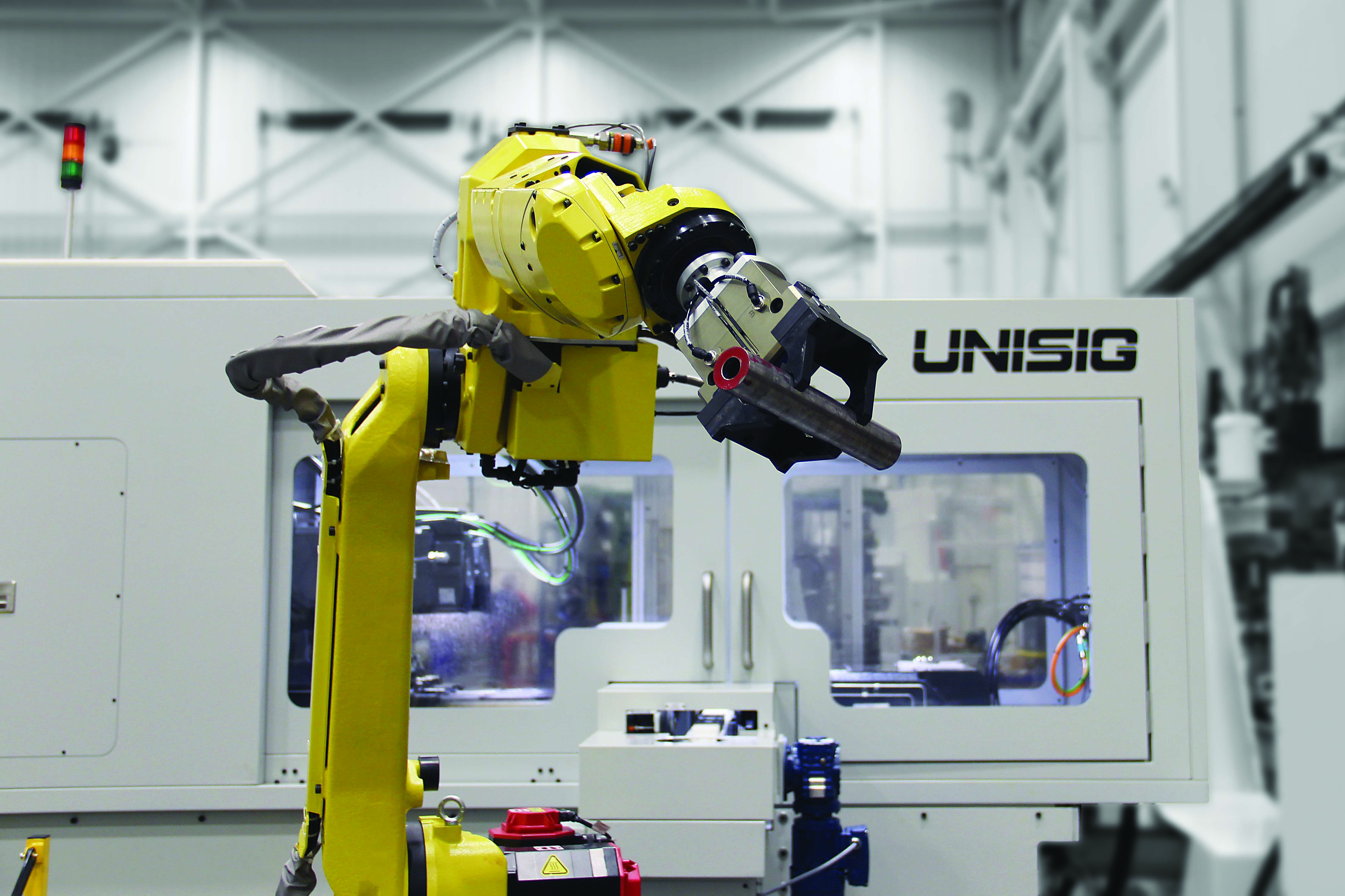 Pick-and-place robots move and position parts for deep-hole drilling with exacting repeatability and accuracy. Image courtesy of Unisig
As the automation configuration grows more complicated, however, manufacturers require an OEM that can act as a collaborative partner to find available solutions or engineer individualized products for unique applications or production lines. Shops that depend on deep-hole drilling as part of a high-production environment should seek a partner that has a demonstrated record of working directly with manufacturers to modernize processes and create robust automated work cells.
Gundrilling Application
Unisig, for instance, worked with a manufacturer of rifle barrel receivers to help it accommodate growing demand and relieve production bottlenecks. The manufacturer's older gundrilling machines were replaced by a multiple-spindle machine, the UNI25HD. It had the power and controls necessary to apply indexable gundrilling tools, significantly improving feed rates.
To enable fast one-piece-flow manufacturing, Unisig integrated the system via automation for in-feed, pick-and-place, conveyor loading and automatic clamping, which fed two lathes that turned the parts. The result was an effective work cell that produced more than 100 parts an hour, a dramatic financial and process improvement.
The viability of automated deep-hole drilling production can depend on tool life and part length. At extreme depths, for example, some parts require more than one set of inserts to produce a completed hole, and the high level of hardness of some workpiece materials causes rapid tool wear. To overcome this challenge, Unisig programs its machines to detect wear and predict when a tool will reach its breaking point, allowing operators to prevent a failure that could stop the line.
For further process efficiency, deep-hole drilling machines should have either a CNC or programmable logic controller. Both can integrate with other control systems and interface with a controller in the work cell. Systems such as a fully automated barrel cell are capable of unmanned, lights-out production with efficient programming.
Deep-hole drilling equipment's application-specific configurations suit the production of parts that necessitate techniques and processes that go beyond the easy capabilities of general-purpose equipment. In years past, many manufacturers thought of this kind of specialized equipment as old-fashioned and a drag on production. But with the right equipment — and a partner with the right engineering and applications expertise — deep-hole drilling in work cells can keep up with the productive factory environment that manufacturers need to succeed.
---
For more information about deep-hole drilling machines from Unisig in Menomonee Falls, Wisconsin, call 262-252-3802 or visit www.unisig.com.