Author
Kip Hanson
Published
April 01, 2016 - 10:30am
If you're shopping for a Swiss-style CNC lathe, the available options and machine configurations are truly staggering. Spindle speeds that compete with many machining centers, convertible spindles that turn a sliding-headstock machine into a chucker, thread whirling capabilities, laser cutting heads and enough axis letters to become the next Words With Friends champion.
For those unfamiliar with Swiss-style lathes, one option that may leave you scratching your head is the choice between conventional turret-mounted and gang-style, slide-mount toolholders. Conventional CNC lathe owners might lean towards the former, but each technology has its own merits that deserve careful consideration.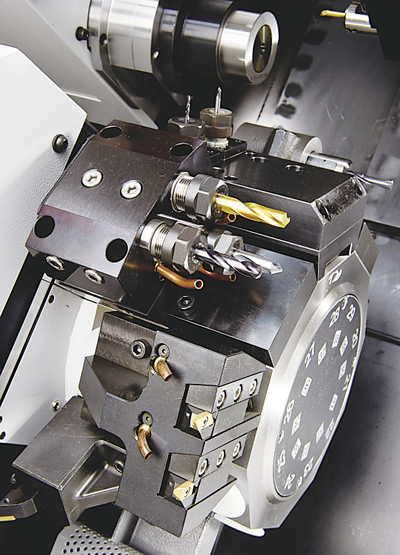 Turrets offer excellent rigidity, flexibility and tool selection.
Here, dozens of tool positions are available on the twin turrets
of this Cincom M-series Swiss-style CNC lathe.
Image courtesy Marubeni Citizen-Cincom.

As a rule, slides are most common on small Swiss-style lathes with spindle capacities from 7mm to 16mm (0.276" to 0.630"). Machines in this size range are typically less expensive than larger, turret-style machines for several reasons. For one, there are fewer moving parts on a slide mechanism, which makes the machine simpler to build.
And as Jeff Walz, president of machine tool distributor Eurotech, Brooksville, Fla., warned, a turret machine has additional costs. "Because of all the adapters and blocks that go with a turret, you can easily get a $20,000, $30,000 toolholder bill in addition to the price of the machine."
Although turrets can cost more to tool up, this is easily countered by greater flexibility. "Turrets just give you tons more tools—some have upwards of 35 stations," said Brian Such, customer support group manager at Marubeni Citizen-Cincom Inc., Allendale, N.J. "They're also more rigid, with larger shank sizes and more power available on live-tool stations."
With most Swiss-style machines boasting rapid-traverse rates of 100 sfm (30.48 m/min.) or higher, few would quibble over the difference in positioning time between a turret and a slide machine. Nonetheless, slides win the race by a nose. Because slides are positioned closer to the machining action than turrets, which must pull away at least a few inches before indexing, slide-mounted tools are in and out of the cut in the blink of an eye.
Regarding accuracy, slide machines often have a slight edge as well. Speaking from personal experience, it's awfully tough to line up a turret perfectly true after a crash. Because the tool centerline on a gang slide is determined with a tool offset, alignment has historically been much simpler to accomplish. However, with most Swiss machines offering Y-axis cutting, turret misalignment is less of a concern than it once was, because the machine can compensate for an out-of-true turret with an offset in the Y-axis.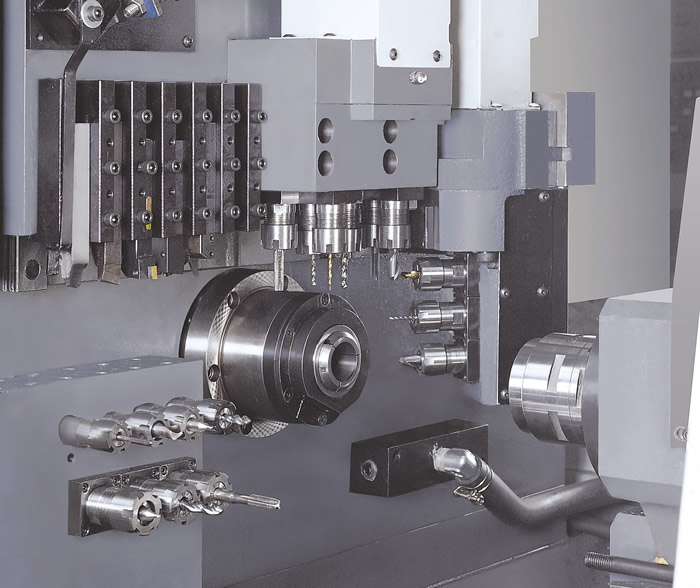 The Zeit CSL42 from Po Ly Gim Machinery Co. Ltd., distributed in the U.S. by Eurotech, accommodates
gang-style turning tools, rotary cutters, B-axis capabilities and a subspindle with end-working tools.

Such and Walz agreed that because tools can be indexed to a convenient position, tool changes are easier on turret machines. Tool placement on gang slides is often tight, especially on small machines, and, on those with opposing slides, the tools on the back are usually upside down, making it easy to drop a screw or insert into the chip pan. Some of this grief can be avoided by placing the most-frequently changed tools closest to the front of the machine, where they're easier to reach.
In any event, Swiss operators must continue to adapt to whatever new technology comes their way. Hybrid Swiss-style CNCs, with both slide and turret technology, are becoming increasingly common. Such recommends that making full productive use of these machines requires a solid understanding of the control's "synch" functions, so both the turret and slide can be engaged simultaneously.
"Quite often, I'll visit shops with these beautiful machines and they're not using even basic functionality," he said. "Things like synchronous cutting and superimposition of the axes require nothing more than a G code and are great tools for cycle-time reduction. If you have a machine like this, you really need to take full advantage of its capabilities."