Author
Robert Weinstein
Published
July 03, 2019 - 09:00am
Manufacturers continually look to improve the quality and speed of their inspections. The new Taglens-T1 varifocal lens by metrology manufacturer Mitutoyo America Corp., Aurora, Illinois, promises a significant advancement in the field.
"The Taglens-T1 provides high-throughput noncontact inspection," said Paul Nuara, optical product specialist at Mitutoyo America, adding that the variable-focus lens does not require mechanical refocusing.
The technology initially was developed by a team led by Princeton University professor Craig B. Arnold, an expert in materials science and lasers. The group began to commercialize the technology in 2011 through Princeton, New Jersey-based Tag Optics Inc., which was co-founded by Arnold and Princeton University alumnus Christian Theriault. In 2016, Mitutoyo purchased a controlling interest in Tag Optics.
Taglens-T1 is optical, not laser-based, and it has no probe.
"It contains a proprietary liquid within a glass lens," Nuara said. "The Taglens controller generates sound in the liquid, changing its optical properties."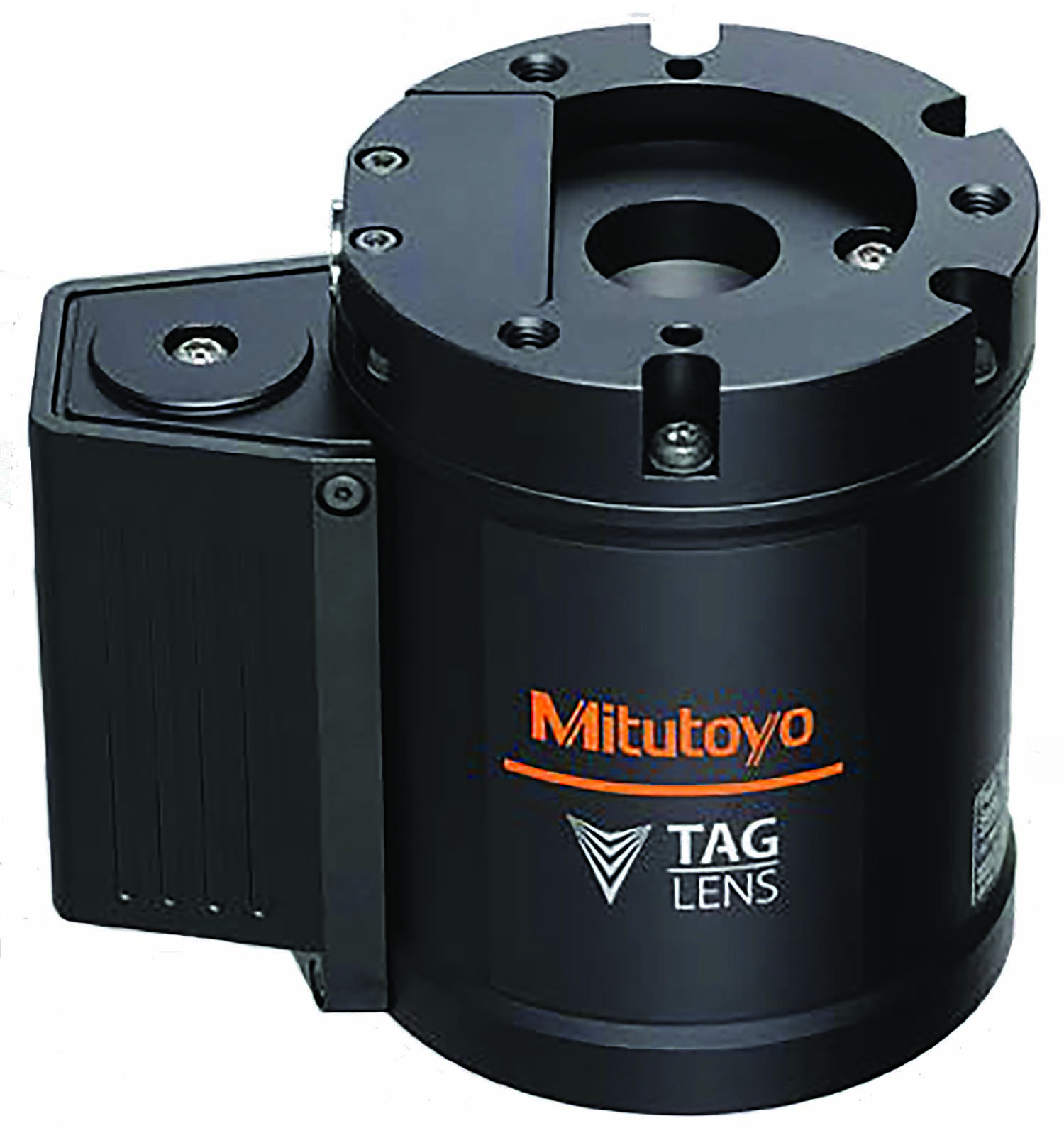 The focus range of Taglens-T1 is variable without changing the camera position. Image courtesy of Mitutoyo America
The lens is less affected by vibration and shock than competing devices and can be mounted on robotic arms, according to Mitutoyo.
When an image is created without Taglens technology, generally one element is in sharp focus, and the rest are out of focus. Taglens-T1 allows the entire image to be in sharp focus in a given scanning range, depending on the field of the optics.
The technology is able to scan the full range of the lens every 14 microseconds at 70 kHz. The depth-of-field expansion eliminates the need for mechanical refocusing, unlike with fixed focal-length optics.
The growing use of CNCs and robotics has led to increased manufacturing of parts with complex geometry. Nuara said by expanding the depth of field, Taglens-T1 will prove useful when inspecting these parts, especially electronics and medical parts.
"The Taglens-T1 is ideal for use throughout the manufacturing process," he said, noting that the technology can be used for inspection at the beginning of a run to enable any adjustments needed for manufacturing, as well as for post-manufacturing QC.
"It provides more qualitative data per unit of time," Nuara said. "There are other companies that offer liquid lenses, but the advantage of the Taglens-T1 is that there is no loss of performance when the lens is inverted or the orientation is changed as are often needed when inspecting complex parts."
The lenses are manufactured in the U.S. and then sent to Japan for packaging and distribution. Mitutoyo's product line includes video microscope units, such as VMU-T1, which incorporates Taglens-T1. In addition, the lens can come with an optional software development kit so end users can consolidate the data the system generates into their own software. Nuara said future development of the product line likely will integrate the lens into other measurement systems, like vision systems and microscopes.
For more information about Mitutoyo America, call 888-648-8869 or visit www.mitutoyo.com.
Related Glossary Terms
metrology


metrology

Science of measurement; the principles on which precision machining, quality control and inspection are based. See precision machining, measurement.

robotics


robotics

Discipline involving self-actuating and self-operating devices. Robots frequently imitate human capabilities, including the ability to manipulate physical objects while evaluating and reacting appropriately to various stimuli. See industrial robot; robot.