Author
Alan Richter
Published
January 01, 2015 - 10:30am
Hard robotic grippers are effective for handling complex part shapes and various materials. However, they can require a significant engineering effort to design and program, then redesign and reprogram in the likely event a different part must be robotically handled.
To cut the time and cost for custom end-of-arm tooling, Empire Robotics introduced the Versaball gripper, which conforms to and grasps a range of objects, shapes and materials without reprogramming. The possibilities range from pills and coins to light bulbs, heavy bricks, and metal parts with complex contours.
"If you have weird-shaped parts or parts that have variations, sometimes there is a lot of time that goes into designing a tool that can handle these parts," said Bill Culley, company president. "Our tool can eliminate that design time."
The gripper is a squishy, polymer-blend balloon membrane that measures about 0.03 " (0.762mm) thick and is full of submillimeter particles that conform around an object. Using a process called "granular jamming," air is quickly sucked out of the ball, vacuum-packing the particles and hardening the gripper around the object to hold and lift it. The object releases when the ball is reinflated with air.
When gripping parts, the objective is to create the biggest pressure differential from outside the gripper to the inside by pulling a deep vacuum inside the gripper, Culley explained. "Essentially, what happens is the atmospheric pressure compresses the gripper and jams the grains. By controlling the pressure inside the gripper, we can control the hardness from very soft to very hard."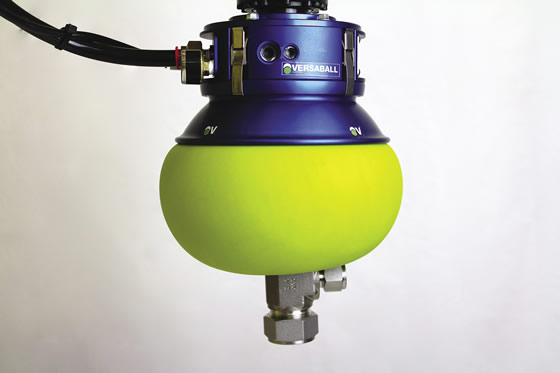 Courtesy of Empire Robotics
Two sizes are available: 3½ " (88.9mm), which has a capacity of about 10 lbs. (4.54 kg), and 6½ " (165.1mm), which has a 20-lb. (9.07 kg) capacity. The smaller model grips an object in 0.1 seconds and releases in 0.2 seconds, and the larger one grips in 0.7 seconds and releases in 0.5 seconds. Both use the same pneumatic base.
The grippers don't have hard edges and can even conform to a worker's finger without causing physical harm if the finger gets caught between a gripper and the object being held. This makes the grippers well-suited for collaborative robots, Culley noted. Those types of robots do not need safety guarding and can interact in close proximity with humans (see article on page 44). Nonetheless, the universal adapter plate enables a gripper to bolt onto virtually any 6-axis, tabletop industrial robot arm.
Although the pneumatic lines for the gripper are typically positioned outside of a robot arm, Culley said the lines can run internally if the robot is large enough to have adequate airflow flow through its arm.
The company offers research gripper kits, grippers for commercial installations and customization services. "We've shipped a lot into the testing and development parts of companies and now we're working with our next model to get that into production use," Culley said.
In addition, refurbished heads are available. Usually a head lasts 50,000 to 60,000 cycles, but head life depends on the application, Culley said. "We have a video online of it picking up broken glass, so it can handle sharp edges."
For more information about Empire Robotics, Boston, call (585) 802-2433 or visit www.empirerobotics.com. CTE
---
About the Author
Alan Richter is editor of CTE. Contact him at (847) 714-0175 or alanr@jwr.com.