Author
William Leventon
Published
January 05, 2017 - 04:00pm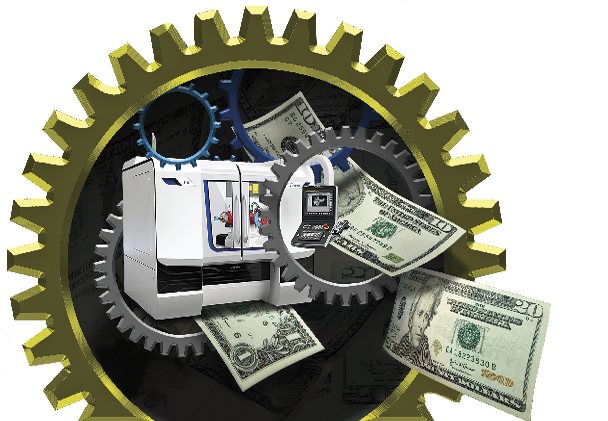 Machine tools are big-ticket items, so it's no surprise that they're normally acquired using some sort of financing. In addition to banks, financing can be obtained from machine tool OEMs and nonbank lenders known as finance companies.
A large majority of those in the market for machine tools seek financing to purchase the equipment. But machine tool leasing is fairly common as well, because the lessor eventually takes possession of the machine, which "drives the monthly payments way down," said Jeff Glikman, president of Intech Funding Corp., Monrovia, Calif., which offers machinery financing to manufacturers.
Leasing can also be an attractive option for those in need of a machine tool to meet the requirements of a job with specific start and end dates, according to Bill Schwanki, regional finance manager for Makino Capital Services, Mason, Ohio, the financing arm of machine tool builder Makino.
In addition, some companies prefer to lease machine tools because they serve high-tech industries that require the latest manufacturing technology. Such companies "might lease a machine tool with the intent of returning it and getting a new one every 3 years," noted a bank executive involved in machine tool financing.
Whatever your financing preference, Glikman said now is a good time to finance a machine tool, pointing to "historically low" interest rates that lower monthly payments. Thanks to a relatively strong economy, many companies' financial track records have improved to the point where they are finding it easy to qualify for equipment financing, he added.
For those seeking approval for machine tool financing, Glikman's firm wants to make the application process as fast and easy as possible. "We figure that we are providing a valuable service if we take up as little of their time as possible," he said. "So when it comes to our application and other documents, our motto is, 'If it doesn't fit on one sheet of paper, it's too long.' "
Glikman said his customers can often get approval for half a million dollars of financing by filling out a half-page credit application. "We are not asking them for tax returns, financial statements and a lot of other backup information that their banks would require," he noted.
Some banks also offer so-called "application-only" financing. It's a fairly prevalent practice, said the aforementioned bank executive. "But there are a lot of smaller banks that just aren't set up for it and would never dream of doing it."
While these banks may take several days to evaluate years of financial statements provided by prospective borrowers, those that offer application-only financing can often give applicants a yea or nay in a matter of hours.
When it comes to lending, another key difference between banks is the down payment required. Many times, banks request 10 or 20 percent down because they are not that familiar with the collateral—i.e., the machine tool. But some banks are knowledgeable enough about machine tools to be able to offer borrowers, in most cases, 100 percent financing. 
Of course, machine tool OEMs also possess that expertise. But why do most of the larger ones operate so-called "captive" finance companies when customers have other financing options? "We want to be able to provide a one-stop shop for the acquisition of a machine, a fully integrated solution that creates an ease of transaction for the customer," Makino's Schwanki explained.
Makino Capital Services offers machine tool purchase, leasing and rental financing, much of which is obtained via an application-only process. Unlike banks that require "blanket" financing statements covering all the assets of the borrower's business, the financing statement required by Makino covers just the machine tool the borrower is acquiring. So in the event of a default, Schwanki said, "the only machine at risk from the customer's perspective is the one under that contract. We don't come after any of the other assets the business owns."
Because they finance "everything under the sun" rather than concentrate on one specific area, Glikman said most banks are what he calls "balance-sheet lenders" that secure transactions by focusing on the borrower's financial status rather than the value of the product the borrower seeks to acquire.
"There is a lot less risk in a transaction when you understand the equipment," he said. "When someone wants to finance a $100,000 vertical machining center, we know what that machine is worth in the event that it comes back to us. Most banks aren't in a position to do that."
Therefore, they require borrowers to submit quarterly or annual financial statements. And if all the financial ratios aren't in line, they will sometimes call a loan "even though the customer may be making payments perfectly," Glikman said.
Even if your bank wouldn't do such a thing and is satisfactory in all other respects, Glikman believes there's a good reason not to automatically turn to the same institution that's providing all your other financing when you're seeking an equipment loan. "If you do all your business with the bank, sometimes they get a little complacent," he said. "But if they know they have competition, that helps you get better rates."    
Related Glossary Terms
machining center


machining center

CNC machine tool capable of drilling, reaming, tapping, milling and boring. Normally comes with an automatic toolchanger. See automatic toolchanger.