Author
Christopher Tate
Published
September 01, 2016 - 04:15am
CNC machining has replaced conventional, or manual, machining as the primary metal-removal method in most machine shops.
Although CNC applications, programs and setups vary from shop to shop, every CNC machine needs tool data to operate correctly. Tool data necessary for the control to function correctly can include tool diameter, tool radius, tool length, corner radius, tool shape and tool type.
This CNC tool presetter (below) can be programmed to measure tool angles and radii as well as diameter and length. The ability to measure tool form reduces incoming inspection and eliminates errors at the machine. All images courtesy C. Tate.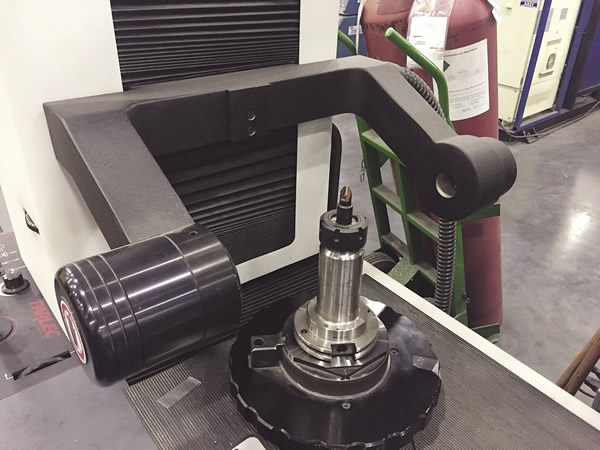 Various methods exist for collecting the necessary measurements. Newer machines often have onboard devices that allow the operator to easily measure a tool and store the necessary information. In other cases, because the machine is older or the application dictates it, an operator must measure a tool outside the machine to obtain the data. This is typically referred to as tool presetting.
Old controls, like those in the early 1970s, had very little memory and lacked the ability to store tool data. Therefore, programmers would have to use G-code commands like G50, among other methods, which offset the program origin to accommodate for different tool lengths. In these applications, new tools were preset to a known length before being loaded into the machine so that a program change was not necessary.
Controls have been able to store and utilize tool measurements for several decades, negating the need to set tools to a specific length. In most shops, the act of presetting can more accurately be called tool measurement, even though the measuring machines are often called tool setters or presetters.
Multiple Methods
Tool measurement can be performed in many ways, with no one method being better or worse than another. Machining application, shop culture, tool type and machine configuration are some of the considerations when choosing a method for measuring tools.
The simplest tool setters function much like a height gage. The cutting tool is placed in a holding fixture and the tool setter is brought into contact with the cutting tool. Measurements are then recorded and entered into the machine tool control. These tool setters are inexpensive and robust. Although simple and robust, the contact-type tool setters are slightly less accurate than the more advanced optical setters and cannot be automated. Contact models are still a good choice for shops that need a budget-friendly solution or do not want the maintenance issues associated with more-complex machines.
Having a tool setter integrated into a machine allows tools to be set before each use, and checking its length each time a tool is used mitigates tool wear and can detect tool breakage.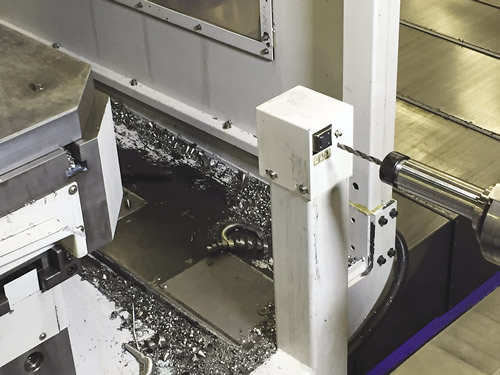 Newer tool setting technologies vary in complexity but rely almost exclusively on optics to generate measurements. Optical machines gather measurements via calibrated cameras and show results on a digital display. At minimum, optical machines provide a magnified view of the cutting tool edge as a silhouette, similar to an optical comparator. On more-advanced machines, the view is detailed and can allow the operator to see small imperfections. The view is so detailed that users must remove lint from the tool to achieve precise measurements.
Along with providing great detail of the cutting edge, optical machines can also measure angles, radii and other features for correctness, which is extremely useful when presetting form tools.
This Parlec tool setter at Mitsubishi Hitachi Power Systems Americas' combustion shop measures tools up to 800mm in diameter and 1,000mm in length.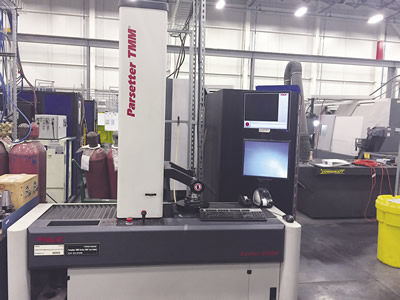 As tool setters increase in complexity, as well as price, the capability of the machine increases. More-advanced machines can be automated, provide printed results and, in some cases, communicate directly with the machine tool control.
Printed results work to minimize recording errors by eliminating the need to write down measurements. At our plant, we print all of the tool information and measurements on stickers, which we attach to the cutting tools. This allows a person to quickly set several tools without having to write down data. The tools are then transported to the machine, increasing efficiency while eliminating errors.
CNCs are also available on the more-advanced presetters that enable the measurement process to be automated. Just like a CNC machine tool, the presetter can be programmed to carry out predetermined routines. CNC programming allows a parts manufacturer to transfer the measurement of tools from machinists to less-skilled individuals, enabling machinists to perform more value-added tasks. Programmed routines also ensure the tools are always measured in the same manner.
Advancing Communication
In the most-advanced applications, the tool setter can communicate with the machine tool control. Most often, the
communication takes place via radio-frequency chips embedded in toolholders. After measurements are completed, the tool setter records the data on the chip, which is subsequently read by the machine tool control. Transferring data in this manner minimizes the opportunity for error by eliminating the need for machinists to manually enter data into the control.
Advanced applications also include network connectivity, allowing machines and control software to access the digital information necessary to accurately measure tools. Drawings, CNC programs and CAD files can be imported and exported as needed. Digital information for reverse engineering can be shared with CAD designers. Measurement data can also be shared with internal inspection departments or vendors, if necessary.
Most small shops rely on tool setters inside the machine, as they are less expensive than stand-alone machines for small-scale applications. When the number of machines in a shop increases, onboard measurement can become a burden, as maintaining and calibrating multiple devices requires more resources than maintaining a dedicated machine. Productivity can be negatively impacted because machine tools are out of production when measuring tools.
Determining the best method will depend on the shop environment, the types of tools to be measured and the amount of data that must be collected. Each shop will have different priorities that will play a role in selection. As with all equipment purchases, it is best to examine several different options and evaluate them against your shop needs and priorities.
Tool setters should not be considered stand-alone machines as they are integral to the function of other machines. Shop culture, skill of the workforce, productivity requirements and budget are just some of the factors to consider. Working with an applications engineer from the tool-setter manufacturer and visiting other users will provide invaluable information about different applications, machine capabilities and best tool setting practices.
Related Glossary Terms
computer numerical control ( CNC)


computer numerical control ( CNC)

Microprocessor-based controller dedicated to a machine tool that permits the creation or modification of parts. Programmed numerical control activates the machine's servos and spindle drives and controls the various machining operations. See DNC, direct numerical control; NC, numerical control.

computer-aided design ( CAD)


computer-aided design ( CAD)

Product-design functions performed with the help of computers and special software.

fixture


fixture

Device, often made in-house, that holds a specific workpiece. See jig; modular fixturing.