Author
Jeffrey A. Badger, Ph.D.
Published
February 01, 2016 - 10:30am
Dear Doc: When I ran out of single-point dressing diamonds and got desperate, I mounted a PCD insert to dress an Al2O3 wheel. Is there any danger in doing that?
The Doc Replies: I'm also guilty of dressing with PCD inserts, and I've visited several customers who were using them to dress Al2O3 wheels. It may seem strange, but they work. Actually, if you need to dress, just about any diamond will do the job: a single-point diamond dresser, a PCD insert, a chunk of discarded electroplated diamond wheel—ever your ex-wife's wedding ring.
Just take safety precautions and keep geometry in mind. As PCD wears, the flat width will get larger and the dressing will be less sharp. This also happens with single-point diamonds, just not as quickly.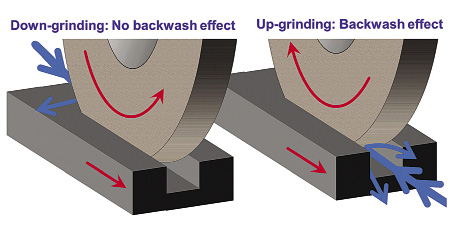 Figure 1. Down-grinding vs. up-grinding when creep-feed grinding deep grooves. Illustration courtesy J. Badger.

Dear Doc: You always say there is almost no difference between up-grinding and down-grinding in terms of temperatures, surface finish and wheel wear. But I down-grind when creep-feed grinding deep slots and it seems to help avoid burn. Why?
The Doc Replies: The one exception to my "up or down, it doesn't matter" advice is when creep-feed grinding features such as flutes, fir-tree roots and deep grooves (Figure 1). It has to do with cooling.
When up-grinding a deep groove, for example, the process creates a sort of cave, which causes the "backwash effect." Any coolant that doesn't penetrate the grinding zone—and 99 percent of coolant doesn't—can't just spill over the sides as when down-grinding. It gets stuck in the cave, creating the backwash effect. This seriously hinders the amount of coolant that can get in the grinding zone. Therefore, I recommend down-grinding.
Dear Doc: I hold ±0.0002" when grinding cylindrical ODs and have a difficult time with roundness. What can I do?
The Doc Replies: I classify out of roundness as being flower- or egg-shaped. Flower-shaped roundness problems have, say, 12 "petals" repeated around the circumference. Egg-shaped roundness problems are just that—profiles shaped like eggs. Both shapes result from different causes.
In my experience on the shop floor, flower-shaped roundness is usually caused by wheel imbalance, wheel eccentricity or self-excited chatter in conjunction with having an "integer value." Make sure the ratio of wheel rpm to workpiece rpm isn't an integer like 10.0000 (3,000 rpm/300 rpm, giving 10 flower petals). If so, change it to something like 10.147157 (3,034 rpm/299 rpm). You'll be amazed how those flower petals just disappear, because the high point on the imbalanced wheel is now hitting a different spot every workpiece revolution, obliterating those flower petals.
Eggy waviness is typically caused by a dull wheel that pushes off the workpiece. The most common cause of a dull wheel is using a grit size that's too large and dressing it dull to impart a fine surface finish. Switch to a finer grit, dress sharp and you'll be amazed how the profile suddenly looks less eggy.