Author
Craig Zoberis
Published
February 09, 2021 - 12:15pm
Although these are most uncertain times, it is nonetheless advisable for machine shop owners to take advantage of automating their shops. As a robot integrator, Fusion OEM's customer base has doubled during COVID-19 from implementation of robotic CNC machine tending.
Due to an unpredictable workforce, many companies have noted increased motivation to add automation rather than more CNC equipment. A typical comment heard by resellers of CNCs is, "I would love to buy another piece of equipment from you — if you could provide a reliable person to operate it."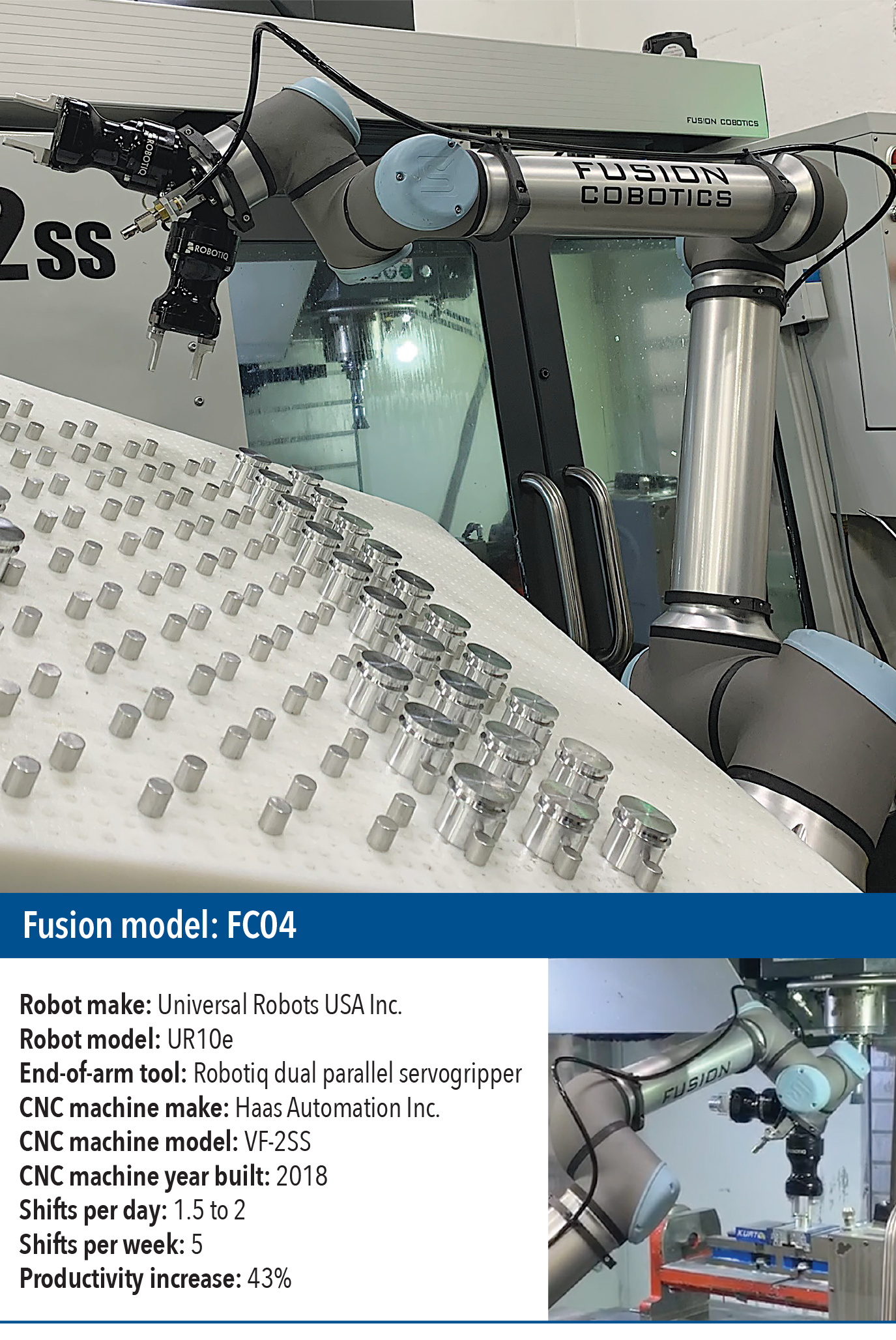 Aside from concerns about whether machine operators will show up tomorrow, our customers have shared many benefits with us, including:
Increased uptime and capacity and predictable, constant daily output. Robots keep pace with CNC machine processing and are not interrupted by rest and meal breaks or distracted by co-workers and other influences while capital equipment sits idle.
Increased quality. When programmed correctly, robots lessen the chance of improper loading, which costs money, time and even customer confidence due to increased lead times.
Lights-out operation. Running a CNC when off shift or extending a CNC process for a few more hours after a team has punched out for the day has yielded double-digit production rate increases.
Skills gap aid. To sustain business for years to come, it is paramount to rid your team of dull, repetitive tasks and focus your seasoned professionals on giving on-the-job training to the next generation of machinists. For years, shadowing senior machinists has been the most effective way for my company to teach apprentice machinists.
Workforce attraction and retention. Happy employees lead to better morale. Workers focused only on routine, menial tasks never will be productive enough for a company. Applying automation enables more cerebral aspects of business, which will result in employees feeling positive about work — and ultimately being productive.
As a shop owner, I realize that machine shop jobs involve a number of activities that are routine, repetitive and mundane. Formerly a necessary evil, these day-to-day tasks are ending because of widespread implementation of robotics. As a result, shops that have embraced and applied automation find that it is providing a significant competitive advantage.
---
To view a video of this robotic automation at www.ctemag.com, click here: cteplus.delivr.com/2gsc2
Related Glossary Terms
computer numerical control ( CNC)


computer numerical control ( CNC)

Microprocessor-based controller dedicated to a machine tool that permits the creation or modification of parts. Programmed numerical control activates the machine's servos and spindle drives and controls the various machining operations. See DNC, direct numerical control; NC, numerical control.

robotics


robotics

Discipline involving self-actuating and self-operating devices. Robots frequently imitate human capabilities, including the ability to manipulate physical objects while evaluating and reacting appropriately to various stimuli. See industrial robot; robot.