Author
Kip Hanson
Published
September 01, 2016 - 03:00am
People give them different names, such as combo machines and toolroom lathes and mills. Whatever they're called, these machine tools play a critical role in many manufacturing operations. For shops that need greater capabilities than those offered by manual machines but are unable or unwilling to make the leap to dedicated CNC equipment, combos are an important first step.
Those comfortable with CNCs might look at combo machines and ask, "Why bother?" With large tool capacities and fast traverse rates, "production" CNCs can clearly outperform any machine with cranks and levers. Yet combo aficionados point to greater flexibility and lower price tags as two good reasons for making these machines part of any well-equipped shop floor.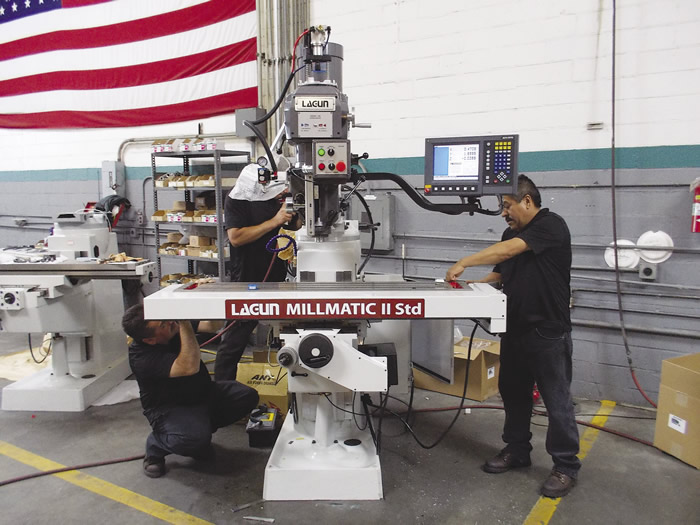 Getting a Grip
Combos look very much like the hand-cranked knee mills and engine lathes many of us grew up with. Splash guarding is either minimal or nonexistent, making it easy to accommodate oversized workpieces that, if machined on a fully enclosed CNC, would require a large, expensive machine tool. And what appears to be a capable digital readout is actually a conversational control little different from those found on "full CNC" machines.
Joseph Bezic, president of Lagun Engineering Solutions, Harbor City, Calif., disagrees with the term full CNC and said people shouldn't be confused: Combo machines are true CNCs. "From a control perspective, they are the same. The key advantage of a combo machine is the ability to operate it using handwheels, no differently than you would with a manual machine."
There's more to it, however. Bezic said combo machines can be programmed with CAM software, but most people use the machine's "teach" mode and a variety of macro-driven canned cycles to generate the necessary toolpaths. These include basic functions such as keyway machining, bolt-hole patterning and taper cutting.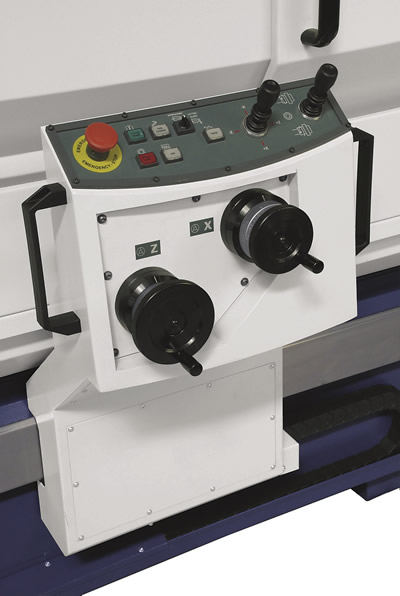 "My experience is that once people get a grip on using a combo machine, they usually operate it in fully automatic mode," Bezic said. "Still, there are times when the regular operator is on vacation or out sick. Then, the machine is easy enough to operate that anyone can step in and start using it. You don't need to be a programmer or CNC expert; combos are designed for those used to operating manual equipment."
Bezic advises those shopping for a new machine to check the local electrical codes. "Some combo machines are built using kits supplied by the control manufacturer and don't meet Underwriter Lab standards, something that's required in Los Angeles, Seattle and many other cities," he said. "If you have to certify a machine after you've bought it, it could cost you an arm and a leg."
Bezic has great respect for manual-machine "miracle workers," but said a large percentage of these skilled craftspeople are retiring and combo machines are often a stepping stone for replacement workers. "The ability to quickly change from manual mode to CNC means there's less chance of mistakes," he said. "It takes out a lot of the process variability and provides greater predictability in terms of accuracy and surface finish."
Big and Easy
ROMI Machine Tools Ltd., Erlanger, Ky., also builds combo machines. The company's regional sales manager, Jeff Kiszonas, said combos offer an attractive price point and great flexibility for a variety of industries, including medical, aerospace, firearms, and oil and gas.
Kiszonas emphasized the advantages of a machine that has high-quality castings, motors and drives matched to the machine control, and with sufficient torque for the required applications. The ballscrews should be covered to prevent contamination by chips and debris and to avoid clothing and shop rags from getting caught in the rotating parts during operation. Also, the electrical cabinets should be clean and well-organized, with neatly installed components and wire runs, easy access and visible markings. Also, the CNC and operating systems should be user-friendly, easy to learn and allow use of programs from other manufacturers' CNCs.
Compared to traditional CNCs, combos are not equipped with automatic toolchangers (although some lathe builders offer electric turrets) and are generally not suitable for production runs longer than about 500 pieces, according to Kiszonas. However, combo machines are easier to interrupt in the middle of a production run—in order to do some repair work, for example, or crank out an emergency job. "A big advantage of (Romi's) teach lathe is that it can be run as a manual machine, a full CNC or as a hybrid of both," he said.
According to the company, the optional RMMP (Romi Manual Machining Package) allows a machine to be operated manually without any type of CNC programming, and the machine can be operated like a conventional lathe with the added capability and productivity of a full CNC lathe.
The Goal
Larry Fryer, president of Fryer Machine Systems Inc., Patterson, N.Y., agreed. "The most important feature is multimode operation," he said. "You need the ability to run the machine tool manually. You need full auto mode for light production. And you need 'do-one' mode, where the computer's assisting you by doing a single operation automatically, and then returning to manual mode to cut a thread, for example. These are the operations that help you reach the goal of making the first part in half the time of a manual. If you can't achieve that, then you shouldn't be buying one of these machines."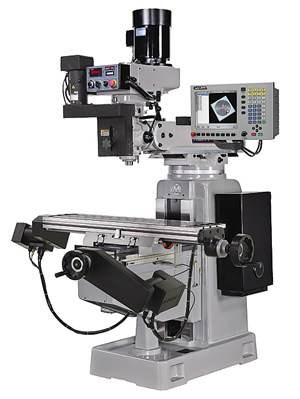 If that goal can't be met, he added, most manual machinists don't want to be bothered. Nor do they care to be bothered with equipment that is difficult to operate. "No one wants to enter G code," Fryer said. "That's fine for production machines, but not for this application. You need a powerful but simple-to-use, conversational programming system, one that allows a skilled machinist to stand in front of the machine, understand the screens and enter data quickly and efficiently."
All builders say their machines are user-friendly—and that may be true—but prospective buyers should be aware that there are significant differences among controls. Fryer recommends programming some of your own parts on a machine before buying it.
Aside from less sheet metal surrounding the machine and, therefore, fewer safety interlocks, manual machinists want mills with a movable quill and a tiltable head, giving them the feel of a manual machine and allowing them to tackle whatever repair work and odd job comes their way.
Price is Right
A basic combo mill or lathe sells for around $35,000, roughly twice the price of a comparably sized manual machine. Add in a tooling package and options, such as live tooling and C-axis capability and you could be edging into production CNC territory. At that price point, does a combo machine still make sense?
Bill Young thinks so. The executive vice president at Kent Industrial USA Inc., Tustin, Calif., agreed that a combo offers multiple benefits, but admitted fewer of these machines are being sold than previously.
"Walk into a shop 10 to 15 years ago and you might have seen a row of half a dozen or more combo knee mills and lathes," he said. "Today, you'll see one or two. The demand has definitely shrunk by quite a bit, but it will never go away, because, at the end of the day, not everything is well-suited to production CNC machines. For simple jobs, short runs and prototypes, you can have the parts completed on a combo machine by the time the CNC is set up. And since combo machines cost far less, the burden rate is commensurately lower, which equates to better profitability."
And compared to manual equipment, complex 2D profiles are one area where combo machines win hands down, according to Young. Simply upload a DXF file, tell the control the tool diameter and which side of the profile to machine, and push start.
This is one of the reasons Young regularly receives phone calls from shop owners looking to retrofit manual equipment to CNC. Unfortunately, it's not that simple. "It can be done, but it's rarely cost-effective," he said. "We would have to clean the machine, qualify it and adjust any mechanical deficiencies to bring it to like-new condition. At the end of the day, you're still talking about an old knee mill that's probably not worth pumping an additional $15,000 in installation costs into."
Young said you're far better off trading in that old iron for a new, already-upgraded machine. "Combo machines definitely offer excellent payback. I don't see them competing with CNC machines—each has its place. But to those shops that don't have at least one of these machines, I have to say they are at a competitive disadvantage. There's a lot of work that's simply more efficient to produce on a combo."

Contributors
Fryer Machine Systems Inc.
(800) 776-8877
www.fryermachine.com
Kent Industrial USA Inc.
(800) KENT-USA
www.kentusa.com
Lagun Engineering Solutions
(800) 421-2105
www.lagun.com
ROMI Machine Tools USA
(877) ROMI-USA
www.romiusa.com