Author
Cutting Tool Engineering
Published
June 01, 2016 - 12:00pm
--------------
END USER: RDC Control Ltd., (800) 363-2264, www.rdccontrol.com.
SOLUTION PROVIDER: Rösler Metal Finishing USA LLC, (269) 441-3000, www.rosler.us.
CHALLENGE: Reduce the cost and time to finish end plates for hydraulic cylinders.
SOLUTION: A shot-blasting machine to perform the process in-house.
-------------
The transfer of power is one of the most important and demanding processes in modern machinery and—more often than not—requires hydraulic cylinders. RDC Control Ltd., Blainville, Quebec, understands the requirements for that equipment because it manufactures hydraulic and pneumatic cylinders, as well as linear valve actuators and thermocouples.
The end plates on the company's hydraulic cylinders are made of mild steel and serve as control valves for fluid transportation, said Ariel Schtenbarg, RDC's director of engineering. To work properly, the cylinder plates cannot have any rust or oil on their surfaces. Previously, RDC sent the plates to a subcontractor for sandblasting, which also improved the contact surface to maximize the adhesion of corrosion-resistant paint. However, sandblasting parts is expensive and has a week-long turnaround time, according to Schtenbarg.
He knew "there was something better" that could provide a cost-effective, efficient, in-house method and impart a uniform surface finish. After researching equipment from multiple manufacturers, he found it at IMTS 2014. RDC purchased the RHBE spinner hanger shot-blasting machine from Rösler Metal Finishing USA LLC, Battle Creek, Mich.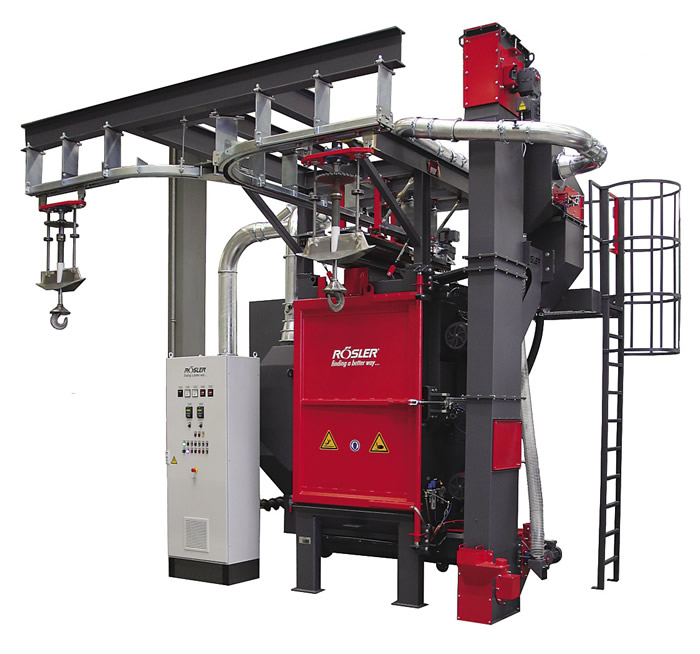 RDC Control uses a Rösler RHBE shot-blasting machine to clean cylinder plates and enhance their contact surfaces to maximize the adhesion of corrosion-resistant paint. Image courtesy Rösler Metal Finishing USA.

According to Rösler, the RHBE blasting units are recommended for treating complex, heavy or large parts and sensitive components that cannot be tumbled in bulk loads, which results in part-on-part contact. To avoid the nicks and other surface damage that this contact causes, parts like RDC's cylinder end plates are mounted on a "Christmas tree"-style fixture and transported into the blasting chamber. The simultaneous rotating and oscillating movements of the spindle ensure the blasting media, accelerated by multiple turbines, reaches every component and produces uniform results. A Y-switch-type, overhead monorail allows the operator to load and unload one fixture while a second fixture, loaded with parts, is in the machine.
The RHBE machine Rösler built for RDC has a blast-cleaning zone that is 35" (889mm) in diameter and 51" (1,295.4mm) high. The machine has two direct-drive, 7.5-hp (5.52kW) blast turbines that apply carbon cast steel shot to impart the required finish.
Schtenbarg said RDC can simultaneously process eight of its smallest end plates in the machine, while the largest plates, measuring 20 sq. in. (508 sq. mm), must be shot-blasted one at a time. The cycle time is 2 minutes.
He added that the RDC received the machine about 8 months ago and expects to achieve a return on investment in less than a year.
Related Glossary Terms
fixture


fixture

Device, often made in-house, that holds a specific workpiece. See jig; modular fixturing.