Author
Alan Richter
Published
March 01, 2016 - 10:30am
Central conveyor systems provide benefits, but not everyone needs one
The chip collection bin at a shop's turning center is full, so a worker grudgingly begins the mundane task of moving the bin via a forklift to the chip collection station at the opposite end of the plant. Unfortunately, the bin leaks and coolant drips on the shop floor, causing the shop's biggest customer to slip and fall while visiting to check on his latest order. There's got to be a better way.
Fortunately, there is: a central conveyor system transports chips from individual machine tools to a chip processing site, eliminating the need for individual bins at each machine.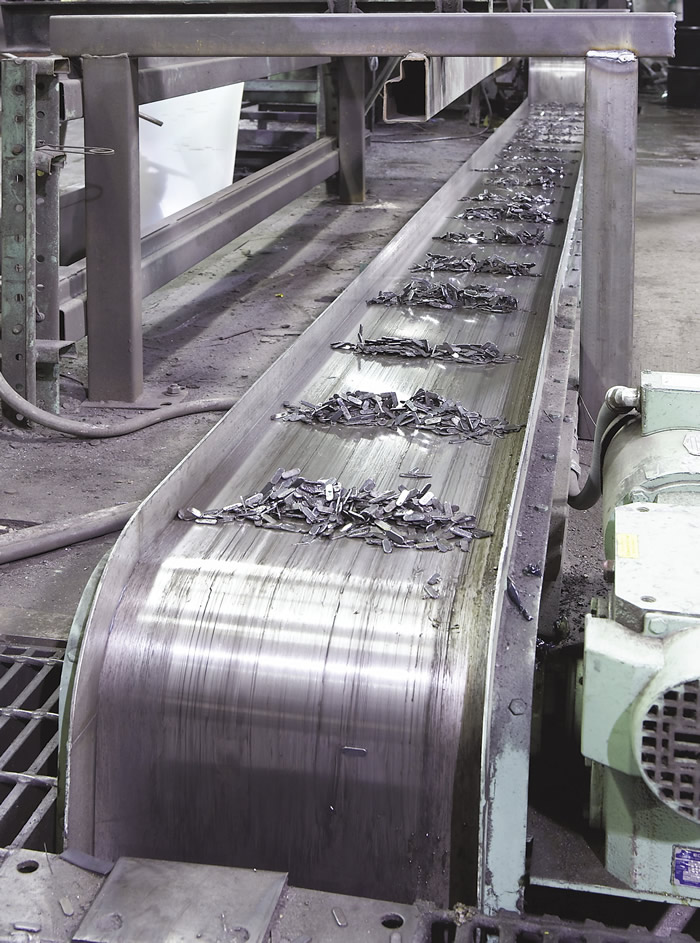 An Eriez magnetic conveyor moves punch-press scrap. Image courtesy of Eriez.

The benefits for a shop begin with a facility that projects cleanliness, sophistication and automation, according to Dan Baumbach, president of Titan Conveyors Inc., New London, Wis. "The appearance of a facility with a central collection system is dramatically different and catches the eye immediately upon entering. The value of a clean, organized shop with a top safety record should not be underestimated when presenting it to customers—it's huge!"
A central system also reduces labor, fork truck traffic, safety hazards and housekeeping messes, added Mike Hook, North American system sales manager for PRAB, Kalamazoo, Mich. The company manufactures systems for processing turnings, chips and coolants, and conveyors for automated material handling.
Nonetheless, a central conveyor system can pose problems if a parts manufacturer doesn't appropriately predict company growth. Conveyors tend to have a long service life, and a shop can outgrow its system in a few years.
Therefore, customers must look at the big picture and plan for future expansion, emphasized John Mackowski, metalworking product manager for Eriez, an Erie, Pa., manufacturer of magnetic conveyors for transporting ferrous chips and parts. "That's what most customers tend not to do," he said. "They don't think far enough into the future."
Although determining future requirements can be a daunting task, inadequate planning is especially problematic for an end user with a magnetic conveyor system. Mackowski explained that magnets move inside the housing and each magnet grabs a certain volume of chips or parts. As more chips or parts are produced—for example, transitioning from five machines generating a total of 1,000 lbs. (454 kg) of chips an hour to 10 machines producing twice that much—the magnets are unable to accommodate the increased capacity.
It's different with belt-style conveyors, Mackowski said. "If you keep piling stuff on top of a belt conveyor, you can increase capacity fairly easily."
In addition, the width of a magnetic conveyor might need to change as it progresses along its route to where it discharges at the central collection zone. At the beginning of the line, where the conveyor is only being fed by one or two machines, "you might only need a conveyor that's 8" or 10" wide," Mackowski said. "Conceivably, you can get to the other end of the building and be handling material from 20 machines, so the conveyor is handling substantially more material than it did at the beginning. It's not a problem, but people just have to understand why you start with an 8"-wide conveyor and, at the end, have a 28"-wide conveyor."
System Selection
The types of central systems available include in-floor, on-floor and overhead conveyors. An in-floor conveyor is the ideal scenario, according to Titan's Baumbach, because it can be plated over to make it practically invisible and requires the least conveyor footage because machines typically discharge material close to floor level. However, installing an in-floor conveyor in an existing plant is challenging because a trough must be dug beneath the floor, which requires a significant upfront investment and causes disruption and downtime. It's also not suitable for a facility that frequently reconfigures its machines.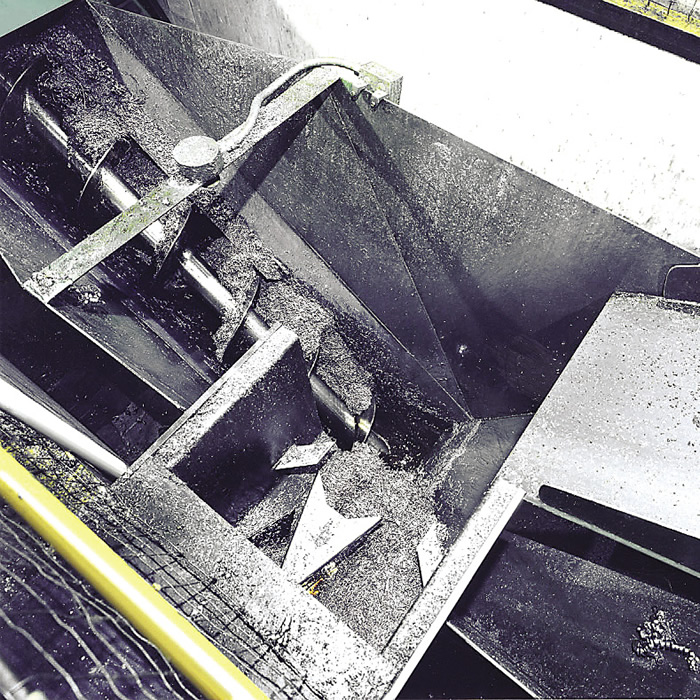 An in-floor harpoon conveyor automatically feeds a screw conveyor. Image courtesy PRAB.

"When facilities are being [designed], customers want to automate and improve their chip handling process," said Mike Weckerle, OEM sales manager for Jorgensen Conveyors Inc., Mequon, Wis. "The cleanest way to start is before concrete is poured."
It's even better when a parts manufacturer requests feedback about how a conveyor can best be integrated in a facility while it is still being planned, Weckerle noted. "We love it when customers call before the building is fully designed."
However, Hook pointed out that while the company works with customers as their plants are being built, a majority of the company's work involves retrofitting existing factories. This might involve installing a simple conveyor system for a production cell with six or eight machines. However, because there is no preexisting pit, the project requires expertise in conveyor and equipment layout to make it cost-effective.
Weckerle added that the larger the shop, the more likely it will opt for centralized chip management.Such shops mainly serve the automotive and aerospace industries.
Although aerospace applications often have a high "buy-to-fly ratio," where a large percentage of a workpiece becomes chips, Hook said those parts are usually milled and, therefore, the chips are a consistent size, material and solid-to-liquid ratio. This makes an in-floor or aboveground conveyor fairly straightforward. Turned workpieces, on the other hand, tend to generate long, stringy bundles of chips, complicating the conveyance process and requiring the conveyor design to account for all operating conditions and material variances. In addition, the plant may need a chip shredder, mill or crusher to reduce chip volume by converting the bushy wads of turnings into a manageable "shovel-grade" size.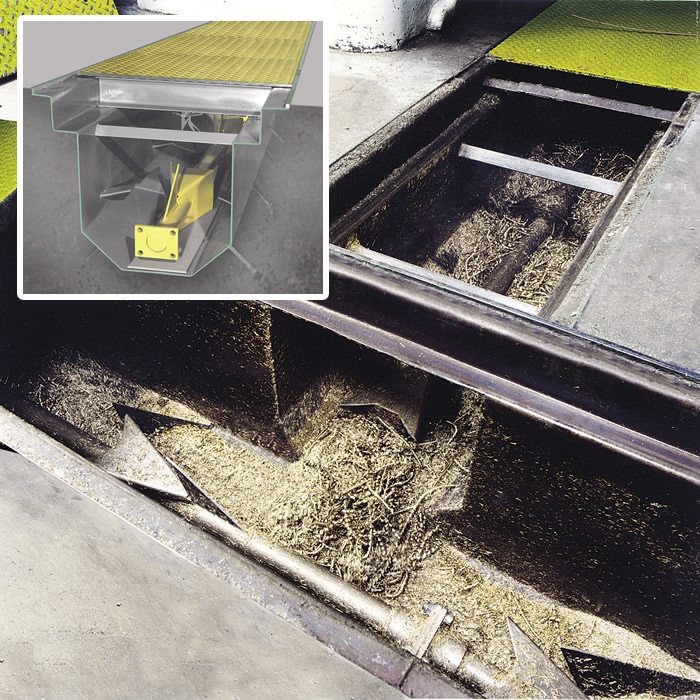 Prab's in-floor harpoon conveyor is engineered to move volumes of metal chips, fines and turnings from the source. The free-floating ram pushes material down the length of the conveyor, and a liquid-tight trough prevents coolant spillage and allows metal and fluid to be recycled. Image courtesy PRAB.

Without the need to excavate the shop floor, an on-floor conveyor system is simpler to install and costs less than an in-floor one, but it can interfere with plant traffic, Hook noted. A shop must arrange its production equipment to efficiently enable a conveyor to sit on the floor, and it might require installing ramps or ladders so workers can get from one side to the other.
Nonetheless, even with the best-arranged floor plan, an on-floor system is not as safe or attractive as an in-floor conveyor, and it's easier to damage. "Shops will tell you their fork truck drivers are very cautious, but I've seen many conveyors get stabbed," Eriez' Mackowski said.
An overhead system is not commonly employed for conveying chips, Weckerle said. However, if a customer would be best-served by an overhead system, it can be done.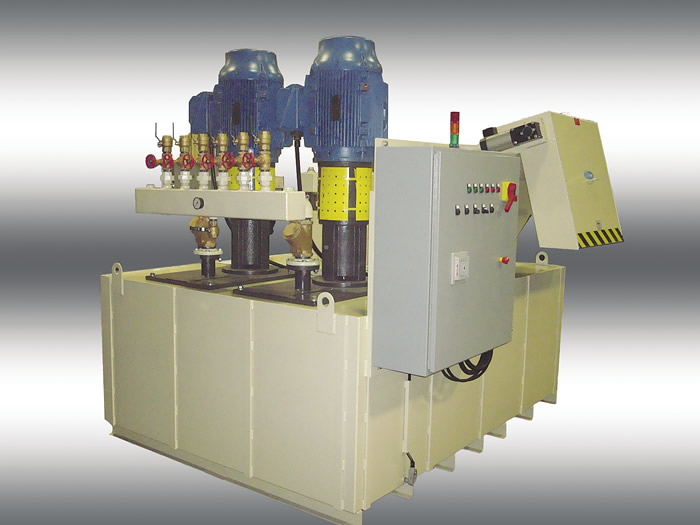 A central coolant chip removal and filtration system from Jorgensen Conveyors is for a Tier 1 automotive parts supplier. It services six Chiron vertical machining centers and processes a coolant flow rate of 360 gpm. Image courtesy Jorgensen Conveyors.

Although Titan Conveyors does not make the pneumatic or screw conveyors required for overhead applications,
Baumbach recommends hinged steel-belt or drag-flight conveyors for those scenarios, as he does for in-floor and on-floor applications. Overhead conveyors can be installed easily in existing facilities without creating obstructions, he added, but more conveyor sections are needed at each machine to connect it to the overhead system.
Mackowski said some manufacturers employ overhead systems, from 15' to 20' (4.6m to 6.1m) high, to transport things such as heavy, stamped parts. "They take safety measures around those conveyors for any parts that might fall off."
Planning for Growth
Some conveyor systems are still fully operational 20, 30, 40 or more years after installation, but the general expectation is a general-duty conveyor will last about 10 years, Weckerle said.
A lot can change at a machining facility during that time, so Bill Johnson, proposal manager for Jorgensen Conveyors, emphasized the need for a conveyor manufacturer to ask questions about the customer's plans for the future, company goals, the floor space requirements between machine tools and how adding machines would impact conveyor system capacity. "What is the basis for expansion, and do we need to oversize our system by 50 percent to resolve for that expansion?"
When a customer adequately shares its vision for a facility, the conveyor manufacturer can easily design in provisions for expansion that add little or no cost to a project, Baumbach added.
Hook noted PRAB's push-bar and harpoon conveyors are popular because they can be easily expanded. "They are a bolt-together, ram-and-trough design so you can literally expand your system at a future date without having to repurchase."
Extending a trench obviously requires tearing up concrete, but an additional trench can be put in place during the initial construction, Hook said. This enables a machine shop or OEM to fairly inexpensively add inputs to the trench as machining capability expands.
Automated chip and scrap handling systems have proven beneficial to management, production and maintenance departments, Hook added. These systems maximize production uptime, reduce maintenance and cost and minimize the associated environmental health and safety risks of manual handling.

Put to the test
Similar to cutting tools, conveyors that process abrasive materials or materials with a high tensile strength are prone to have more component wear and a shorter operating life than those that do not.
During the conveyor purchasing process, PRAB will typically help a plant conduct a cost-benefit analysis based on a variety of conveyor materials and construction designs to combat extreme-duty perils, said PRAB's Mike Hook. The conveyor materials available from PRAB range from mild steel to impact-hardened manganese.
Ways to extend conveyor life include making moving parts and tracks from stainless steel or abrasion-resistant and hardened metals, enhancing lubrication, providing clean-out and special designs that prevent material seepage or improve the release of materials from the belt. "It's important to work closely with the conveyor provider to understand the application in detail, so equipment is neither underdesigned nor overdesigned," Titan Conveyor's Dan Baumbach said.
For an extreme-duty application operating around the clock, the expected life span is 5 years, said Jorgensen Conveyors' Mike Weckerle, adding that the custom manufacturer engineers everything in-house. "We have a very broad range of products and design elements to meet most metalworking or machine tool applications. We are committed to analyzing the complete process and application, and we ask a lot of questions about the customer's expectations."
When a conveyor is moving parts, John Mackowski at Eriez pointed out that conveying material through a quench tank after parts travel through a furnace for heat treatment is a good example of an extreme application. For such as environment, he recommends a magnetic conveyor, because it is completely sealed compared to a hinged conveyor. Therefore, any tiny chips remaining on a part could conceivably be removed via the quenching fluid and enter the conveyor housing, where there would act as an abrasive and wear internal components. He added that a magnetic conveyor costs about 40 to 50 percent more than a hinged-belt conveyor.
Another extreme application is handling stamped parts with sharp edges, such as battery end caps. "They are so sharp, like little razor blades, and tend to tear conveyors up, including magnetic conveyors," Mackowski said. "You have to take into account how sharp the edges are when determining what kind of slider bed you can put on the conveyor to make it last longer."

Contributors
Eriez
(800) 345-4946
www.eriez.com
Jorgensen Conveyors Inc.
(800) 325-7705
www.jorgensenconveyors.com
PRAB
(800) 968-7722
www.prab.com
Titan Conveyors Inc.
(800) 558-3616
www.titanconveyors.com