Author
CTE Staff
Published
August 17, 2023 - 11:00am
An entrepreneur and avid off-road outdoorsman, Wiley Davis came up with his successful manufacturing business concept while driving home from a surfing and camping trip to Baja, Mexico. After struggling once more to fit his 1.92 m (6' 4") frame into his 1.83 m (6') truck bed to sleep, he envisioned what became Go Fast Campers, a manufacturer of customized, lightweight pop-up truck campers.
Less than five years later, the CEO and co-founder has grown a vertically integrated manufacturing operation headquartered in Belgrade, Montana, with four other locations and 65 employees. He said a line of UR5 collaborative robots from Universal Robots USA Inc. in Ann Arbor, Michigan, enabled the manufacturer to achieve that growth.
"Had we not built the entire company around the concept of automation, our 65 employees wouldn't have those jobs at all," Davis said. "And the products we make — if we were able to form a company around it — would only be affordable to a very tiny portion of people."
He previously owned a much smaller company that manufactured off-road motorcycle parts. Through it, he discovered the challenges of manual machine tending.

"In the beginning, I designed all the parts, I made all the parts, I shipped all the parts — basically, everything having to do with the business, I had to do," Davis said. "When you have to stand in front of a machine, pushing a button, if you step away for anything, those parts don't get made. I knew you could tend machines with robots, so there was a 'Wouldn't it be nice if?' scenario running around in my head."
Because the business required fast design changes, he needed flexible automation. And with no background in robotics, he said he also needed a solution he could learn swiftly.
"I didn't want to spend six months trying to figure out how to use the robot or solve the robot's problems," Davis said. "I wanted to be solving my problems quickly."
Once he discovered Universal Robots, he said he decided to purchase a cobot and figure it out once it arrived. He ordered a UR5 cobot and downloaded the manual to read before the robot arrived.
Davis' first self-taught integration started simply. The cobot loaded and unloaded parts from a Haas CNC machine using an M code relay and a wire to one of the inputs on the cobot so it could push a button to open the machine door. Over time, the program evolved and became more efficient with the addition of an inexpensive air cylinder for the door and a relay on the cycle start switch connected to one of the cobot's outputs. That allowed the cobot's own controller to manage the full process while saving wear on the cobot's joints.
This early success reinforced his enthusiasm for automation.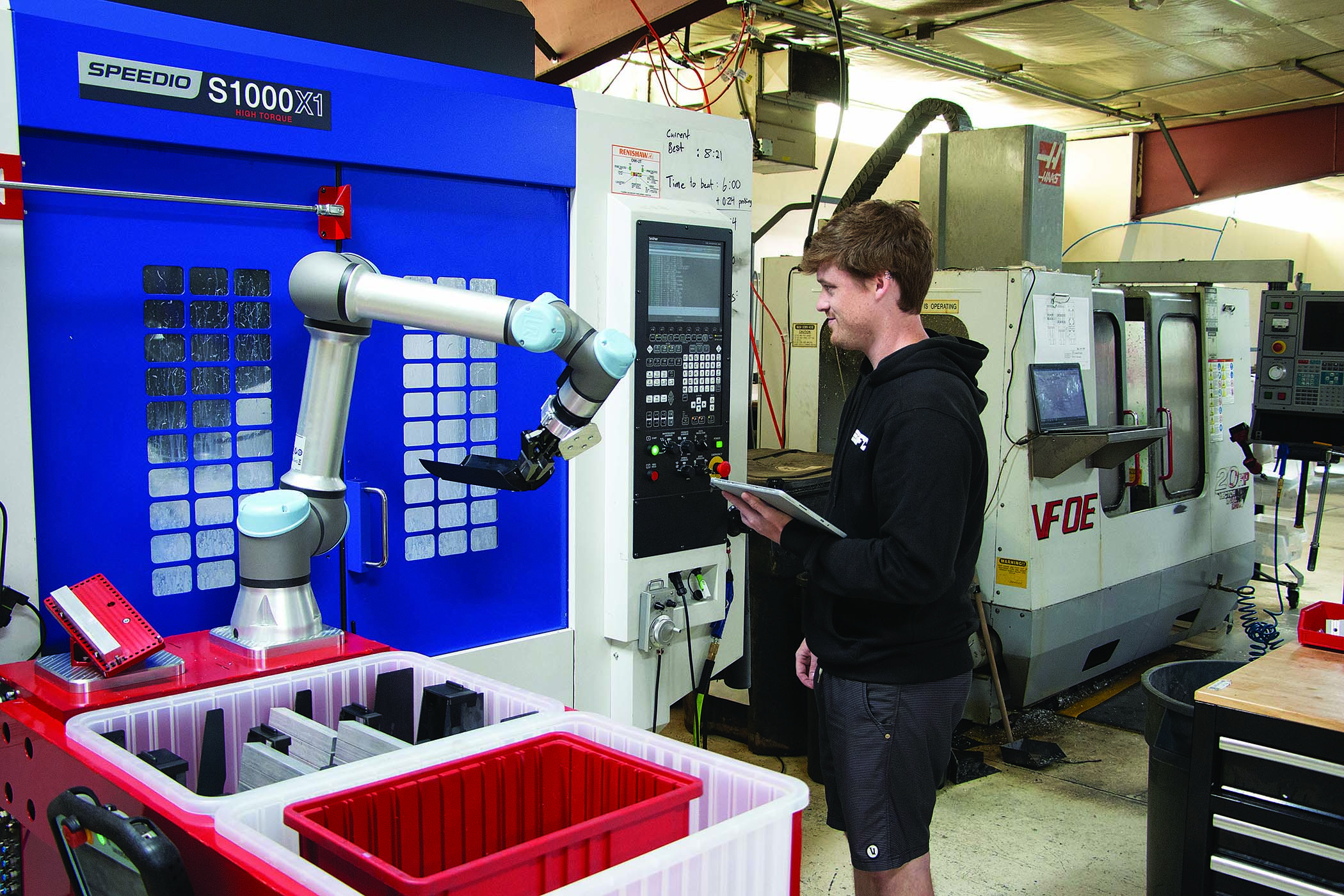 "The dream scenario that had played in my head standing at the machine turned out to be true because once that got running, even in a very limited capacity, it basically cut the time I had to stand at the machine in half," Davis said. "That allowed me to start focusing on other things like making better designs, hiring and getting new people trained, and I started thinking about new ideas. The fact that Go Fast Campers exists is to a large degree due to that because otherwise I'd still be there, overwhelmed with all of the parts that I had to make."
His original UR5 cell has expanded to four cobot machine tending cells using UR5e cobots, and that first simple program continues to evolve.
"What we're attempting to do is to run any part that we throw at it without having to make a new program," Davis said.
That gives the company flexibility and improves reliability because the team doesn't need to test and monitor new programs before moving them into
production.
Go Fast Campers' products fit a range of vehicle brands and models. The company manufactures 174 unique parts, such as bolts, connectors and hinges, which fit into different products and at different quantities. All the parts start as raw pieces of aerospace-grade aluminum billet material that are cut into seven different standard stock sizes and loaded on trays at the four cobot-managed machining cells. Each robot uses the same program, with minimal input from an operator to define which part is being manufactured.
The robot then picks a workpiece, sets it in a re-grip station so the robot can find the part's center and loads it into the machine. The machine mills the first operation, the robot flips the part to machine the second operation, the part is ejected out of the vise, and a retractor arm pulls the part into a wash bin, ready for subsequent
processes.
The UR cobot's built-in inputs/outputs allow Go Fast Campers to control all the auxiliary systems through the robot program.
"This has been incredibly useful for us," said Chief Operating Officer Stephan Morris. "As we actuate the vise, the ejector mechanism, the extractor mechanism, the door cylinder that opens and closes the door — all those things are made
possible by the UR's easy programming language and the easy opportunity to just plug in different pins to different pneumatic systems."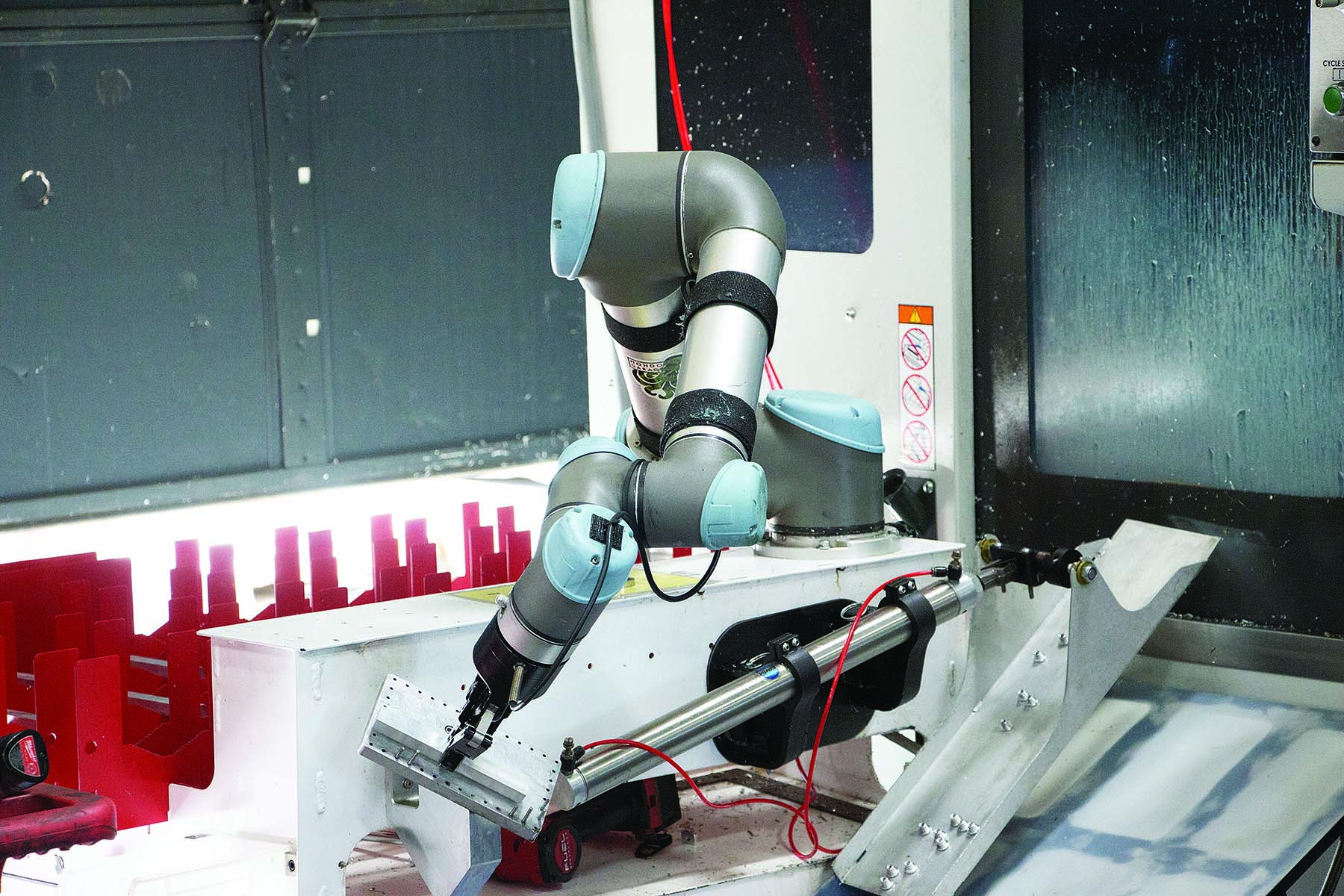 The other key component is the force feedback gripper from Robotiq that seamlessly integrates with cobots. The setup allowed Davis to build a reliable, safe system without having to invest in additional sensors and other systems that workers would have to learn.
"We're trying to make very good use of the UR ecosystem and all of the other products that come along with that and support both from people and from other companies," said Ian Sparkman, special projects team engineer. "Being able to add something onto a UR that gives us even more information out of our application has been extremely valuable for us."
"Traditionally," Morris said, "in a machine shop you'll see one operator per machine. With the automation that we've been able to achieve with UR robots and our engineering team and Wiley's initial developments, we're able to run four machines with one operator over two shifts a day."
Most employees work four 10-hour shifts per week, giving the company about 22 hours per day of machine time, with about 16 hours of that being staffed by people. The cobot cells run lights-out, which gives first- and second-shift employees time to communicate about the day's requirements without slowing production.
The UR5e's flexibility and ease of programming allow the company to run 20 to 25 jobs across the four machining centers each day, with job changeovers taking only 10 to 15 minutes. The machine cells produce just the quantities needed for that day, whether that's 15 or 500 pieces. This arrangement also enables the company to make quick part changes as opportunities arise.
"An engineer can go in, work with an operator, make changes to a part, update the machine program and push that part through," Morris said. "You might only be scrapping a small inventory, but having that type of integration throughout the entire company allows us to stay flexible and take feedback from our customers."