Author
Michael C. Anderson
Published
December 01, 2016 - 04:15pm
The move to save time and space and improve quality by combining two or more manufacturing processes on a single machine has generated additive/subtractive hybrids and various multitaskers in recent years. In that group is the UNISIG USC-M series, which brings together milling and deep-hole drilling in a 7-axis machine.
The USC-M incorporates two independent spindles: one for gundrilling and BTA deep-hole drilling and a CAT 50 machining spindle. Combined with a rotary table and programmable headstock inclination, it puts accurate deep-hole drilling and high-performance machining capabilities within a single work envelope, according to the company.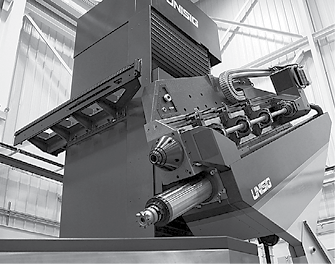 The USC-M series allows moldmakers to mill and gundrill on a single machine. Image courtesy UNISIG.

The machines use the B, A, X, Y and Z axes for 5-axis machining, the W-axis for the combined gundrilling and BTA drilling spindle, and the U-axis for machining. This provides 3+2 machining to reportedly make deep-hole drilling and machining of compound angles faster and easier, and improves productivity and throughput by reducing setups and eliminating changeovers to multiple machines.
UNISIG CEO Anthony Fettig told CTE that for his customers in the moldmaking industry—at whose request the machine was developed—using a deep-hole drilling headstock capable of conventional gundrilling and BTA high-performance drilling has proven to be five to seven times faster than gundrilling alone.
"Conversations with these customers broadened out from gundrilling to other challenges they had," Fettig said. "There's deep holes, there's compound-angle holes and complicated drilling—but preceding that is a lot of complicated milling." That milling is being done on boring mills, "using a lot of exotic fixturing and complicated setups."
The workpiece would then be moved to a gundrilling machine, and then back to the mill for more-complex machining, he said.
"We concentrated on dexterity, rigidity, volumetric accuracy—a lot of hand-scraping—reach, and then applying the latest automation technology—laser presetting, workpiece probing, large toolchangers, a Heidenhain CNC for contour management and tool-change management," Fettig said. "But this is still a deep-hole-drilling machine as well—so the [mold] water lines and other deep-hole features that can't be done on a traditional machining center can now be done, and at extraordinarily high feed rates."
For more information about UNISIG, Menomonee Falls, Wis., visit www.unisig.com or call (262) 252-3802.