Author
Cutting Tool Engineering
Published
April 01, 2016 - 10:30am

Antron Engineering and Machine Co. Inc. is a contract manufacturer that employs about 100 people and has a machine shop that includes 50 CNC machine tools. The Bellingham, Mass., company produces parts from "so tiny you almost can't see them in your hand up to single pieces that are 24" in diameter," said Anthony Denietolis, president of Antron.
Lot sizes range from one to 100,000 pieces, Denietolis added, and Antron frequently designs prototypes and tooling and builds inspection and testing equipment for its customers. "Our prototypes usually go directly into production as designed," he said. "We design them to fit our equipment."
One prototype, however, required Antron to purchase tooling to efficiently and consistently machine features in a cylinder housing made of 7075 aluminum. The component is part of a pump unit that runs the hydraulics for the controls and engines in a plane. "If something happens with the pump, you lose the plane," Denietolis said.
The job required Antron to produce 10 each of the left and right housings. Denietolis explained that the challenge was milling a slot in a small-diameter bore, and the slot had an interruption and a large depth-to-diameter ratio. The specified bore diameter was from 2.6505" to 2.6510" (67.3227mm to 67.3354mm), the bore depth was 10.000" (254mm), and the slot width was 0.160" (4.06mm). The first slot started 2.050" (52.1mm) into the bore and was 1.750" (44.45mm) long, the second slot was 5.150" (130.81mm) and a 0.500" (12.7mm) space separates the two slots.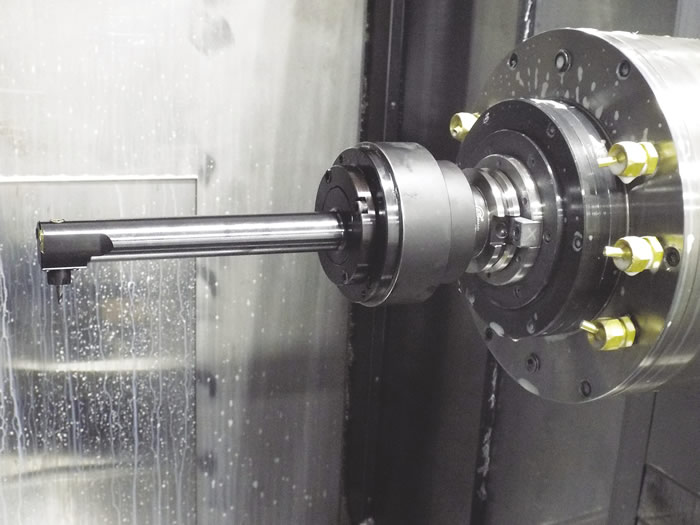 Antron Engineering and Machine applied a Titespot angle head from Eltool to mill an interrupted slot in a small-diameter bore. Image courtesy Antron Engineering and Machine.

The customer used to have a machine shop and produced similar features with a planing-type technique, where a nonrotating cutter shaped like an ice cream scoop scraped the surface to remove metal. "It is old technology, not quite as accurate as you'd like and extremely slow," Denietolis said. "You're not going to get any type of conventional tool in there."
Initially, Antron wasn't aware of an alternative method and considered planing or building a motorized head that powered a gear-driven tool and fit into the machine tool spindle. Denietolis soon realized, though, this strategy would be cost-prohibitive and not function effectively.
However, Denietolis said he had seen information online about Titespot angle heads from Eltool Corp., Cincinnati, which rely on high-pressure coolant to drive an integral, positive-displacement ball piston motor. The motor powers a drive shaft, which, in turn, drives the head's spindle, while exhausted coolant is directed at and through the cutting tool. Eltool stated that because the angle head has its own power (the coolant), a machine's spindle can function as an indexer, allowing multiple-position machining with one head and setup.
The Eltool angle head looked like a solution to his problem, Denietolis said, but he was unable to find the right one after examining the company's website. When Antron's tooling salesman asked Denietolis if he tried the Eltool head, Denietolis recalled his web browsing experience and was informed that Eltool carries significantly more products than it presents online.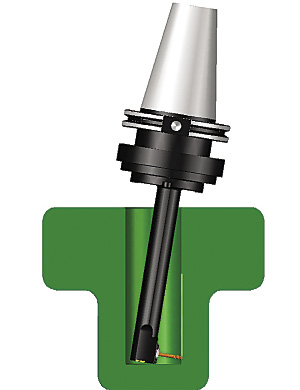 A model of Eltool's angle head shows the head being
tilted to position the cutting tool near the bottom
of a bore. Image courtesy Eltool.

A call to Eltool President John Young confirmed the salesman's claim, Denietolis said, as Young was able to provide an off-the-shelf solution. "That tool is like an extension of the machine now," Denietolis said, "and every single part is good."
Denietolis said the head was applied at a 30° angle, and it was never removed from the spindle for the prototype job. (Antron expects to go into production in mid-summer.) The angle head produced the part features in 8 to 10 minutes, about 20 percent of the time that the planing method would have consumed, he estimated. This generated a 60 to 65 percent cost savings—a return on investment after one job. In addition, the angle head provided process security, "instead of 100 percent of the time not knowing if the part was going to be good or bad after you're done machining," Denietolis said.
Antron soon had a couple more jobs for which the Titespot angle head could be applied. Rather than having to purchase a completely new angle head for different applications, Antron found it could buy a different drive shaft and toolholder assembly for about half the cost, because the hydraulically powered motor is universal for all the different attachments.