Author
Craig Zoberis
Published
June 16, 2022 - 09:00pm
Traditionally, CNC automation solutions were often custom and one-offs. Although promising an outcome tailor-made to an application can be tantalizing, it also can make choosing the right investment in robotics for the machining industry very difficult and risky.
The evolution of technology and capabilities, coupled with increased acceptance of automation, has brought to market a frequently better alternative: the purpose-built (for CNC machine tending) standardized robotic system.
These standardized solutions allow shop owners to sleep peacefully, knowing they have invested in a system specifically designed to be flexible in the most beneficial manner for CNC machine tending and so operators don't have to reinvent the wheel every time they take on a new project. Mainly, machine shops are investing in standardized solutions to take advantage of eight key benefits.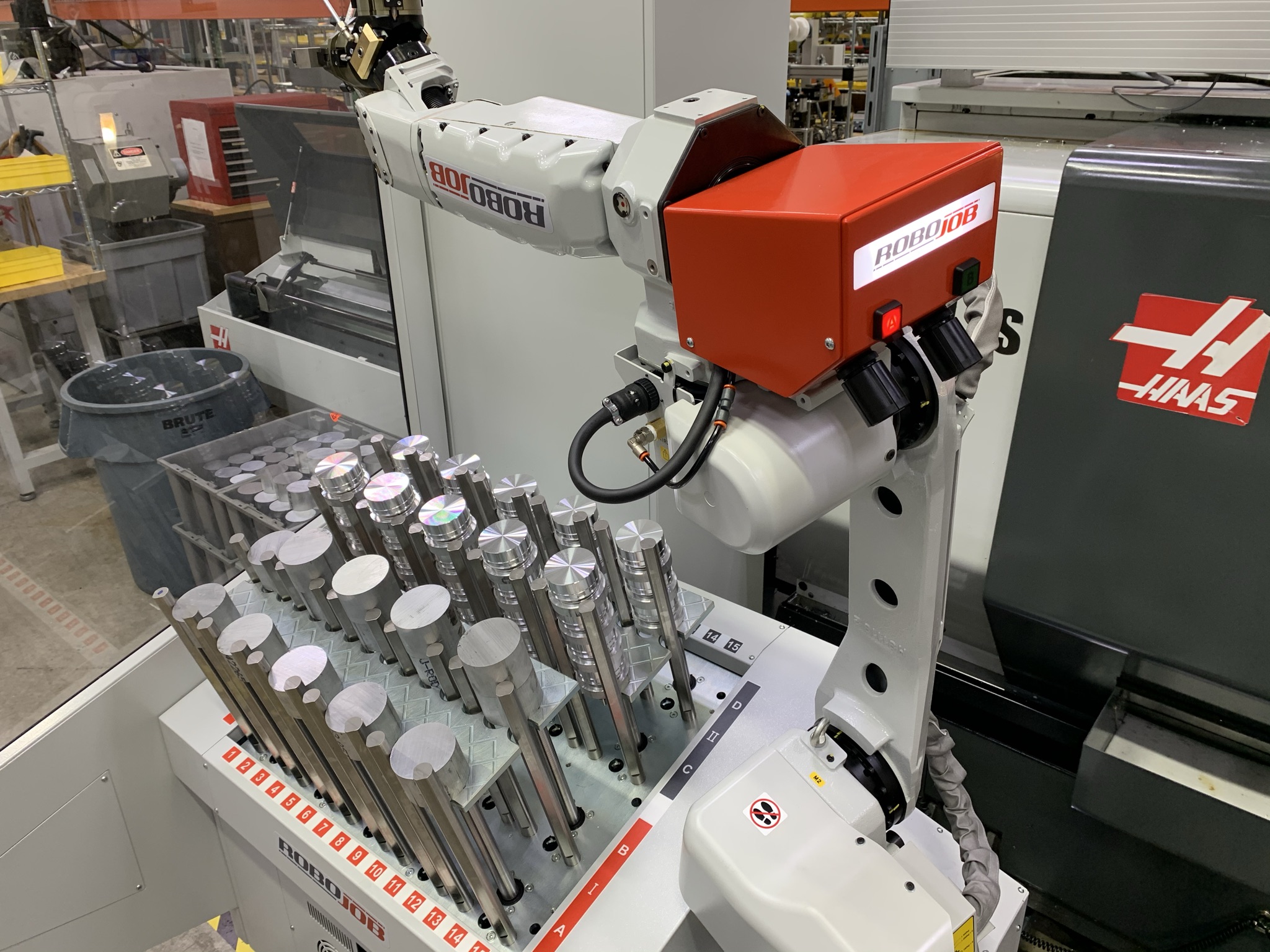 1. A reduced timeline from the purchase order to parts. A purpose-built machine is generally ready to "partner" with your CNC machine tool right away and join the effort in producing parts and expanding capacity. These systems have a very short setup window and commonly require little to no development to start. This makes for a more immediate realization of the benefit, especially when most machining operations are filled with jobs and short on staff.
2. Low risk. Since a standard system typically is built with a focus on CNC machine tending applications by engineers with machining experience, the likelihood of an immediately successful integration is much higher. Couple that with the expertise gained through regular deployment of the same design in the field, and you have a solution that largely has eliminated the potential ghosts of even the best-intended and -designed custom solutions.
3. Increased efficiency. Standardization of your machine shop methods and tools stops your production team from wasting time. Why make machinists write new robot programs every time they begin a job for simply picking and placing parts?
4. Increased productivity (machine uptime). Not only will operators know exactly what to do when beginning a job — robots will too. With customization comes delays. Allow standardized robotic solutions to work into the night with minimal if any operator intervention.
5. Smoother communication. With standardized solutions, the terms, phrases and descriptions used on a shop floor are understood easily by everyone on the production team. Put an end to all the unnecessary technical jargon and proprietary programming requirements that need to be learned and relearned every time a job is introduced.
6. High return on investment. There is no denying the lack of qualified workers at CNC machine shops. Having standardized robotics on a shop floor results in a higher ROI because it is easier and quicker to train a team. With an experienced robotic integrator, adopting standardized automation should be completely seamless.
7. Increased profitability. Undoubtedly, the benefits that already were outlined guarantee increased profitability at a machine shop.
8. Safety. Standard systems mean more stringent testing and documentation for safe operation since there is a much higher incentive to ensure that safety is built in when large volumes of the same machine are being constructed and deployed daily. Custom solutions may have a safety assessment, but without real and repeated field experience, it is simply a theoretical safety projection.
---
To view a video of this robotic automation visit: cteplus.delivr.com/2rbtr
Related Glossary Terms
computer numerical control ( CNC)


computer numerical control ( CNC)

Microprocessor-based controller dedicated to a machine tool that permits the creation or modification of parts. Programmed numerical control activates the machine's servos and spindle drives and controls the various machining operations. See DNC, direct numerical control; NC, numerical control.

robotics


robotics

Discipline involving self-actuating and self-operating devices. Robots frequently imitate human capabilities, including the ability to manipulate physical objects while evaluating and reacting appropriately to various stimuli. See industrial robot; robot.