Author
Cutting Tool Engineering
Published
July 01, 2016 - 12:15am

END USER: Wagner Machine Co., (217) 384-0072, www.wagner-machine.com. SOLUTION PROVIDER: 5th Axis Inc., (858) 505-0432, www.fifthaxis.com. CHALLENGE: Reliably and cost-effectively grip parts during 5-axis machining. SOLUTION: A compact, dovetail-style, 5-axis clamping system.

Most vo-tech graduates leave school and work for someone else. Not Werner Wagner. After completing a manufacturing technology program in the late 1970s at Parkland Community College, he and one of the instructors went into business for themselves. By 1982, however, Wagner had set off on his own and opened Wagner Machine Co. in Champaign, Ill.
Fast forward to 2011. The shop had grown to 30 employees and specialized; as it still does; in prototype to mid-volume machined parts "small enough to fit in your hand" for the optical, electronics, medical and other industries, said his son Kurt, who joined the company in 1998. The shop also purchased its first 5-axis machining center that year, a Hurco VX30U, and the Wagners were shaking their heads over the high cost of tooling their new equipment.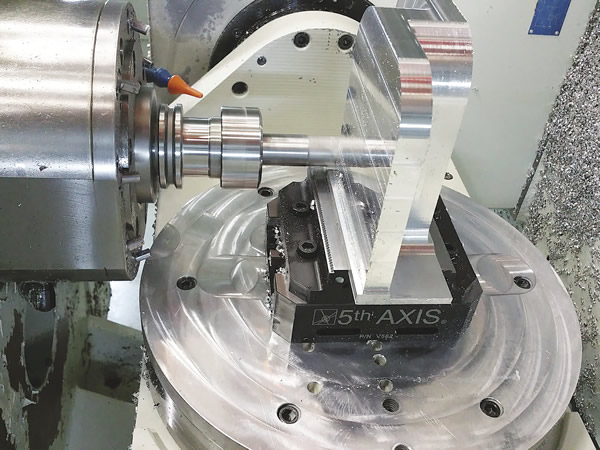 5th Axis workholders can grip large parts, such as this aluminum mounting bracket, even when there's a minimal amount of workpiece material to grip. Image courtesy Wagner Machine.

"At that time, options for 5-axis workholding were limited, so we ordered a German-made vise," Kurt Wagner said. "The vise works great, but was far too expensive for production work."
Luckily, a lower-cost alternative was available by the time Wagner Machine ordered its second Hurco a couple of years later.
5th Axis Inc., a San Diego job shop that developed tooling for its own applications and subsequently established a line of workholding products had just released its first vise, the V562. The 5"×6" (127mm × 152.4mm) vise boasted a low-profile, hardened and ground 4100-series steel body with 0.0005" (0.013mm) accuracy. Wagner and his team were skeptical at first—how could a vise selling for one-fifth the price of their existing workholder even come close in terms of accuracy and repeatability?
"I hoped it wouldn't mean one-fifth the quality," he said. "But we decided to give it a shot, and it turned out to be the right decision."
Wagner now has 40 employees, four Hurco 5-axis machining centers and a full complement of 5th Axis workholders, and the shop continues to appreciate the workholder design's compact size and gripping capability.
During a job for a complicated 6061-T6 aluminum bracket, the vise enabled Wagner to machine a difficult-to-reach undercut on the bottom of the part. "It was really cool," he said. "We had the trunnion rotated well past 90° and were able to hit all four sides of the part with no interference. There's literally no other type of workholding that would've given us the clearance we needed."
Another example was a series of prototype parts for a wind turbine researcher. The scale-model airfoils were used for testing different blade geometries and large enough that some clever workholding approach was needed.
"The parts were about 2' long, so we had to run them on our largest Hurco," Wagner said. "We ended up using three of the 5th Axis vises in a row, mounted to a single fixture plate. That's one of the other things we like about the 5th Axis—if we'd stuck with the really expensive vises, it would be extremely hard to justify a setup like this. I don't want to buy three vises at $6,000 apiece to hang onto a part. We really like the fact that they're affordable and give us a lot more flexibility on how we hold our parts."
Despite the long overhang, there were no problems with rigidity or chatter, Wagner added. "We routinely hold parts that are up to two times larger than the 5th Axis vise by machining a step or dovetail feature on the bottom and clamping on that. It's so secure that I think we would literally rip the trunnion out of the machine before ripping the part out of the vise."