Author
Matthew Jaster
Published
January 01, 2016 - 10:30am
KME CNC developed a 5-axis tombstone 8 years ago for horizontal machining centers that allows milling on five or more sides of a workpiece and on four different platters in a single setup. Recently, the company unveiled a version that requires no wires, cables or any type of connection, making it easier to move parts in and out of a machine.
"Even though we were pleased with our cable management, a lot of our customers wanted to go to lights-out or create better unattended machining processes," said Robert Reynolds, director of sales at KME CNC. "We wanted to create a product that would allow operators to utilize more than one machine tool at a time and give them a competitive advantage by decreasing setup times while increasing accuracy and repeatability."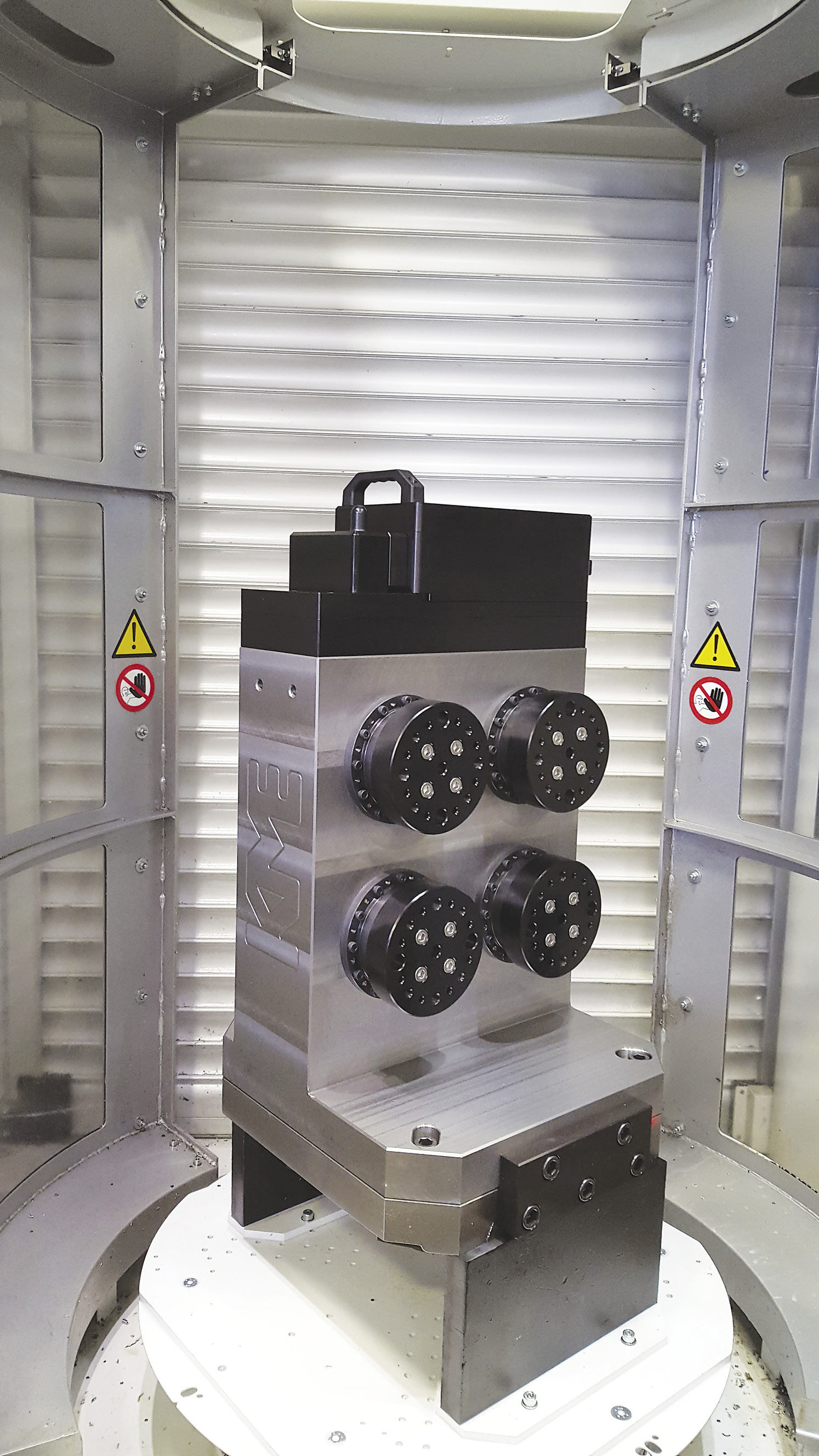 The wireless 5-axis tombstone from KME CNC allows an operator to drive each 5-axis platter independently or simultaneously, resulting in less scrap and setup time and tighter tolerances. Image courtesy KME CNC.

Each of the tombstones has an independent "brain," according to Reynolds. "It's a smart tool that can accept information and then act on it," he added. "This is a radio-frequency-address-based system that works with a transmitter/receiver module (TRM). Each tombstone has an independent address, and the transponder has an understanding of the address. Essentially, the transponder can talk to any machine tool through G code. An individual TRM can recognize multiple discrete addresses and control the tombstones as they become available in the system."
KME CNC can work with a variety of controls, including ones from FANUC, Siemens and Okuma. The wireless version creates shop floor flexibility that was missing from earlier designs. "If you have a pallet pool and want 15 different tombstones, you can have hundreds of jobs running on the existing setup," Reynolds said. "The natural progression from our original tombstone concept was the capability to run this wirelessly."
A versatile power management scheme lets machine tool operators run a tombstone for 8 hours continuously.
"Through G code management, the operator can give more power to one specific unit while reducing the power on other units," Reynolds said. "This is a programming function that lets our customers control power distribution if they want to make sure they have enough power and time to cut a specific part, for example."
User feedback about the wireless device has been encouraging, particularly the ability of machine operators to shuttle tombstones in and out of a cell without having to reset a job. "They can take a tombstone out, run a different job on the machine and then start the previous job back up within minutes," Reynolds said. "We've had operators change from one part to another in less than 5 minutes without any problems."
For more information about KME CNC, Irvine, Calif., call (714) 345-5816 or visit www.kmecnc.com.
About the Author: Matt Jaster is a former senior editor of CTE.