Author
Craig Zoberis
Published
April 17, 2023 - 12:00pm
Over the years, many machine shop owners have asked if it is a good idea to automate two CNC machines with a single robot system. Although at first glance it appears to make sense, there are several reasons why it is not a profitable proposition for small and medium production runs:
Flexibility and safety. When you want to load two machines with one robot, you need to crowd the machines and robot together so the robot can reach both CNC machines, as well as install a safety fence around the entire cell to meet OSHA requirements. This arrangement makes it difficult for a machinist to have easy, adequate access to the CNC for setup, programming and adjustments. One other option is to use a larger, more expensive robot with a longer reach, but this robot will take up more room inside the CNC machine and may interfere with the spindle or tools.
Cycle times. To be efficient, cycle times of the CNC machines must be timed perfectly. Otherwise, there is a risk that the robot and a CNC could wait for one part operation to be completed before loading the other CNC, and at most job shops these processes vary significantly.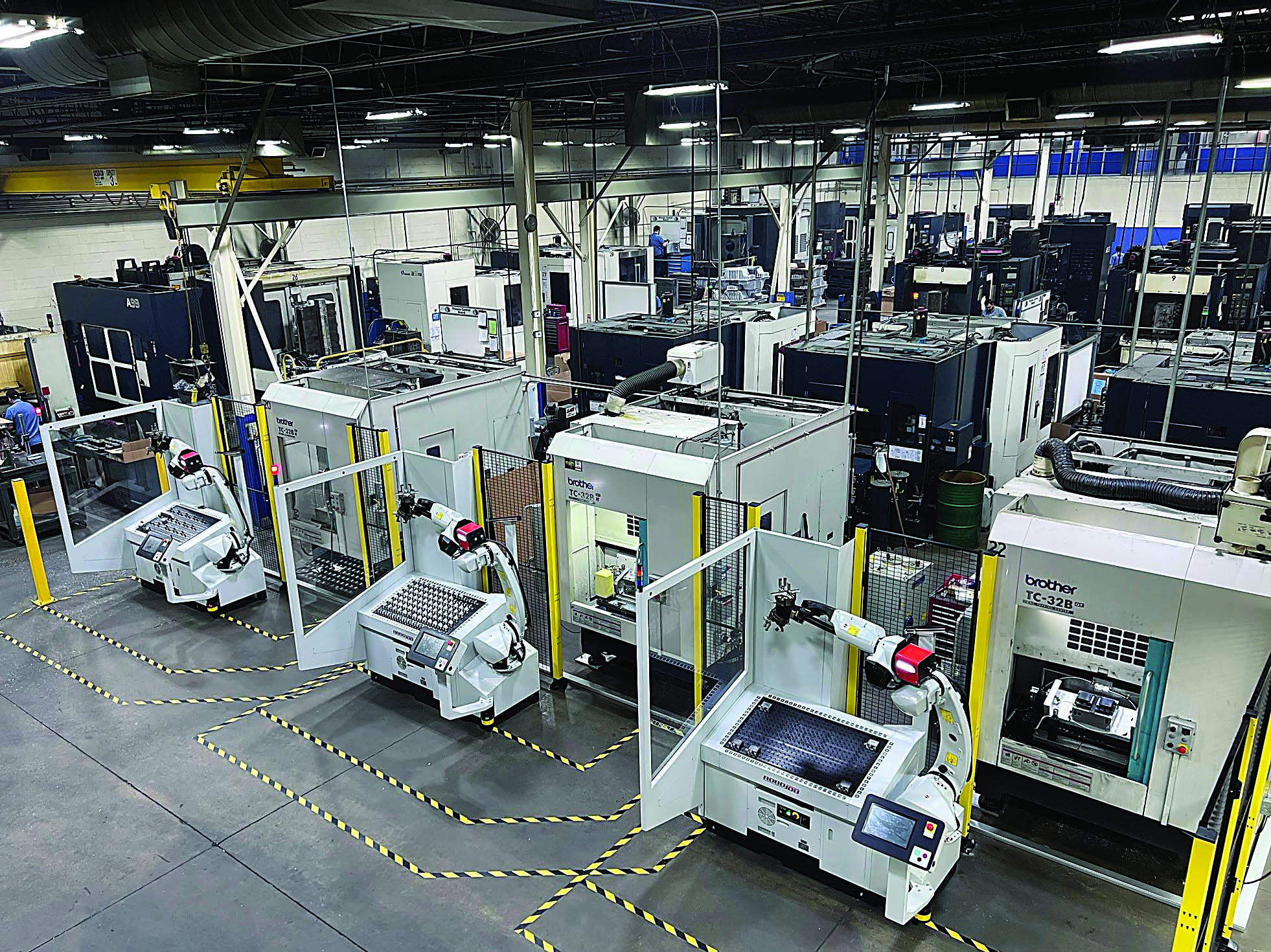 Accessibility. Ideally, machine-tending robots are mounted on an incline to allow the machine opening to stay clear for the machinist to operate manually for first articles and enable tool changing. The angle of the robot is defined in a specific way to easily access the machine clamping device without mounting directly in front of the machine. The consequence is that it is not possible for the robot to reach a second CNC because it is out of the robot's mechanical limits. This means that if the robot wants to reach two machines, it must be placed right in front of the doors of the machines — thus you will lose operator access to both machines.
Gripping systems. A typical robot end effector has two pneumatic gripping heads with adjustable fingers: one head for rough parts and one for finished parts. If the stroke of the gripper is not the exact size for each part operation, the robot system has to be equipped with a servodriven gripper. This option is expensive and has a limited payload.
Installation and interfacing. Installation requires more engineering and development time to communicate reliably and safely between CNCs. This becomes a very customized integration and leads to higher costs, a longer initial startup and an increase in integration risk.
There are few cases when one robot loads multiple machines as a profitable solution. One example we see often is at automobile factories where there is mass production. However, these are highly customized solutions in which an integrator programs the parts for a couple of months and then production runs for many years without changing the process.
At a machine shop, you can have multiple setups per day and lose out on flexibility and profit. In the end, our customers find that it costs less to have a robot for each CNC than to have a robot capable of handling two machines. 
---
To view a video of this robotic automation, visit qr.ctemag.com/1gu2s
Related Glossary Terms
computer numerical control ( CNC)


computer numerical control ( CNC)

Microprocessor-based controller dedicated to a machine tool that permits the creation or modification of parts. Programmed numerical control activates the machine's servos and spindle drives and controls the various machining operations. See DNC, direct numerical control; NC, numerical control.

payload ( workload)


payload ( workload)

Maximum load that the robot can handle safely.