December 23, 2022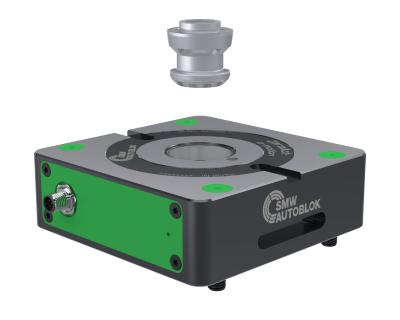 SMW Autoblok, a world leader in the design and manufacture of rotational chucks, stationary workholding, tooling and engineered solutions for the machine tool industry, introduces the electronic ZeroAct E-motion automatic positioning system featuring Zero Point clamping used in a variety of machining applications including milling, inspection, finishing, clean room operations and 3D printing.
Ideal for Industry 4.0, ZeroAct e-motion features wireless connectivity and data transfer, and fully automates manufacturing processes using a 24V power supply that operates with a built-in electro-motor. In addition, integrated electronic sensor technologyprovides contact-free part detection and safety for missing or misaligned parts.
With an ultralow profile of 48 mm and extremely flat design, ZeroAct E-motion is ideal for any Zero Point application especially those where a large Z-axis travel of the spindle is critical for success.
The modular ZeroAct E-motion system, with a compact size of 150 x 150 mm, provides a repeat accuracy of < 5 µm and holding force of 35, 50, or 75 kN depending on thread of clamping pin.
The electronic ZeroAct E-motion is part of the comprehensive lineup of plug & play mechatronic workholding products including chucks and stationary workholding for intelligent part holding.
Related Glossary Terms
flat ( screw flat)


flat ( screw flat)

Flat surface machined into the shank of a cutting tool for enhanced holding of the tool.

gang cutting ( milling)


gang cutting ( milling)

Machining with several cutters mounted on a single arbor, generally for simultaneous cutting.

milling


milling

Machining operation in which metal or other material is removed by applying power to a rotating cutter. In vertical milling, the cutting tool is mounted vertically on the spindle. In horizontal milling, the cutting tool is mounted horizontally, either directly on the spindle or on an arbor. Horizontal milling is further broken down into conventional milling, where the cutter rotates opposite the direction of feed, or "up" into the workpiece; and climb milling, where the cutter rotates in the direction of feed, or "down" into the workpiece. Milling operations include plane or surface milling, endmilling, facemilling, angle milling, form milling and profiling.