November 12, 2021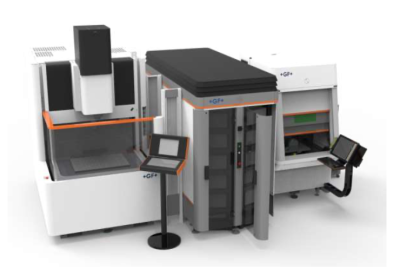 For EMO Milano attendees seeking highly flexible automation, GF Machining Solutions demonstrated its System 3R WorkPartner 1+ (WPT 1+) modular automation systems for milling, EDM, wire-cutting EDM and laser micro machining applications. The system maximizes magazine capacity for loading and unloading both parts and electrodes while also conserving valuable shop floor space.
GF Machining Solutions offers eight WPT 1+ models. Shops can start with a single magazine unit and then add one more as production needs change. The systems easily serve one or two machines within in a production cell thanks to the flexibility of the magazine capacities and its variants (Light, Heavy or a Rotary magazine), along with fully integrated pneumatic control for gripping devices and table chucks. Large doors allow for fast and easy loading and unloading to help shorten changeover cycle times for both low and high-volume applications.
For user-friendly WPT 1+ cell management, GF Machining Solutions offers its WorkShopManager (WSM) software. Users can quickly enter necessary cell data in a structured manner and gain a quick, precise overview of their entire process chain with WPT 1+. They can also change the order of job priorities at any time for increased workflow flexibility. WSM lowers the risk of human errors and makes for more stable production processes.
At EMO Milano, GF Machining Solutions demonstrates WPT 1+ systems with the FORM X 600 die-sinking EDM machine and LASER P 400 U Flexipulse digital texturing technology, showing the versatility of the automation technology to accommodate diverse production processes.
Related Glossary Terms
electrical-discharge machining ( EDM)


electrical-discharge machining ( EDM)

Process that vaporizes conductive materials by controlled application of pulsed electrical current that flows between a workpiece and electrode (tool) in a dielectric fluid. Permits machining shapes to tight accuracies without the internal stresses conventional machining often generates. Useful in diemaking.

gang cutting ( milling)


gang cutting ( milling)

Machining with several cutters mounted on a single arbor, generally for simultaneous cutting.

milling


milling

Machining operation in which metal or other material is removed by applying power to a rotating cutter. In vertical milling, the cutting tool is mounted vertically on the spindle. In horizontal milling, the cutting tool is mounted horizontally, either directly on the spindle or on an arbor. Horizontal milling is further broken down into conventional milling, where the cutter rotates opposite the direction of feed, or "up" into the workpiece; and climb milling, where the cutter rotates in the direction of feed, or "down" into the workpiece. Milling operations include plane or surface milling, endmilling, facemilling, angle milling, form milling and profiling.