January 10, 2017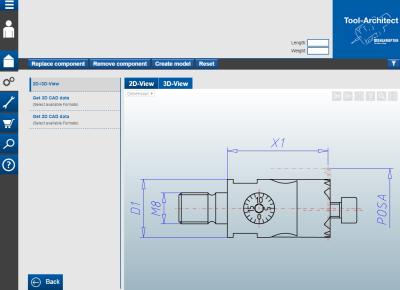 Allied Machine & Engineering announces the launch of the Wohlhaupter Tool-Architect software. Tool-Architect is a configurator for modular system tools that allows customers to virtually build customized tools online using Wohlhaupter parts, now part of Allied's solutions for holemaking and finishing challenges.
This program is an online-based simulator that puts the entire Wohlhaupter inventory at the customer's fingertips. It provides a digital bank of every individual part that Wohlhaupter manufactures in either inch or metric measurements. The user can search this bank through various criteria to find the parts they need to build the custom tool they are imagining.
Once a part is selected, the customer follows a series of user-friendly prompts to select more parts and finish building their tool. Throughout the process the user can monitor the size of their custom tool and ensure that what they build matches their real-life specifications. Once a complete piece is virtually assembled, the program will render the tool in either a 2D or 3D drawing for the customer to view on the computer screen. Each project can be either saved for later adjustment, or sent through a shopping cart option to Wohlhaupter engineers for an estimated price.
By designing custom tools with Tool-Architect, the customer saves the time it would normally take to send desired specifications to a company engineer for design. Rather than wait up to a week to find out if the desired tool can be created as designed, the user can immediately check if their project needs adjustment in order to be manufactured. Tool-Architect streamlines the entire process of designing, quoting, manufacturing and shipping custom modular system tools.
Once the user creates a free online account, they are free to use Tool-Architect at any time. The program requires a WebGL capable browser such as Google Chrome, Mozilla Firefox, or Internet Explorer 11.
To sign up for Tool-Architect, visit www.tool-architect.com.