May 01, 2015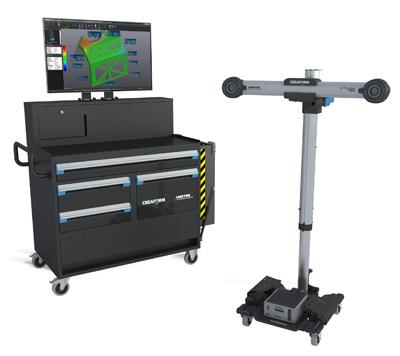 AMETEK Creaform has introduced VXinspect, intuitive 3D inspection software that includes all of the tools for first article inspection (FAI) and quality control.
VXinspect provides simple integration for contact (probing) and non-contact (scanning) measurement in numerous manufacturing applications. The dimensional inspection software is designed to be used in combination with the company's HandyPROBE, MetraSCAN 3D and HandySCAN 3D portable measurement devices.
The software features all of the functionalities required to set up a high-efficiency measurement sequence to inspect multiple parts. Its intuitive interface assures efficient inspection workflow with no compromise in measurement quality or Geometric Dimensioning and Tolerancing (GD&T) requirements.
VXinspect supports rapid part-to-CAD inspections for pre-production adjustments and production part approval to control critical part dimensions. It is fully integrated in VXelements, Creaform's 3D software platform and application suites.
Related Glossary Terms
quality assurance ( quality control)


quality assurance ( quality control)

Terms denoting a formal program for monitoring product quality. The denotations are the same, but QC typically connotes a more traditional postmachining inspection system, while QA implies a more comprehensive approach, with emphasis on "total quality," broad quality principles, statistical process control and other statistical methods.