December 11, 2019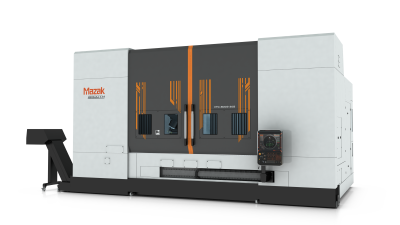 Now equipped with the fast and powerful Mazatrol SmoothX CNC is the Mazak VTC-800G-30S vertical traveling column machine.
Mazak's Mazatrol SmoothX CNC provides operators with complete control of the VTC-800G-30S. SmoothX enables 3D part program visualizations via its touch screen to further improve ease of use in terms of programming, cutting simulation and toolpath verification. Cycle times are reduced by up to 20% and surface finishes improved thanks to the control's Smooth machining configuration and other standard software functions.
The VTC-800G-30S can be equipped with a high-speed 20,000-rpm, 40-taper spindle, swivel spindle head (B-axis) and 48-tool magazine. The magazine travels with the machine's column to reduce non-cut time by returning home in Z-axis only and quickly exchanging tools to get the machine back into the cut as quickly as possible. The machine can also feature an optional 5th-axis rotary table and manual tailstock to support the workpiece between centers while performing 5-axis machining.
With a full traveling-column design, fixed table, X-axis travel of 118.1" (3,000 mm) and extended Y axis of 31.5" (800 mm), the VTC-800G-30S is well suited for machining extremely long and complex workpieces. For additional part processing flexibility, an optional center partition transforms the long machine table into two separate work areas.
While the VTC-800G-30S works in one area, operators can load/unload workpieces or set up new jobs in the other table section for nonstop production. For high accuracy and repeatability, the VTC-800G-30S's spindle head swivels +/-110 degrees and is backlash free, allowing for the machining of complex features and contours. Significant reductions of machining processes and increased productivity result from an additional axis.