October 17, 2018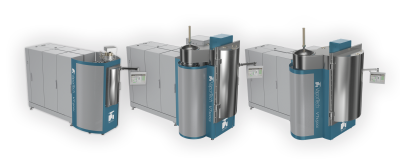 For large manufacturers, bringing PVD (physical vapor deposition) coating systems in house has always made financial sense: Coating for pennies per part, quality, differentiation and fast return on investment. Other operations, however, have found PVD machines to be too large and complex for their needs. These operations have had no choice except to outsource and deal with delays, quality control issues, and high per-part coating costs.
Vapor Technologies Inc. (VaporTech) announces the launch of the VT-i series PVD coating machines: Brand-new equipment that meets today's needs for efficiency, cost-control, and product quality and differentiation. These new systems are:
Right-sized for all operations

Compact footprint

Easy to operate

High-quality coatings

PVD and DLC capable
Bringing a new VaporTech VT-i Series system in-house enables companies to coat for pennies per part, improves quality and product differentiation, and provides a quick return on investment.
The VT-500i machine is right-sized and easy to use. It's the most compact VT-i series machine for small-batch manufacturing operations. Despite its small footprint and competitive price, the VT-500i easily coats large parts.
The VT-1000i system is a compact, higher capacity offering for medium-size operations. The VT-1000i machine shares the small footprint of the VT-500i system but with six times the capacity. It's a PVD and DLC system for medium-volume applications.
The VT-1500i system provides approximately 70 percent of the throughput of our largest production coating system but in a compact footprint. It's designed for high-volume, larger manufacturing operations.
The VT-3000i system, introduced earlier this year, is the updated version of the VT-3000, with a smaller footprint, modern components, and easier maintenance.
Related Glossary Terms
physical vapor deposition ( PVD)


physical vapor deposition ( PVD)

Tool-coating process performed at low temperature (500° C), compared to chemical vapor deposition (1,000° C). Employs electric field to generate necessary heat for depositing coating on a tool's surface. See CVD, chemical vapor deposition.

quality assurance ( quality control)


quality assurance ( quality control)

Terms denoting a formal program for monitoring product quality. The denotations are the same, but QC typically connotes a more traditional postmachining inspection system, while QA implies a more comprehensive approach, with emphasis on "total quality," broad quality principles, statistical process control and other statistical methods.