February 04, 2020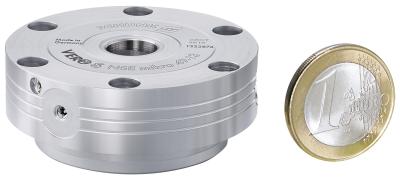 SCHUNK has developed a completely sealed miniature clamping module specifically for compact applications in the metalcutting industry, assembly and handling, as well as for measurement technology. It combines compact dimensions, high pull-down and holding forces, a high dimensional stability and a high repeat accuracy of < 0.005 mm.
The VERO-S NSE mikro 49-13 is actuated via an axial piston, and therefore achieves high pull-down forces despite the compact dimensions. The patented drive concept consists of a dual-stroke system, and by using the integrated standard turbo function, pull-down forces of 1,500 N are achieved, meaning that the module is ranging between the NSE mikro 49 (400 N) and the NSE mini 90-25 (6,000 N).
Depending on the thread size of the clamping pin (ø 10 mm) the holding forces amount to 3,000 N (M3) or 5,000 N (M4). Locking is done mechanically via a spring assembly, it is self-retaining and locks form-fit. The position of the clamping slide is detected via dynamic pressure monitoring. Therefore, the miniature module (ø 49 mm, height above the table 13 mm) is suitable for metalcutting applications and for automation.
The module opens pneumatically and a system pressure of 6 bar is sufficient. The module is actuated via lateral or bottom air connections. For ensuring a long service life time and the greatest possible process safety, all functional parts such as base body, clamping pins and clamping slide are made of stainless steel.
Related Glossary Terms
metalcutting ( material cutting)


metalcutting ( material cutting)

Any machining process used to part metal or other material or give a workpiece a new configuration. Conventionally applies to machining operations in which a cutting tool mechanically removes material in the form of chips; applies to any process in which metal or material is removed to create new shapes. See metalforming.