March 12, 2012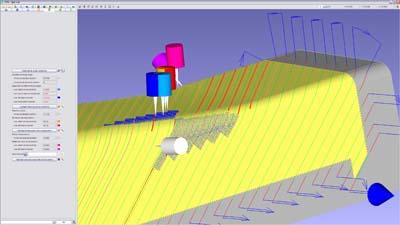 CGTech, the developer of VERICUT Composite Programming (VCP) and VERICUT Composite Simulation (VCS), has added a new product to its suite of software named VERICUT Composite Paths for Engineering (VCPe). VCPe gives a composite part designer, mechanical engineer, or process engineer access to the same software tools NC programmers use to create NC program paths that are subsequently used in the workshop to lay-up a composite part.
"By using VCPe, the part designer or engineer can easily create and experiment with various Automated Fiber Placement (AFP) path options and evaluate the effects AFP manufacturing has on a composite part's design intent," said CGTech Product Marketing Manager Bill Hasenjaeger. "Experiments to determine producibility can be performed long before the design has been sent to manufacturing, and even before it is known what type of AFP equipment will be used."
VCPe reads CATIA V5, NX, STEP, or ACIS surface models. It also reads FiberSim, CATIA V5, NX, or other external ply geometry and information. VCPe then adds material to fill the plies according to user-specified manufacturing standards and requirements. Layup paths are linked together to form specific layup sequences.
By producing actual AFP tape courses that could be used to program AFP fabrication equipment in the workshop, the user can measure and evaluate the effects of AFP path trajectory, material steering, surface curvature, course convergence and other process constraints as they would be applied in manufacturing. The software also provides producibility analysis of the fiber angle based on the curvature of the part, and overlap and gaps needed for structural analysis. Tape course geometry can be written to various CAD formats for further evaluation by the user's existing analysis methods and tools.
Related Glossary Terms
computer-aided design ( CAD)


computer-aided design ( CAD)

Product-design functions performed with the help of computers and special software.

numerical control ( NC)


numerical control ( NC)

Any controlled equipment that allows an operator to program its movement by entering a series of coded numbers and symbols. See CNC, computer numerical control; DNC, direct numerical control.