December 11, 2019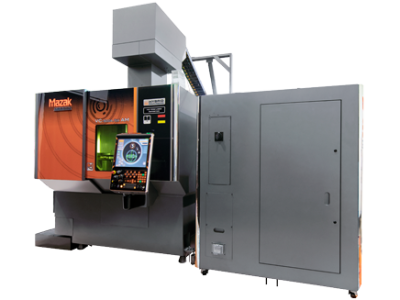 With its VC-500A/5X AM HWD, Mazak provides the benefits of hybrid multitasking hot wire deposition (HWD) part processing. With capabilities beyond conventional multitasking, the VC-500A/5X AM HWD reduces lead times and part costs, increases machining accuracy and part quality, while also providing even higher levels of productivity,
flexibility and profitability.
The VC-500A/5X AM HWD performs all or most of a part's machining in one cycle to reduce the risk of inaccuracies that can occur when parts move across multiple workstations and to eliminate work-in-process inventory among standalone machine tools. It incorporates innovative HWD additive manufacturing technology, developed as a result of a collaboration between Mazak and Lincoln Electric, the designer, developer and manufacturer of arc welding products, robotic arc welding systems, and plasma and oxyfuel cutting equipment. With Hot Wire Deposition laser
technology, the VC-500A/5X AM HWD offers a high-speed additive solution and programmable welding automation with full 5-axis machining center capabilities.
As in conventional welding, an HWD arc torch melts metal wire directly onto a base material and/or part that can be made of dissimilar material. This technology allows shops to generate exceptionally precise sealing coatings and near-net shape part features or repair costly complex components such as impellers and turbine blades,
along with tool-and-die parts. The HWD laser cladding head feeds welding wire automatically to an argon gas nozzle. The head delivers a deposition rate of three to five pounds per hour, with a 98 percent material utilization rate.
Because the machine's HWD head offers the same 5-axis capability as its milling spindle, it provides the maneuverability to build new part features or weldments on all of a workpiece's surfaces. It is well-suited for high-volume additive manufacturing, and helps minimize equipment and material costs.
The VC-500A/5X AM HWD includes a trunnion-style rotary/tilt table for accurate, costeffective processing of small complex parts through full 5-axis machining. On its milling side, the VC-500A/5X AM HWD features a robust, high-performance CAT-40, 12,000-rpm spindle that delivers exceptional metal-removal capabilities in all common
materials, including steel, aluminum and cast iron. As options, 15,000-rpm and 20,000-rpm spindles address a variety of part production requirements, while a 30-tool storage magazine ensures continuous uninterrupted part machining, as does the machine's compact chip conveyor and mist collector with smoke filter.
The VC-500A/5X AM HWD's Mazatrol SmoothX CNC makes it easy to generate programs for processing complex parts through off-centerline machining, as well as angled drilling, milling and tapping, with effortless programming in EIA/ISO or Mazatrol conversational language for faster part cycle times.