October 13, 2016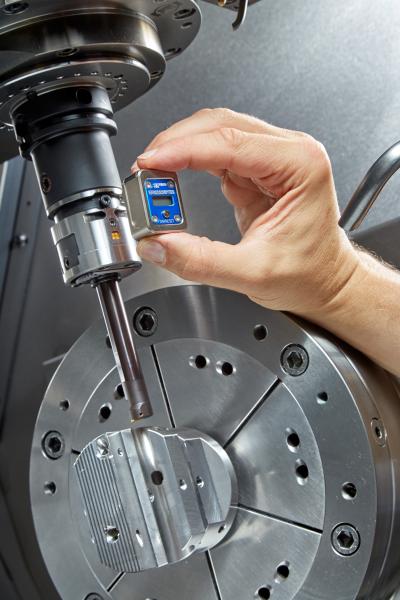 Allied Machine & Engineering announces Wohlhaupter's VarioBore precision boring head and system, a versatile and cost-effective tool that features a universal digital readout module. The VarioBore system improves productivity through ease and accuracy of adjustment and virtually eliminates scrap because of its exact adjustments. VarioBore is manufactured in Germany by Wohlhaupter, whose modular tool systems are part of Allied's solutions for holemaking and finishing challenges.
The VarioBore boring head can be used alone or with a docking port for use with the universal digital module, a revolutionary new concept that can dock on any VarioBore head. A single module can be used on a variety of tools fitted with docking ports. With a range of 0.016 inches to 5.985 inches (0.4 to 152 millimeters), the boring head offers an accuracy of .0001 inches (0.002mm) on diameter, and speeds of up to 30,000 rpm.
A single universal digital readout module can be used to set any number of tools that have docking ports. The system uses selected Wohlhaupter 019, MiniDigi, PrimeBore, and DigiBore tooling. With an easy to read and use display that provides easy micron accurate settings, the module features an accuracy of .0001 inches (0.002mm) on diameter with μ accurate ± setting. The battery allows up to 5,000 settings and is switched off after 30 seconds. The detachable module remembers the last setting, even when it is detached. The module is coolant-sealed up to IP 65.
Related Glossary Terms
boring


boring

Enlarging a hole that already has been drilled or cored. Generally, it is an operation of truing the previously drilled hole with a single-point, lathe-type tool. Boring is essentially internal turning, in that usually a single-point cutting tool forms the internal shape. Some tools are available with two cutting edges to balance cutting forces.

boring head


boring head

Single- or multiple-point precision tool used to bring an existing hole within dimensional tolerance. The head attaches to a standard toolholder and a mechanism permits fine adjustments to be made to the head within a diameter range.

micron


micron

Measure of length that is equal to one-millionth of a meter.