January 19, 2017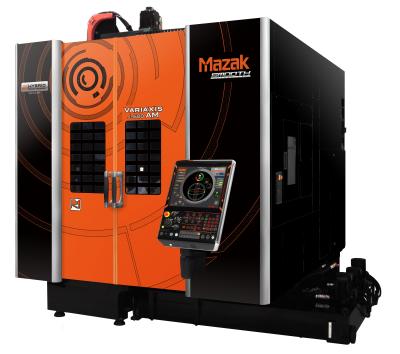 As one of the newest members of Mazak's additive machine family, the VARIAXIS j-600AM (additive manufacturing) vertical machining center features a wire arc-type metal deposition system. The technology reportedly takes the additive process to whole new levels in terms of speed, allowing shops to quickly and easily grow part features then employ the machine's advanced 5-axis multisurface subtractive capabilities to produce parts complete in single setups.
The VARIAXIS j-600AM's wire arc system incorporates a standard wire arc-welding head mounted on the machine's headstock to deposit material layer by layer and grow near-net-shape 3D forms. The system deposits material faster because it uses wire instead of metal power.
Machines capable of both additive and subtractive operations offer many advantages. Such machines significantly slash production time and conserve large amounts of expensive raw materials typically machined away when parts are completely produced using only subtractive operations. Plus, they reduce the number of machines required in a facility and save floor space.
The VARIAXIS j-600AM also features a 12,000-rpm B-axis tilt spindle and C-axis indexing table. The machine is well suited for a variety of applications, including the production and repair of aerospace parts, molds and dies and oil-drilling components so that these parts retain their original durability and wear-resistant properties.
Related Glossary Terms
machining center


machining center

CNC machine tool capable of drilling, reaming, tapping, milling and boring. Normally comes with an automatic toolchanger. See automatic toolchanger.