December 11, 2019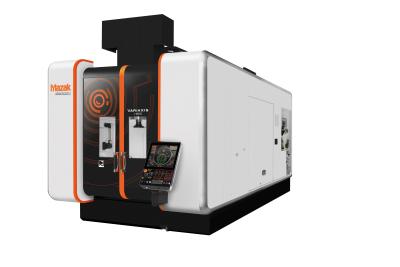 The versatile Variaxis i-800 machining center uses full, simultaneous 5-axis capabilities to perform multiple and complex curved-surface machining on large, heavy workpieces in single setups. The Variaxis i-800 reduces production lead times, improves machining accuracy and lowers operating expenses. Furthermore, it can tackle a wide range of applications, from heavy-duty cutting to high-speed cutting of aluminum and other nonferrous
materials.

Thanks to a Y-axis travel of 33.46" and X axis of 28.74", the Variaxis i-800 accommodates workpieces measuring up to 39.37" in diameter (28.74" when equipped with a two-pallet changer) and 19.69" in height. With 360 degrees of rotation on the C axis and +30 degrees through -120 degrees of tilt on the A-axis, its roller gear cam-driven rotary/tilt table is supported at both ends for stability and high accuracy.
In its standard configuration, the Variaxis i-800 includes a high-rigidity 10,000-rpm, 50-hp, 50-taper spindle with a compact nose design that helps increase the machine's Z-axis stroke to 22.05" and allows for the use of shorter tools to increase overall machining stability. An 18,000-rpm spindle is also available. With a standard 30-tool magazine capacity and optional configurations for up to a maximum of 120 tools, a reliable cam-driven toolchanger enables the Variaxis i-800 to meet the machining requirements of a wide variety of workpieces.

To increase speed and productivity, the machine's X, Y and Z axes feature 1,654-ipm rapid traverse rates and the Mazak MX Hybrid Roller Guide System, which delivers the level of durability and reliability needed for long-term accuracy. This innovative way system increases vibration damping, extends tool life, handles higher load capacities
and uses a greener grease-based lubrication system to eliminate tramp oil in the coolant.

Featuring Mazak's Mazatrol SmoothX CNC, the Variaxis i-800 makes it easy to generate programs for processing complex parts through off-centerline machining, as well as angled drilling, milling and tapping with effortless programming in EIA/ISO or Mazatrol conversational language. The control incorporates a wide variety of advanced programming functions for ease of use and high-speed, high-accuracy machining performance.