June 01, 2015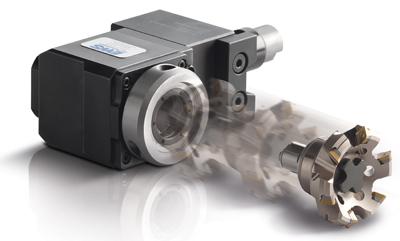 Quick-change VARIA from ITI Tooling Co. Inc. is a fast, safe and flexible tool holding system that is used to reportedly improve the productivity of most modern CNC lathes. It will enable users to exchange most cutting tools and get a CNC lathe back into production in a short time.
The "highlight" of this system is that instead of replacing the tool by removing it together with the tool holder or live spindle unit, with Quick-Change VARIA, it's simply a small tool head and the cutting tool that is exchanged. The large tool holding fixtures and heavy spindle units stay on the lathe.
Plus, users exchange these tool heads in the minimum of time due to the patented single "rapid-clamp" screw device.
By using preset tool heads and with the single rapid-clamp screw device, experienced users frequently exchange tools within a few seconds. On many machines, the single clamp screw is set up to orient towards the operator when the machine stops, no need to reach into the machine among the many sharp cutting edges and chips to find the clamp screw, plus the patented clamp does not require any radial force to release it.
There's no need for operators to grasp onto any warn or broken tools while they are being unclamped. Now, they simply blow off the area, rotate the clamp screw 180° with the supplied "T" handled Allen wrench, this releases the existing tool head and bumps it forward slightly in the holder for easy removal.
Then a replacement pre-set tool head is inserted into the holder, the clamp screw rotated in the opposite direction pulls the tool head back against a datum surface and firmly locks into place, and the lathe is ready to continue.
Not only do the Quick-Change VARIA tool holding components register together accurately and form a rugged assembly, they are compact and offer an enhanced interference-free work zone on the lathe.
The interchangeable tool heads of the series: V3 (VDI 30) and V4 (VDI 40) can be used on a variety of different base units and tool spindles, offering almost limitless flexibility and added cost savings to the user.
Now, with the introduction of larger V5 (VDI 50) series, additional machines can also benefit from this simple, safe and cost-effective tool holding system.
Also available for BMT (base mount tooling) style turrets.
Related Glossary Terms
computer numerical control ( CNC)


computer numerical control ( CNC)

Microprocessor-based controller dedicated to a machine tool that permits the creation or modification of parts. Programmed numerical control activates the machine's servos and spindle drives and controls the various machining operations. See DNC, direct numerical control; NC, numerical control.

lathe


lathe

Turning machine capable of sawing, milling, grinding, gear-cutting, drilling, reaming, boring, threading, facing, chamfering, grooving, knurling, spinning, parting, necking, taper-cutting, and cam- and eccentric-cutting, as well as step- and straight-turning. Comes in a variety of forms, ranging from manual to semiautomatic to fully automatic, with major types being engine lathes, turning and contouring lathes, turret lathes and numerical-control lathes. The engine lathe consists of a headstock and spindle, tailstock, bed, carriage (complete with apron) and cross slides. Features include gear- (speed) and feed-selector levers, toolpost, compound rest, lead screw and reversing lead screw, threading dial and rapid-traverse lever. Special lathe types include through-the-spindle, camshaft and crankshaft, brake drum and rotor, spinning and gun-barrel machines. Toolroom and bench lathes are used for precision work; the former for tool-and-die work and similar tasks, the latter for small workpieces (instruments, watches), normally without a power feed. Models are typically designated according to their "swing," or the largest-diameter workpiece that can be rotated; bed length, or the distance between centers; and horsepower generated. See turning machine.