October 06, 2016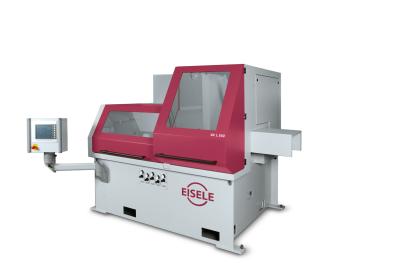 Specifically for cutting aluminium, the BEHRINGER EISELE GmbH with the VA-L 560 NC2 has a sawing system that reportedly sets new standards. Both in solid material as well as in pipes and profiles with sophisticated cross-sectional geometry, the machine scores with high output. The VA-L is designed for using carbide-tipped circular saw blades with a diameter of 500 mm to 560 mm. With the XL package it is possible to achieve a cutting range of 240 mm round or 340 x 175 mm square material, using a 620 mm diameter blade. In addition to the XL package, an optional layer clamping device is available, enabling the machine to cut several profiles with each cut utilizing the enlarged cutting range perfectly. The robust overall design with the latest drive technology in the feed axis and a very stiff saw blade guiding ensure an optimum, low vibration sawing process with excellent cutting performance, excellent surface quality at maximum availability.
The frequency-controlled main drive offers facility for adjusting the cutting speed to the sawing process to allow cutting of both solid material made of high-strength AL-SI alloys and also thin-walled pipes and profiles. The servo motor-driven feed system in the optional Performance version defines a whole new performance category: Using either constant or dynamic saw feed, significantly higher cutting outputs can now be achieved. Precise positioning of the saw head reduces downtime to a minimum. Used in combination with a pneumatic material clamping system, the servo motor-driven feed system allows machine hydraulics to be completely dispensed with. This radically simplifies the achievement of sustainable environmental management. When machining heavy materials, the VA-L also offers facility for fitting a hydraulic clamping system.
The unique VA-L machine concept focuses on the twin themes of occupational safety and ergonomic design: The circular saw is completely encased in a full machine enclosure, eliminating any danger of injury. Another positive knock-on effect of full enclosure is reduced noise development and consequently a more pleasant working environment. Despite the full enclosure, all the important components and parts of the VA-L can be easily accessed. Large swivel doors offer optimum access for easy saw blade changeover, cleaning and machine maintenance. Extruded profiles with complex profile geometries are generally very difficult to machine. To ensure that the material is securely clamped while avoiding unwanted marks produced by pressure points on parts, the use of specially adapted shaped jaws is advisable. Rapid jaw changeover in conjunction with optimum machine accessibility helps reduce tooling times to just a few minutes.
"Of course on the manufacturer side we have to take into account the high volume of cutting and make sure that during non-operator shifts the high levels of swarf is cleanly and safely transported away," explains Manfred Grüninger, Head of Sales at Behringer Eisele. Up to three suction channels positioned at various locations on the system implement swarf removal. "These are coupled to a high efficiency suction system that conveys the chips via a cellular wheel lock into the on-site container," explains Grüninger. Less swarf means less need for cleaning and of course less cause for faults.
Automation is the key word when it comes to economic production processes. Savings with personnel and the use of additional low-operator shifts are only two options to make inroads into costs. The use of transport and removal systems and the possibility of linking up to magazines and storage systems means that operation becomes independent of day and night shifts with aluminium machining as well. A high level of automation gives employees more time for other activities and helps to save their capacities. Material is no longer positioned manually but is program-controlled. Operators are then mainly busy with process monitoring. Strength-reducing work becomes an exception. Operating automated machines is also the superior alternative in terms of safety as well. "With the handling of materials you shouldn't only look at aspects of economy but also the safety of operating personnel when handling heavy, unwieldy parts," says Manfred Grüninger, focusing on another important factor. Particularly where large production batches are being processed, producers should consider link-up to downstream machining steps such as sorting or chamfering to ensure added streamlining effects.
Daily practice has also demonstrated that adaptation to continuously changing markets requires a high level of flexibility with material handling and with the use of personnel for many customers. "We don't yet know the demands of future orders of course, which is why customers want to be prepared, so in many branches they invest in a diversity of automation components," summarizes Grüninger.