May 20, 2021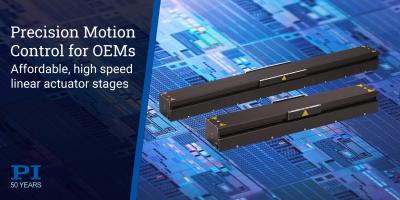 PI introduces two new series of direct-drive linear modules, geared for machine builders and system integrators. The V-855 and V-857 product families were designed for high-load and high duty cycle industrial precision motion applications where traditional actuators or linear slides with lead-screw or timing-belt drives are not precise, robust or reliable enough. Due to the maintenance-free and friction free high-speed linear motors, greater productivity with shorter cycle times and faster return on investment can be achieved. The new, ready-to-install linear motor modules are beneficial for all high-performance applications, where positioning or scanning with smooth, vibration free motion, minimum tracking errors, and short settling times are required.
Closed-Loop, High Load, Long Travel, and Rapid Acceleration with Fast Settling
The new closed-loop linear slide module / actuator product families provide high load capacity to 220lbs (1000N) and large travel ranges up to 47" (1200mm) with highly repeatable minimum incremental motion of 100 nanometers! Position feedback is via integrated linear encoders, available down to 1nm resolution.

Acceleration is as rapid as 5G's and top speeds of 196"/sec (5m/sec) can be reached. Because of the play-free and backlash-free direct-drive mechanics, settling times are extremely short, and bidirectional repeatability is excellent.
Multi-Axis Motion – Stacking of Two Linear Modules
For X-Y applications, the V-855 and V-857 linear modules can be stacked orthogonally. For XYZ applications, PI offers the V-817 stage family.
OEM and Industrial Precision Motion Applications
The V-855 and V-857 linear stage modules were designed with industrial performance and affordability in mind, and ease of integration for machine builders and system integrators.
High Performance Industrial EtherCAT-based Motion Controllers
PI provides EtherCAT-based high-performance industrial motion controllers – up to 8 axes can be operated from one 19" rack and EtherCAT makes it very easy to add more.
Application Fields
Industrial precision automation for electronic assembly of sensors, cameras, and optics. Metrology and non-contact inspection (X-ray and optical). Semiconductor wafer positioning, wafer processing and inspection. Automated laser micro-machining and welding, laser cutting, testing and sampling systems for medical equipment.
Related Glossary Terms
linear motor


linear motor

Functionally the same as a rotary motor in a machine tool, a linear motor can be thought of as a standard permanent-magnet, rotary-style motor slit axially to the center and then peeled back and laid flat. The major advantage of using a linear motor to drive the axis motion is that it eliminates the inefficiency and mechanical variance caused by the ballscrew assembly system used in most CNC machines.

metrology


metrology

Science of measurement; the principles on which precision machining, quality control and inspection are based. See precision machining, measurement.