August 19, 2020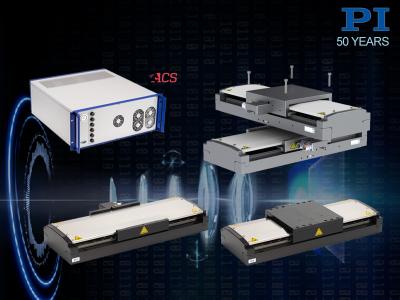 PI introduces a new motion controller and precision linear stage family geared towards precision industrial automation applications. The V-817 linear stages, engineered for highly dynamic and precise motion, boast a load capacity of 600N, travel ranges from 8" (204mm) to 32" (813mm), and velocities to 3000mm/sec. Driven by 3-phase linear motors and guided by robust recirculating ball bearing guides, the low-profile design of only 63mm minimizes moving mass and tilting errors. An integrated linear encoder provides <1nm resolution and when operated with PI's industrial motion controllers, the stages achieve 10nm minimum incremental motion, 1µm bidirectional repeatability, and 2.5µm accuracy.
XY Stage Configurations
Stages can be combined for XY motion thanks to an available platform with a triple M6 hole pattern. The V-817 is only 63mm high (without the platform), making it easy to integrate into compact machine assemblies.
EtherCat Compatible Motion Controller Family
The stages are compatible with the new G-901 industrial motion controller family. These controllers are based on ACS hardware with EtherCat connectivity, providing up to 1500W output per axis. Many advanced control features, such as Servoboost, NanoPWM and special algorithms for Gantry Control, laser triggering and high speed contouring, are available and improve the throughput and performance in applications from Laser Machining to 3D Printing.
Working with You
PI's in-house engineered systems and components have enabled customers around the world to increase their productivity and technological advantage for 5 decades. With a large basis of standard precision motion products and proven methodologies, PI is in the position to quickly modify existing designs or provide a fully customized OEM solution to fit the exact requirements of your application from the whole motion range from finger-tip sized nano-positioners to large scale stages with long travel ranges, through a plethora of different drives and guiding systems.
Related Glossary Terms
laser machining


laser machining

Intensified, pulsed beams of light generated by lasers—typically carbon dioxide or neodium-doped yttrium aluminum garnet (Nd:YAG)—that drill, weld, engrave, mark, slit and caseharden. Usually under CNC, often at both high cutting rates (100 linear in./sec.) and high power (5kW or more). Lasers also are used in conjunction with in-process quality-control monitoring systems allowing measuring accuracies of 0.00001".