March 28, 2019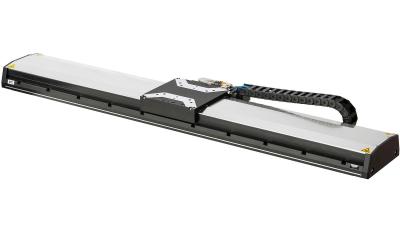 PI is offering the new V-417.336025E1 long-travel linear motor stage, providing 32 inches of travel (813mm). The direct drive stage achieves high velocities to 79"/sec (2m/sec) based on a direct drive ironless linear servo motor. High accuracy, repeatability and functionality are guaranteed by an integrated absolute-measuring linear position encoder featuring 1 nm sensor resolution.
High-performance connectors, a cable drag chain and special protection from contamination provide the required toughness and reliability in 24/7 industrial automation applications.
The zero-wear, noncontact nature of electrodynamic linear motors integrated in the linear motor stages along with recirculating ball bearings (high load capacity without cage migration issues) and frictionless, noncontact linear encoders is what sets these stages apart from conventional motorized stages. For even higher accuracy requirements and virtually unlimited lifetime, stages with friction and wear-free air bearing guidance are also available from PI.
The V-417 long-travel motorized positioning stages see use in pick and place applications, optics, photonics and micro-electronics test and assembly, semiconductor test and inspection, bio-technology, DNA sequencing, 3D printing and laser processing and machining.
Several single- and multiple-channel controller options are available. For highest performance, ACS industrial motion controllers are recommended. The motion controller and drive unit provides sinusoidal currents for the three phases of the linear motor to guarantee uniform force delivery and excellent velocity stability for extended travel ranges. Short-travel linear stages with single phase (voice coil) motors can also be operated by the motion controllers.
Related Glossary Terms
linear motor


linear motor

Functionally the same as a rotary motor in a machine tool, a linear motor can be thought of as a standard permanent-magnet, rotary-style motor slit axially to the center and then peeled back and laid flat. The major advantage of using a linear motor to drive the axis motion is that it eliminates the inefficiency and mechanical variance caused by the ballscrew assembly system used in most CNC machines.