August 04, 2016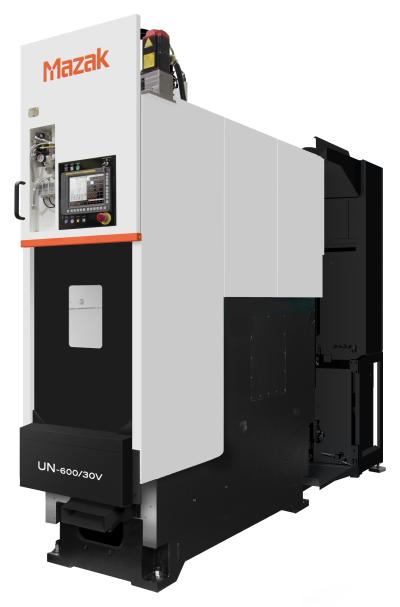 Mazak introduced the UN Series of high-speed vertical and horizontal machining centers, the UN-600/30V and UN-600/30H, respectively, to meet the high productivity, reliability, maintenance and automation requirements of the growing automotive manufacturing industry. Designed for the mass production of automotive components, these 30-taper machines feature an extremely small footprint as indicated by their UN (ultra-narrow) designation and are up to three times more productive per unit of floor space than normal-sized machines, according to the company. The UN Series machines are automation-friendly, allowing multiple machines to be placed together and tended by one robot.
The width of the UN-600/30V vertical machining center is just 27.4" and can accommodate a maximum workpiece diameter of approximately 23.6". This is made possible by interpolating the machine C- and Y- axes for the X-axis, which is programmed in the same way as a conventional machine X-axis. The UN-600/30V offers 20-tool storage capability.
The UN-600/30H horizontal machining center has the same maximum workpiece diameter of 23.6", and is substantially smaller than other horizontal machining centers in its class. This is achieved by the machine having a compound X-axis, whereby half of the axis stroke is on the machine table and the other half is on the machine column. The UN-600/30H features 30-tool storage capability.
New integral spindle/motors are used for faster acceleration/deceleration to provide unsurpassed high productivity. The UN Series machines feature high-speed 20,000 rpm machine spindles that accelerate to top speeds in just .55 seconds, and perform synchronized tapping at 8,000 rpm.
The machines' linear guides and ballscrews are isolated from the machining area to prevent any problems caused by the accumulation of machined chips. Additionally, areas of the machine that require frequent access, such as the lubrication and air inlets, are centrally located for convenient maintenance to ensure high machine reliability.
Related Glossary Terms
centers


centers

Cone-shaped pins that support a workpiece by one or two ends during machining. The centers fit into holes drilled in the workpiece ends. Centers that turn with the workpiece are called "live" centers; those that do not are called "dead" centers.

machining center


machining center

CNC machine tool capable of drilling, reaming, tapping, milling and boring. Normally comes with an automatic toolchanger. See automatic toolchanger.

tapping


tapping

Machining operation in which a tap, with teeth on its periphery, cuts internal threads in a predrilled hole having a smaller diameter than the tap diameter. Threads are formed by a combined rotary and axial-relative motion between tap and workpiece. See tap.