November 20, 2019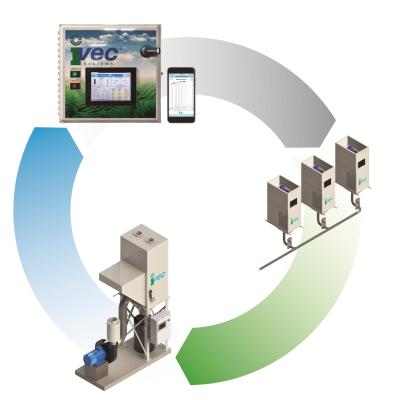 The introduction of IVEC's Ultra on-demand ventilation system is in direct response to the industry's growing focus on energy savings. The new, high-efficiency air quality control system not only significantly reduces energy costs but also improves air filtration, extends filter life and reduces equipment maintenance requirements, effectively improving air quality at a lower total cost of ownership.
Key to the system's proven success in reducing energy consumption is its ability to automatically adjust power usage and fan speeds based on demand and filter conditions. A core component of the system is the new General Ventilation Self Cleaning (GVSC) dust collector, a non-ducted, self-contained ambient air filtration unit designed for easy, versatile configuration above the work zone. Special sensors automatically modulate the fan speed based on changes in velocity and/or air pressure. When pressure on the filter goes higher, for example, the fan speeds up, effectively maintaining a consistent air flow in order to save horsepower and filter life.
Offering a completely different approach to air quality, the Ultra system allows operators to set limits on how dirty the filters can get before they go into an automated cleaning cycle. When the system senses the filter has reached the designated threshold, it takes the unit offline to begin pulling particulate from the collection to the Gatekeeper Sweeper, the centralized housekeeping unit that collects particulate from all units in one convenient location. This feature not only saves valuable maintenance time but also protects maintenance teams from exposure to harmful contaminants during the cleaning process, since they can simply cap one drum instead of needing to dump multiple drawers at several locations.
The technology allows for sequential cleaning of the units, so that there is never more than one unit offline at a time to allow for continual air cleaning. The units can additionally be pre-programmed to avoid shutting down during peak production times.
"This system is like no other on the market today," said Kevin Rohde, president and COO of IVEC Systems. "Not only is it highly efficient at removing even very fine particulate, but it pays for itself quickly because of using less horsepower. When the filter is clean, the fan doesn't need to run as hard. This saves tremendous energy — as much as 40% to 60% — compared with a static system in which the fan runs at full horsepower all the time. One client, in fact, received a competitive bid indicating that it would take 1,900 hp to accomplish what our system does with 350 hp."
For optimal air quality, multiple units may be installed strategically across the room from one another, working in tandem to create a desired air flow pattern even in larger areas. Thanks to the smart technology, the units communicate with each other to throw air across work areas to direct particulate to receiving collectors, thereby capturing more pollution.
Rohde added, "Our smart system is the only one to keep airflow constant regardless of conditions. It measures all conditions to see what is causing resistance to the fans and then speeds up the fan until the correct air flow is reached. Thanks to the self-cleaning mechanism, we're also able to extend the life of the filters as much as 200%, which saves costs and maintenance time. Additional savings are realized because typical system ductwork does not need to be installed."
Other unique features include IVEC Command intelligent software that monitors system performance remotely via a cell phone or PC. Maintenance teams can access the system offsite from anywhere in the world to see if there is a problem and receive directions on how to correct any issues. In addition, the software can quantify the exact energy savings so that plants may qualify for larger government rebates as a result of decreased energy consumption. IVEC has, in fact, already helped three clients receive grants in excess of $500,000 each.
Related Glossary Terms
quality assurance ( quality control)


quality assurance ( quality control)

Terms denoting a formal program for monitoring product quality. The denotations are the same, but QC typically connotes a more traditional postmachining inspection system, while QA implies a more comprehensive approach, with emphasis on "total quality," broad quality principles, statistical process control and other statistical methods.