May 01,2019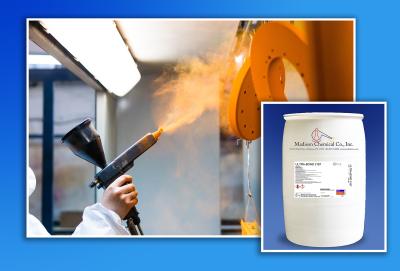 Madison Chemical introduces ULTRA-BOND 2187, a dry-in-place pretreatment for precleaned metal. This zero-phosphorus solution forms a homogeneous organic/inorganic layer on pretreated metals, providing outstanding corrosion protection for pretreated surfaces painted with powder or piqued paints.
By depositing a molecular layer onto the surface of precleaned metal, this proven dry-in-place solution enhances paint adhesion and corrosion resistance. Utilizing a 1 to 3% concentration for 30 to 90 seconds, it is more cost-effective than traditional alternatives and using it at room temperature substantially reduces energy needs. Additionally, by eliminating the need for post-coating rinse tanks, ULTRA-BOND 2187 significantly reduces water consumption. It is ideal for use with ferrous, aluminum, zinc and stainless alloys when used as directed.
This product may allow users to "de-categorize" as a metal finisher.
Salt Spray performance on cold-rolled steel painted with 1 to 2 mills of polyester powder paint is 336 to 500 hours exposure to ASTM B1117 neutral salt spray.
Madison Chemical Representatives can assist with chemical resistance recommendations on processing tanks, heater exchangers, pipes and pumps.
Related Glossary Terms
alloys


alloys

Substances having metallic properties and being composed of two or more chemical elements of which at least one is a metal.

corrosion resistance


corrosion resistance

Ability of an alloy or material to withstand rust and corrosion. These are properties fostered by nickel and chromium in alloys such as stainless steel.

lapping compound( powder)


lapping compound( powder)

Light, abrasive material used for finishing a surface.