July 07, 2021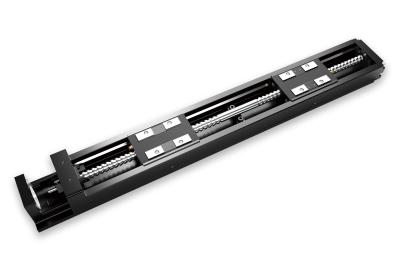 New from THK, the Type KR-RL LM Guide Actuator features a driving element that uses right/left threads and enables symmetrical movements with a single motor. Formerly available only as a custom system, THK responded to the high demand for a right/left actuator by adding the Type KR-RL to its lineup.
The Type KR-RL Actuator integrates an LM Guide and a ball screw. Because the single shaft is capable of simultaneous right and left drive, it eliminates many of the components and the complexity from the design. "The Type KR-RL combines two drive systems in one package," explained Yoshitaka Kinoshita, mechatronics manager, THK America, Inc. "A right- and left-handed ball screw and an integrated body make for a compact design, as opposed to using two separate ball screws and two separate LM Guides." Compared to the proven and popular Type KR Actuator, the new Type KR-RL offers an even more compact design with higher rigidity and precision.
An electric actuator, the Type KR-RL offers several advantages over pneumatic types. "Where a pneumatic gripper simply provides an open and close function, the Type KR-RL offers precise force control," stated Kinoshita. Gripping force can be regulated according to the fragility of the object being transferred. Speed control, a longer life through the incorporation of heat-treated steel, and energy savings are additional benefits.
The Type KR-RL is designed to handle loads in all four directions (radial, reverse-radial, and horizontal), making it possible to install in any mounting orientation. It is optimal for end effectors of robot arms that move freely.
The Type KR-RL is ideal for a wide range of applications, including gripping, measuring, and positioning for robot hands, screw tightening machines, cutting equipment, and dispensers. It is available in nine sizes ranging from 15mm to 65mm with long or short block types.