November 01, 2010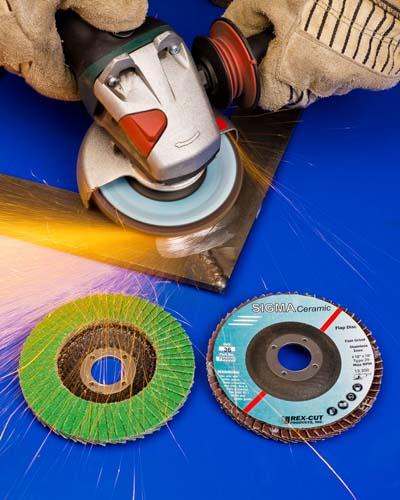 A line of Type 29 ceramic flap discs that provide aggressive stock removal with smooth operator control on steel, stainless steel and exotics has been introduced by Rex-Cut Products Inc. Rex-Cut Sigma Ceramic Flap Discs feature a slight angle that provides a greater contact area with the metal for faster, smoother, grinding control and aggressive stock removal. Made with ceramic abrasive grains bonded to a proprietary treated material that is layered and stacked, these Type 29 ceramic flap discs are self-sharpening, durable and require minimal pressure.
Suited for heavy weld removal in fabrication shops, Rex-Cut Sigma Ceramic Flap Discs are available in 4-½", 5", and 7" dia. x 7/8" sizes and offered in 36 and 60 grit versions; with or without hubs and 5⁄8-11 adapters. These ceramic flap discs produce a better surface finish, run cooler and last longer than alumina oxide abrasives, claims the firm.
Related Glossary Terms
abrasive


abrasive

Substance used for grinding, honing, lapping, superfinishing and polishing. Examples include garnet, emery, corundum, silicon carbide, cubic boron nitride and diamond in various grit sizes.

grinding


grinding

Machining operation in which material is removed from the workpiece by a powered abrasive wheel, stone, belt, paste, sheet, compound, slurry, etc. Takes various forms: surface grinding (creates flat and/or squared surfaces); cylindrical grinding (for external cylindrical and tapered shapes, fillets, undercuts, etc.); centerless grinding; chamfering; thread and form grinding; tool and cutter grinding; offhand grinding; lapping and polishing (grinding with extremely fine grits to create ultrasmooth surfaces); honing; and disc grinding.