December 02, 2019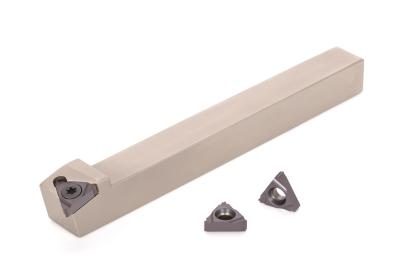 Tungaloy expands its TungThread line of indexable threading tools to include 11ER external threading inserts, as well as 8x8 mm and 10x10 mm square shank holders to accommodate the new inserts.
These new 11ER threading inserts and two square shank holders are specifically designed with users of Swiss-type automatic lathes in mind. The 11ER insert is smaller than conventional 16ER inserts, and the insert holders are designed to ensure a minimum interference when machined towards the sub-spindle, which is an issue with a 16ER insert holder.
This expansion will enhance the TungThread series to meet the needs of various threading applications on Swiss type automatic lathes and other small-parts manufacturing equipment.
At a glance:
Small 11ER threading inserts – ideal for the use on small-parts manufacturing machines
8x8 mm and 10x10 mm square shank holders for Swiss lathes
Thread types are available for ISO metric threads of 0.35 to 1.5 mm thread pitches, as well as V-profile 60° and 55°, partial profile
Two holders and 10 inserts to be added in this expansion
Related Glossary Terms
shank


shank

Main body of a tool; the portion of a drill or similar end-held tool that fits into a collet, chuck or similar mounting device.

threading


threading

Process of both external (e.g., thread milling) and internal (e.g., tapping, thread milling) cutting, turning and rolling of threads into particular material. Standardized specifications are available to determine the desired results of the threading process. Numerous thread-series designations are written for specific applications. Threading often is performed on a lathe. Specifications such as thread height are critical in determining the strength of the threads. The material used is taken into consideration in determining the expected results of any particular application for that threaded piece. In external threading, a calculated depth is required as well as a particular angle to the cut. To perform internal threading, the exact diameter to bore the hole is critical before threading. The threads are distinguished from one another by the amount of tolerance and/or allowance that is specified. See turning.
Additional Products from Tungaloy America Inc.