February 12, 2020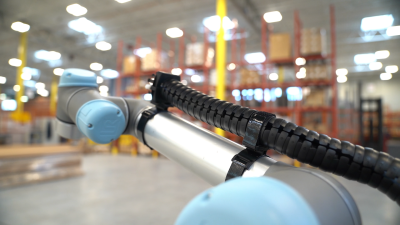 Large and mid-sized corporations alike are becoming more interested in automating tedious and repetitive tasks. Those companies are still quite far, though, from fully automated processes, and manufacturing and assembly still require some human interaction. It is estimated that collaborative robots are likely to account for nearly 35% of all industrial robots sold by 2025.
igus has released a new collaborative robot cable management kit with universally-designed hook-and-loop mounting brackets and more than 100 links of the company's innovative triflex R cable carrier, which offers enhanced cable protection compared to corrugated tubes.
triflex R is a multiple-axis energy chain designed for use in a wide variety of robotic applications. Unlike corrugated tubing, it's designed with ball-and-socket links that enable individual pieces of the system to be replaced if one of them is damaged. triflex R also has a defined bend radius to ensure the minimum bend radius of your cables won't be violated; a built-in torsion stop for even torsional load between the carrier and the cables; and two chambers for cable separation, which help reduce excessive cable wear.
The kit's hook-and-loop mounting brackets with a nonskid backing can be fastened around any diameter cobot arm, making it easier for engineers to choose a kit regardless of the robot manufacturer. The brackets are also easy to install and are designed with rounded edges to reduce the risk of injury for humans interacting with the cobots.
The following parts are included in the triflex R hook-and-loop cobot cable management kit:
1 triflex cable carrier approx. 6 ft.
4 one-meter hook-and-loop lengths
4 plastic mounting bases
1 strain relief bracket
1 set of lock clips
1 set of screws
1 assembly tool
Other variations and accessories are available, including molded and bumper style brackets and robot end "tennis rackets."
Related Glossary Terms
backing


backing

1. Flexible portion of a bandsaw blade. 2. Support material behind the cutting edge of a tool. 3. Base material for coated abrasives.

relief


relief

Space provided behind the cutting edges to prevent rubbing. Sometimes called primary relief. Secondary relief provides additional space behind primary relief. Relief on end teeth is axial relief; relief on side teeth is peripheral relief.