May 16, 2017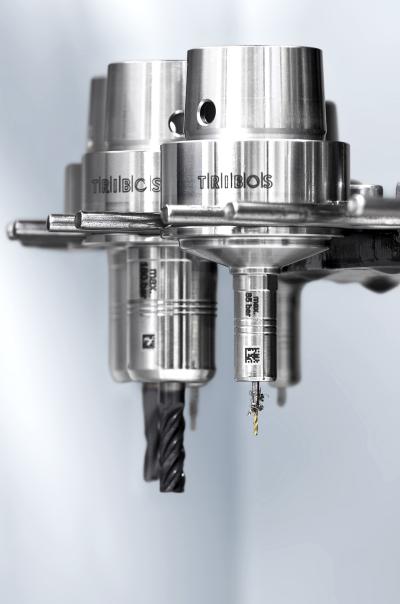 TRIBOS polygonal clamping technology has been setting standards in high-precision micromachining for many years. Numerous companies in medical and dental technology, watchmaking and jewelry, as well as moldmaking and optical engineering have put their confidence in SCHUNK's patented toolholding system. Due to the high demand, SCHUNK has further expanded the line of precision toolholders.
The SCHUNK TRIBOS-Mini, designed for micromachining applications, is now available for high-speed spindle interface HSK-E 20. Compared to conventional steep-angle taper interfaces; the HSK-E 20 ensures exact contact of the toolholder, which enhances change and positioning accuracy. In addition, the close tolerances of the tapered seat result in maximum precision and superior running smoothness at high speeds, according to the company.
SCHUNK has made improvements in other interfaces as well: the TRIBOS-Mini and TRIBOS-RM series with the interfaces HSK-E 25, and HSK-E 32, starting with clamping diameters of 0.5 mm are now optionally available in fine-balanced versions with a balancing grade of G 0.3 at 60,000 rpm. TRIBOS can also be used for applications with very high requirements for dimensional stability and surface quality.
For multiaxis machining centers, SCHUNK has modified the robust TRIBOS-RM with an extended L1 dimension of 78 mm. The extra length can be used for many different tasks: in addition to direct clamping it is suitable for clamping of smaller shank diameters. For machining of hard-to-access areas, the toolholder can also be combined with the standardized TRIBOS-SVL Mini tool extension. The universal 5-axis expert is available for the interfaces HSK-A 32, HSK-A 40, HSK-E 32, and HSK-E 40. Its shank diameter is 12 mm for all of these interfaces.
TRIBOS-Mini is now standardized with diameters of 1 mm, 1.5 mm, 2 mm, 3 mm, 4 mm, 6 mm and 1/8''. TRIBOS-RM with diameters of 3 mm, 4 mm, 6 mm, 8 mm, 10 mm , 12 mm and 1/8''. In addition to the existing interfaces HSK-A 25, -A 32, -A 40, -E 25, -E 32, and -E 40, both holders are now available for HSK-E 20 and for BT 30.
Related Glossary Terms
centers


centers

Cone-shaped pins that support a workpiece by one or two ends during machining. The centers fit into holes drilled in the workpiece ends. Centers that turn with the workpiece are called "live" centers; those that do not are called "dead" centers.

shank


shank

Main body of a tool; the portion of a drill or similar end-held tool that fits into a collet, chuck or similar mounting device.

toolholder


toolholder

Secures a cutting tool during a machining operation. Basic types include block, cartridge, chuck, collet, fixed, modular, quick-change and rotating.