April 01, 2014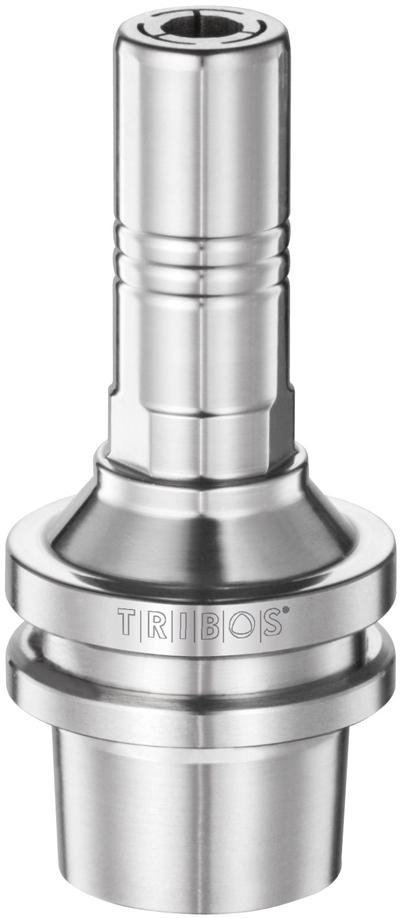 The TRIBOS-Mini HSK-E 20 polygonal toolholder is a standardized precision toolholder for micro machining with the HSK-E 20 spindle interface from SCHUNK. In comparison to conventional steep taper interfaces, the HSK-E 20 interface ensures excellent change and positioning accuracy, as well as high process reliability. The narrow tolerances of the tapered seat ensure maximum precision at high rotation speeds.
With a repeat accuracy of less than or equal to 0.003mm at 2.5 x D and a balancing grade of G 2.5 at 25,000 rpm, the TRIBOS-Mini HSK-E 20 meets the highest standards. It is suitable for all tool shanks in h6 quality, transmits torque up to 4.5 Nm (at 6mm in diameter) and is rated up to 85,000 RPM.
Both the precision on the workpiece, and the service life of the tools benefit from the excellent concentricity properties. Reliable tool changes can be done in seconds with the help of a hydraulic clamping device. The HSK-E 20 is available for 1.0mm, 1.5mm, 2.0mm, 3.0mm, 4.0mm, 6.0mm and 1⁄8" in diameter. The L1 dimension is 35mm. In addition, smaller shank diameters down to 0.3mm, and other special designs are possible.
Related Glossary Terms
shank


shank

Main body of a tool; the portion of a drill or similar end-held tool that fits into a collet, chuck or similar mounting device.

toolholder


toolholder

Secures a cutting tool during a machining operation. Basic types include block, cartridge, chuck, collet, fixed, modular, quick-change and rotating.