July 01,2015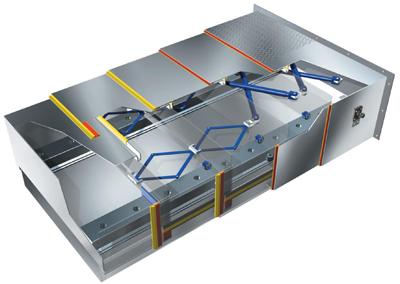 In the future, high feed rates and high accelerations are no longer excluded with large, heavy telescopic steel covers. Hennig has developed a transport mechanism especially for this type of use, for speeds between 98 feet and 262 feet per minute (30 and 80 meters per minute). In an innovative solution, the transport mechanism eliminates high limit stop forces and corresponding noises in all operational positions, moving smoothly when the covers are pulled apart as well as when they come together.
Test runs at speeds exceeding 328 feet per minute (100 meters per minute) and accelerations exceeding 1g were absolutely trouble-free. Large masses and a large number of boxes are a welcome challenge for this transport mechanism. The system is not positively driven; as a result, it doesn't have to move the entire mass. Depending on the length of the stroke, the only boxes moved are the ones that are needed. The mechanically muffled units travel on guides which guarantee extremely high stability.
Related Glossary Terms
feed


feed

Rate of change of position of the tool as a whole, relative to the workpiece while cutting.