August 03, 2021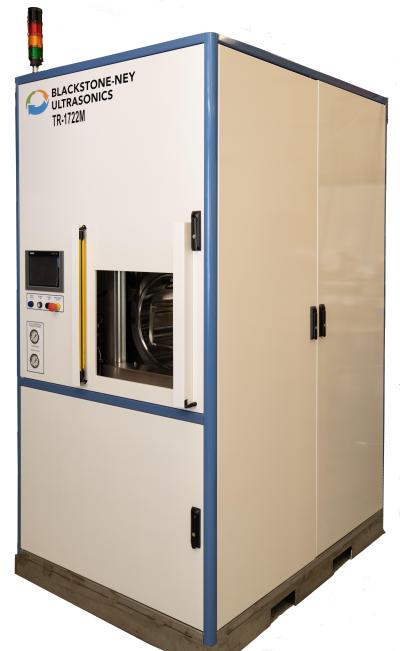 Blackstone-NEY Ultrasonics introduces the Torrent M Series automated ultrasonic aqueous cleaning systems for high precision Medical and Pharmaceutical cleaning applications. The Torrent is a single chamber, front loading rotary basket style machine that features 640 watts of Blackstone-NEY single or multi-frequency Ultrasonics for vacuum and non-vacuum immersion wash or rinse, basket rotation with user selected speed, direction and short cyclic modes, compressed air blow off, spray rinsing and hot air dry or vacuum dry with hot air assist.
The Torrent M Series machines are self-contained, skid mounted machines designed for both single pass or multiple pass chemistries utilizing onboard reservoirs while reducing water consumption through a broad range of user defined machine operation parameters.
The Torrent M sets the stage for a new generation of in-process or final clean ultrasonic cleaning systems that meet FDA 21 CFR Part 11 audit trail regulations and GAMP 5 recommendations while simplifying machine IQ and OQ validation in the most demanding Medical and Pharmaceutical applications.
Related Glossary Terms
ultrasonic cleaning


ultrasonic cleaning

Method of cleaning metal or plastic parts by immersing them in an aqueous or solvent-based cleaning solution and imposing ultrasound energy on the bath to enhance cleaning by creating cavitation conditions at the part surface, which imparts a strong scouring action to remove tenacious soils.